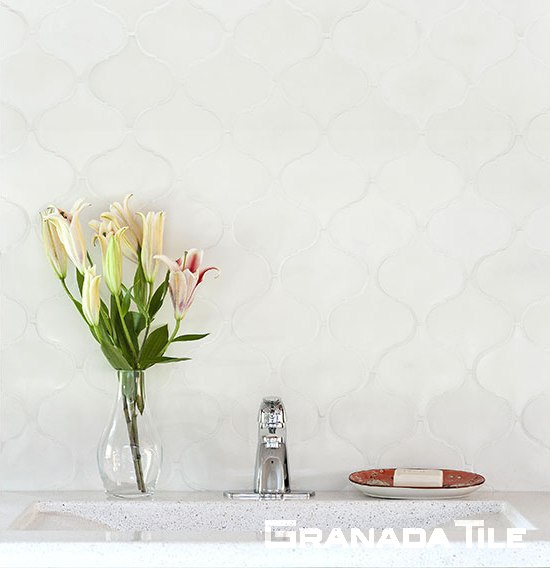 Whether you're renovating or just looking to refresh, introducing new tile colors and styles can inject some personality into your bathroom. If you're looking for inspiration, here's a peek of three of the 2023 trends that we're loving right now:
Neutral Tiles
Neutral tiles are a great choice for a bathroom. They can also be used to create an retreat that's inviting and functional.
Neutral tiles are versatile; they work well with most colors (except red).
Neutral tiles have a clean look that makes them easy to match with any other decorating style in your space.
Neutral tiles can be used to create a cohesive look that's inviting and functional.
For example, neutral tiles can be used to create a bathroom that's welcoming and relaxing. The white trend is still with us, but white should never be boring. See how fresh and gorgeous this neutral choice makes this space. It is Arabesque from the Andalucia collection.
Geometric Shapes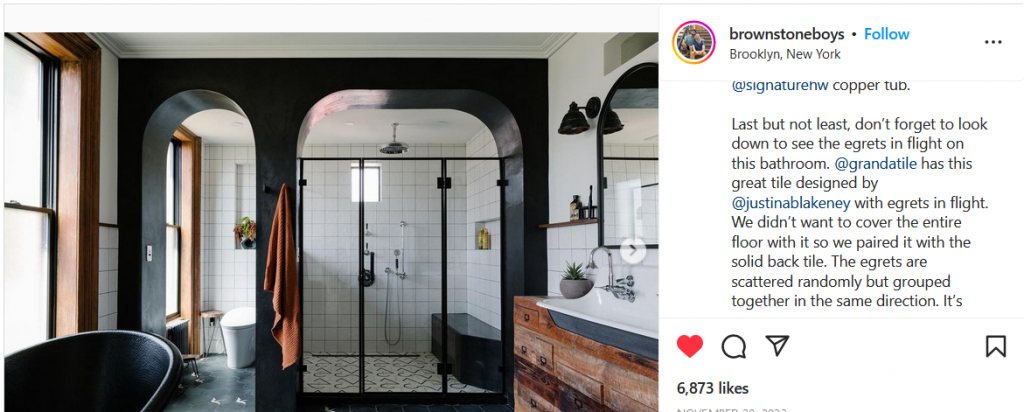 Geometric shapes are everywhere these days. From wallpaper to floor tiles, geometric patterns and designs are popping up in bathrooms across the globe.
It's not just about using them as an accent piece either; geometric tiles can be used as a central design element for your bathroom. The key is to choose one shape that you love and use it throughout your room–and maybe even repeat it on accessories and other surfaces like mirrors or sinks! Custom patterns are not a problem for us either. This octogon egret pattern is one of our fan favorite designs by Justina Blakeney. from our ECHO Collection-Hexagons
Extended Floor to Wall Tile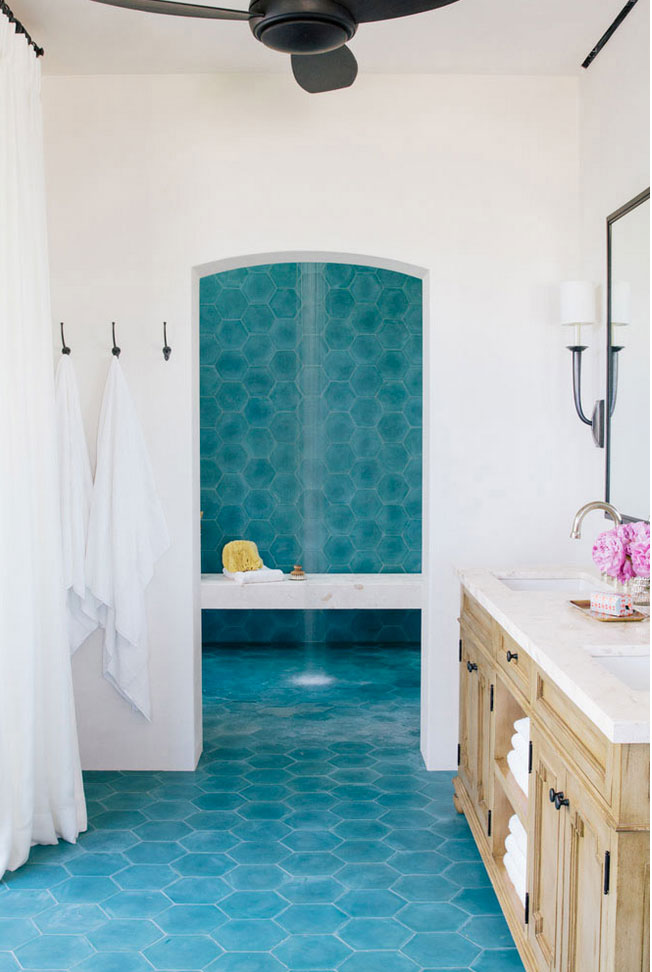 Extended floor to wall tile is a trend that's growing in popularity. This style of bathroom design can add visual interest and texture to your space, while also creating an airy feel. The idea behind extended floor-to-wall tiles is that they cover the entire surface of the bathroom walls (instead of just half), which helps give it a clean look while still adding color and pattern. It also makes it easier for you to create drama with your space!
If you're looking to add a unique touch to your bathroom, extended floor-to-wall tile is a great option.
It's important to note that extended floor-to-wall tile doesn't mean covering the entire bathroom with the same tile. Instead, it means that there are no gaps between the walls and floor—they're completely covered in a patterned or solid color of your choice. This makes it easier to create unique patterns with your decor!
These bathroom tile trends are here for a reason. They're timeless, they'll last a long time, and they're easy to maintain. The best part? They'll never go out of style and will always be in demand!
Conclusion
We hope you've enjoyed our 3 tile trends for 2023. We know that choosing the right tile can be a daunting task, but we're here to help!
Cement tiles are a great alternative to ceramic and porcelain tiles. They're durable and low maintenance, making them ideal for both indoor and outdoor spaces. Cement tiles come in a variety of colors and patterns, so you can add some serious personality to your bathroom with these eye-catching pieces.
If you're interested in any of these styles or want more information on how they might look in your home, feel free to contact us today.