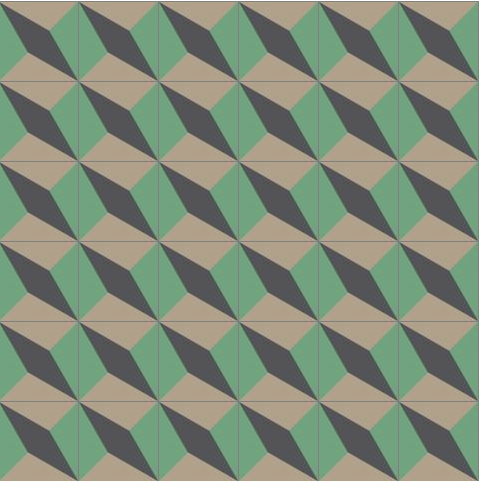 If it's the beginning of the month so that can mean only one thing: a quick check in with our fellow tile-lovers over on Granada Tile's Share Designs page, our social site for tile-philes. We're always surprised and delighted by what we find there—your tile design skills are truly remarkable, and we can't get enough of your experiments with the patterns, shapes and colors of our Echo Collection of cement tiles. First up, a really stunning interpretation of our Parla tile design. In two colors, Parla looks a bit like a checkerboard knocked askew with its pattern of squares set just slightly at angles. William Rabe's take on the design gives it a whole new look, because he incorporates three colors: a neutral hue and two shades of blue. The result is a remarkable tile design that has depth, visual complexity and an almost three-dimensional quality.
We seem to be especially smitten with blue tile designs this month, so it stands to reason that Cathleen Davidson's really phenomenal take on St. Tropez would catch our eye. Often, we see it interpreted with a light ground, but Cathleen went the other direction, instead choosing a dark blue. It makes the delicate floral elements really pop.
February definitely saw people playing around with some of our more geometric designs. Case in point: the provocatively named used Black Moon had a fantastic interpretation of Burgos. It's a favorite of ours in large part because it has an M.C. Escher–like quality that can't be beat. It's also frequently used in just two shades, but Black Moon opted for three—a couple neutrals and then a pop of green for a really interesting exploration of the tile design.
Be sure to experiment with Granada Tile's interactive Echo Collection catalogue, and be sure to browse the tile installation ideas on Share Designs before you start your next tile installation project—be it for kitchen tiles, bathroom tiles or wall tiles. It's a great place for inspiration. And, don't forget to create your own Share Designs account. Your tile designs might get featured here someday soon. [subscribe2]