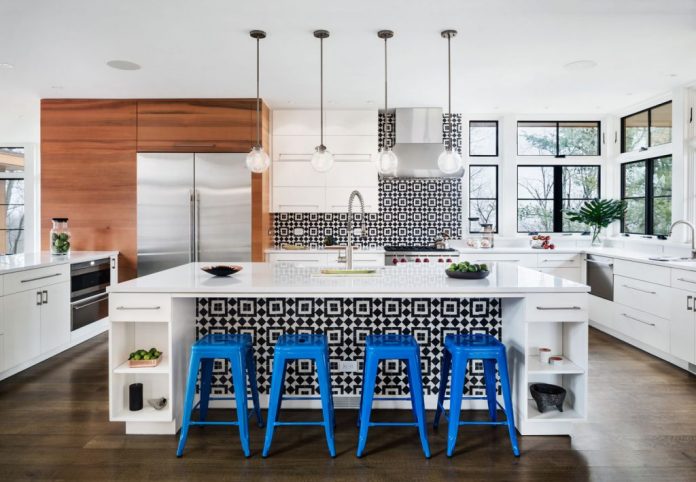 In a rustic modern home in Dutchess County New York, designed by Studio Marchetti, this kitchen brings the "wow" factor! Our black & white Fez cement tiles take it from super to stunning, packing a powerful punch.
The graphic pattern easily balances the white cabinetry and is the perfect transition between the warmth and beauty of the wood refrigerator surround, the outdoors, the floor and the more room's more linear elements.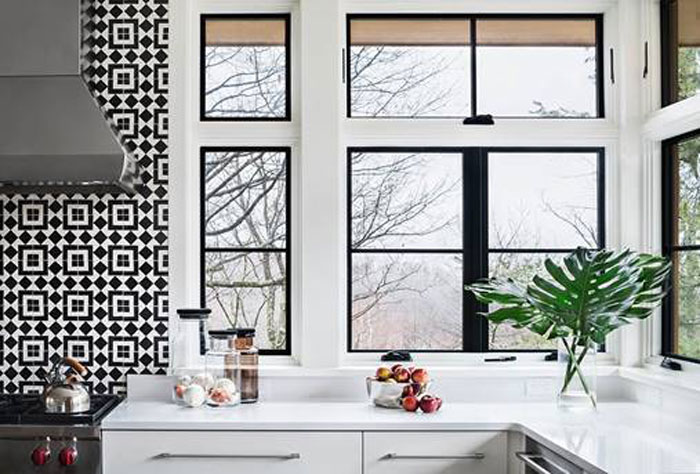 This is a perfect example of the versatility of our Fez cement tile pattern. Although it's based on classic Moroccan patterns, its arrangement of squares and lines makes it a timeless choice. We think it's the ideal design to consider when you want to find a way to bring hygge into a spare, contemporary space.
Of course, this is not the only one of our cement tile patterns that performs this singular miracle. Actually, many of our over 400 designs shine when created in black & white. In fact, you can see for yourself via our interactive catalogue which lets you play with colors. And there are plenty in stock encaustic tiles in black and white in our cement tile shop. Need help making a decision? Call us on 213-788-4238. We'd feel happy to help you decide which of our encaustic tile designs would be perfect for your project. We're sure you'll fall in love with your new cement tiles before the grout dries.
photos by Amanda Fitzpatrick Photography