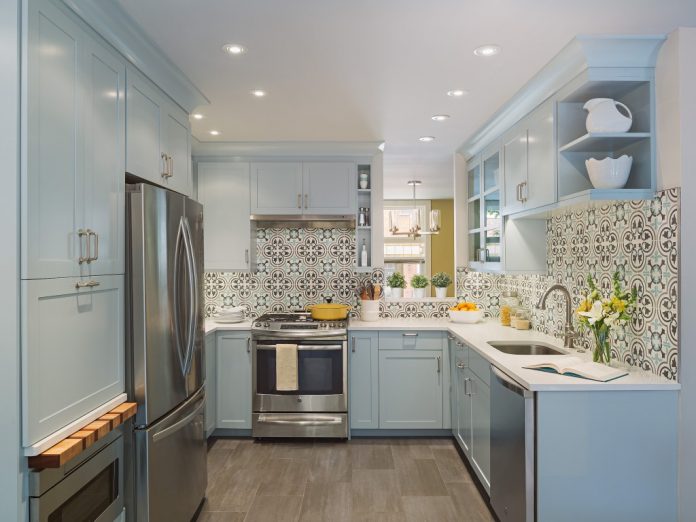 The kitchen is responsible for many things. It needs to accommodate your cooking and baking needs, be functional, and offer enough storage for your lifestyle. It should also reflect your personality and set the tone for the gatherings you want to host. It's both exciting and daunting to think about remodeling your kitchen and before you go out purchasing new appliances, it's a good idea to think about some of the primary considerations for a new kitchen design.
No matter the reason for your kitchen remodel, it's important to look at it as an upgrade, not simply a renovation. An upgrade means that it is meant to boost the quality of your life, improve the function of your kitchen, improve your feelings for the space, and potentially increase the value of your home.
Consider the following points when planning your kitchen remodel.
Your Workflow
When planning your kitchen remodel, it's important to remember how you work in your kitchen. The kitchen's busiest areas are the stove, sink, and refrigerator. Having these areas in the right placement in relation to each other will make daily activities in the kitchen much more efficient. Many kitchen designers refer to these three work areas as the "kitchen triangle" because they're often placed in a triangle format.
The Size of Your Kitchen
You'll want to make the most of every square inch of your kitchen because there's almost always room for an efficiency upgrade. Look into adding more space for an additional sink or extra storage, and ways to add additional prep areas like an extendable counter top, a lazy Susan to make use of an awkward corner, or drawer dividers. Even the smallest of details can make a big difference.
How You Like to Use Your Kitchen Most
If your family likes to cook a lot of fresh meals from scratch then you'll want to have extra counter space for prepping, chopping, and cooking. In exchange for more counter space, you may need less pantry space because fresh ingredients typically get used up more quickly. If your busy family eats a lot of pre-packaged, simple meals then more pantry space and less counter space might be the prefect ratio for you. If you love to bake and do so quite frequently, then design a section dedicated just to baking.
The Style and Materials You Like Most
Your kitchen shouldn't just be practical, it should also be beautiful and speak to your taste. In addition to the cooking, many homeowners entertain guests in the kitchen. Consider which materials offer durability and practicality as well as the style you love. Cement tiles are incredibly durable, hard-wearing, scratch-resistant, and easy to clean and maintain. They protect the walls from food and water damage, and come in an almost infinite range of colors, patterns, and textures.
Know When to Splurge and When to Save
Knowing your budget is crucial when remodeling your kitchen. Consider your lifestyle to help you be honest with yourself over which features you'll actually use. While you might not need that 8-burner stove top, you may benefit from a double wall oven. When it comes to knowing when to splurge, designers say that having plenty of counter space and storage is never a bad idea.
Adding Extra Counter Space
Branching off of the last point, adding more counter space where you can will help make prepping and meal time a lot more enjoyable. You can extend your counter tops beyond the island or lower cabinetry by using shelving supports or decorative corbels. Adding on a smaller kid's-sized counter at the end of an island can add more room for prepping and get the kids involved in helping with meals.
Think About the Décor Details and Color
The final consideration to think about when remodeling your kitchen is to have fun! Don't forget about the design details and décor you can add to make your kitchen your unique space. Cement tile is a great material to add color and pattern that can work on multiple surfaces, like the backsplash, walls, and the floors. You can mimic the look of a rug or runner in front of the sink or along a walkway, and create a focal point to maximize the wow factor without overpowering the kitchen and spending as much on materials. The result will be a space that is just as beautiful as it is practical!
Remodeling your kitchen doesn't have to be confusing. Keep these important considerations in mind and take advantage of the help and unique perspective of professionals. Designers can help you tweak your remodel designs and offer ideas you may not have thought of. Our team of customer service representatives at Granada Tile can help you when picking out the cement tiles for your kitchen to help you create a space you'll love for a very long time.