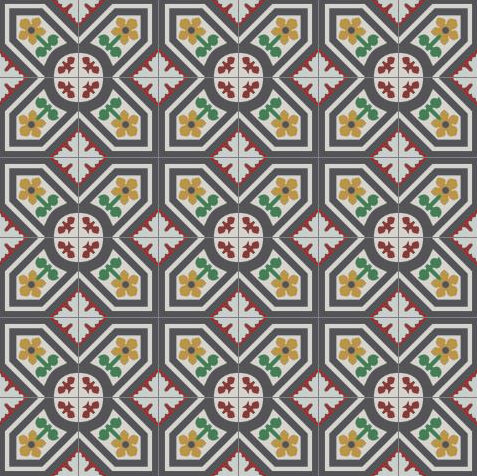 You'd think that with the holidays taking up lots of psychic space this month, tile-philes' collective attention would be turned toward other topics. Happily for us, that's not the case. Take a peek at Granada Tile's Share Designs page, and you'll see folks have been busy on the site—coming up with some truly fabulous cement tile installation ideas. We loved what Heather Reavey did with Lille, one of the newest members of the Echo Collection family of cement tiles. She opted for a combination of blues—ranging from sky to midnight—to create a bold palette. It really gives a pared-down tile design an extra boost. If blue's not your thing, it would be great using other combinations as well (grays, reds, greens, whatever suits your fancy).
It was a big year for new cement tile introductions. Besides Lille, an entire range of new concrete tile designs joined the Echo Collection, and they've continued to be very popular with our Share Designs users. Leon Kenyon came up with a great take on Seattle, choosing a color scheme of teal and aqua to create a watery look that befits its namesake city.
Old favorites got plenty of love this month too. There were a lot to choose from, but we were particularly drawn to Deborah Cobrae's vision for Cambria. With a lot happening pattern-wise, you can go a lot of directions with color, and Deborah did just that. We adore how she used green and mustard for the flowers, rendering them almost life-like. The splashes of red are a brilliant and fun touch.
Tomorrow, stay tuned for a wrap of the year, featuring some of our favorite cement tile installation ideas, tile photos and more! It has been a fabulous year for us, and we've been delighted to share it with you![subscribe2]