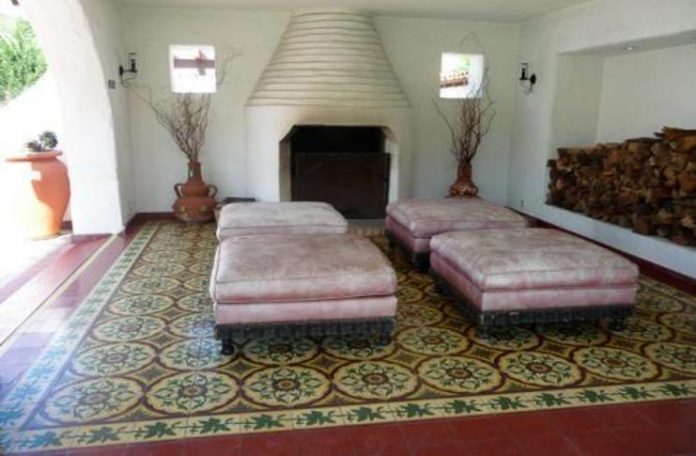 Here at Granada Tile, we seriously love concrete tile. Not only do we eat, sleep, and breathe cement tile at work, we love checking it out in our spare time, too! Our home base in Los Angeles means that we're never very far away from great historic houses with amazing Spanish Revival­–style concrete floor tiles, wall tiles, bathroom tiles and kitchen tiles—it's a veritable tile feast in Southern California. One of our favorites spots to visit (and get a little inspiration) is Casa Romantica (casaromantica.org), just down the 5 Freeway in San Clemente. The city of San Clemente traces its founding back to developer Ole Hanson, who envisioned "a Spanish village by the sea." The homes there—one of the first master-planned communities in California—would be white stucco topped with red tile roofs reminiscent of Mediterranean architecture. For his own place (completed in 1927), Hanson enlisted architect Carl Lindbom and searched the world to find furnishings and materials, including some outstanding cement tiles. Financial difficulties forced Hanson to sell the expansive house with its sweeping views of the Pacific, and it passed through several owners, acquiring the name Casa Romantica in the process.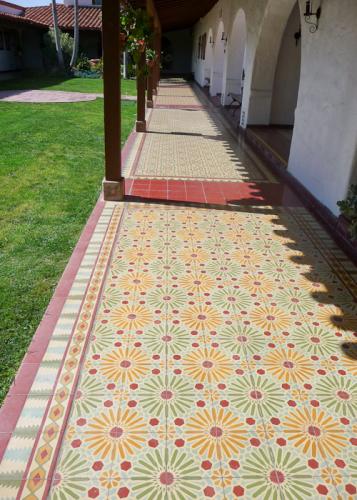 Today, thanks to a well-timed donation that saved the property, Casa Romantica functions as a cultural hub of San Clemente. Its keyhole doorway draws visitors from all over the world to see its gracious gardens and architecture. For us, though, what really gets our hearts beating is cement tile installations inside and out. They give us tile-philes a great chance to get inspired by color and pattern—and get some new ideas about using cement tiles. Take the arcade around the central courtyard. It features floor tiles arranged in a carpet-like effect with a pattern of repeating sunbursts in gold and green (with red and blue accents) at the heart of the design. Around the perimeter the colors are repeated in diamond patterns. The tile installation would translate either inside or out, and the abstract design would be at home in any space.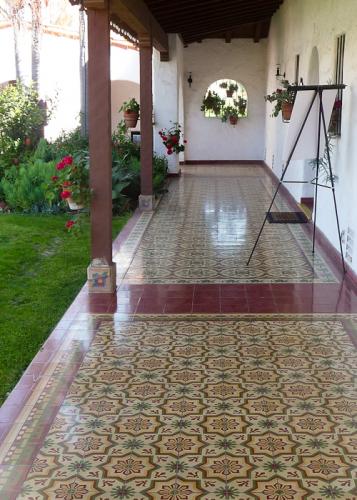 There's more everywhere. Against the elegant minimalism of an indoor/outdoor room—complete with a beehive fireplace—cement tile floors in a traditional pattern form a colorful, durable carpet. It's a classic interpretation of the Spanish Colonial Revival style and one of the reasons Casa Romantica is considered one of the greatest examples around.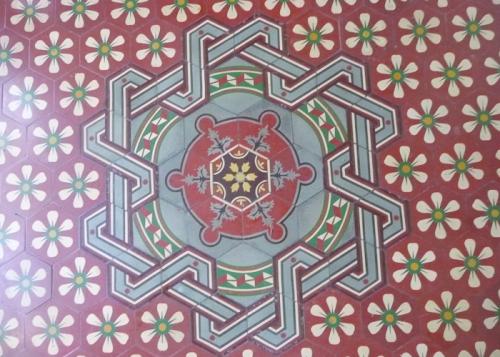 So if you're in the LA area, a trip to Casa Romantica is an easy jaunt, and if you're from out of town, it's well worth taking a trip down to the OC. Just don't forget to take some tile pictures. The site also offers programs including a speaker series, artistic workshops and music. All that—and some extraordinary tile!