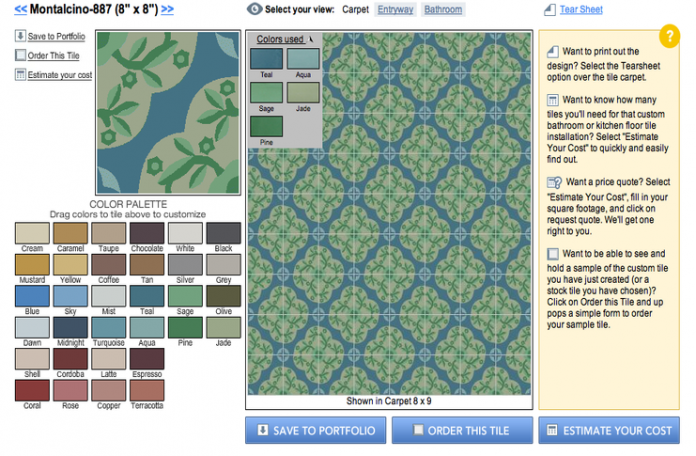 Granada Tile's clients love working with us because we focus on custom cement tile. Need our concrete tile pattern Sofia in blues and yellows? Just ask. We can do it. Have an idea for your own pattern? Maybe you saw something during your travels or need a design in just the right scale. Tell us. Granada Tile adores working with you—taking your inspiration and translating it into unique cement tiles. Anyone can customize our designs. The best place to start is with the Echo Collection's interactive catalogue. Select the concrete tile size you're interested in (we offer 10 by 10, eight by eight, six by six, four by four, four by eight, plus eight by eight corner and border options). Choose your pattern. Maybe it's the delicate foliate design of Montalcino in our eight by eight size.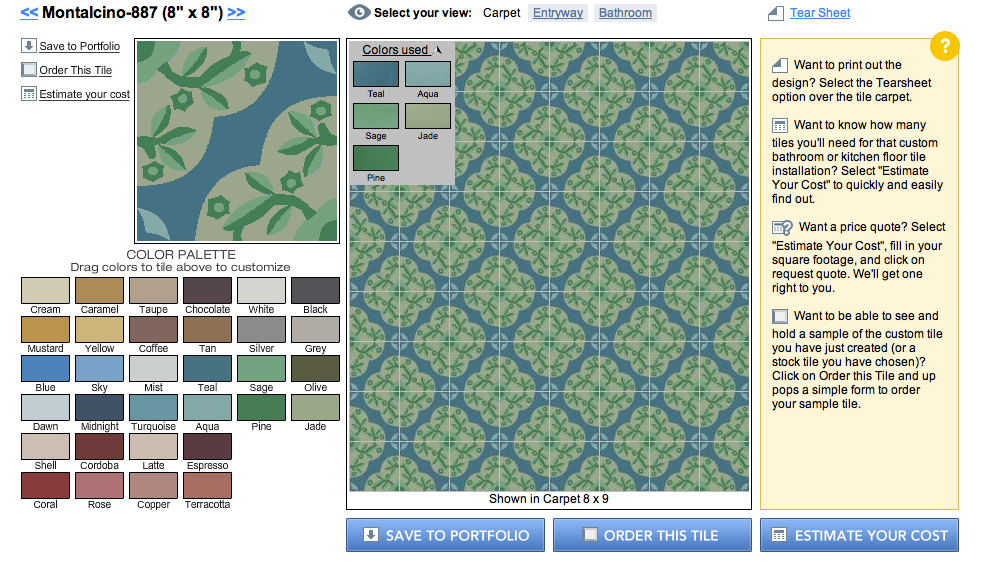 Then choose your view. Select from a standard carpet layout, or, if you're looking to install the concrete tiles in a bathroom or entryway, you can try those, too. It makes it easier to envision what your cement tiles will look like once they're in. Now start adding color by dragging shades from the palette on to the sample tile.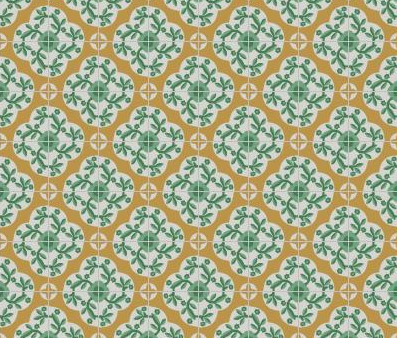 Changing colors is easy! Image, Granada Tile.
Voila! You've created your very own custom cement tile . Once you've designed your tile, you can easily estimate your cost by clicking the estimate your cost button. If you'd like to see and feel a sample—live with it for a little while—just click on the order this tile button and up pops a form to do just that. Since we make customization so easy, we've built quite a following among architects and designers in Los Angeles and beyond—we offer them virtually unlimited options for concrete tile in their projects. For Morel's French Steakhouse and Bistro at The Palazzo in Las Vegas, Ralph Gentile Architects laid our Provence cement tile pattern on the restaurants floor in a mix of blue, chocolate and white.
In Houston, Jennifer Hamelet, of Mirador Builders, went the cement tile pattern Sofia in a custom colorway. She used the cement tiles throughout the residence—not just on a covered terrace. It creates a unified feel, and the warm tones of the cement tiles harmonize with the Spanish feel of the house.
While the options afforded by our Echo Collection are nearly limitless, we can also craft cement tile designs from our clients' own designs. We worked with artist Michelle Weinberg to create custom cement tiles for Shadow Canopy, a piece commissioned by Miami-Dade County Art in Public Places for the county's reconstructed GSA Trade Shops facility. In all, she used 3,000 square feet of cement tile from Granada Tile for the project.
We also manufactured a custom pattern for Mark Zeff. Inspired by Italian markets, his design for Mercato di Vetro in West Hollywood is a chic take on the traditional. The custom tiles, in black and white, make a bold statement.
So, if you're looking to build, renovate, add or change, look no further than Granada Tile. Your choices are too many to count!