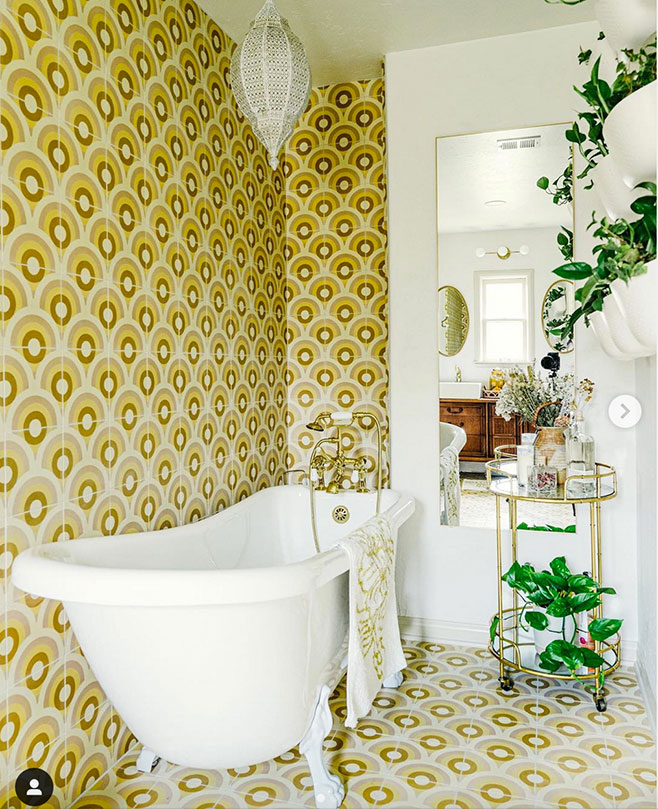 Square tiles are a design that never goes out of style. Regular-shaped tiles make arranging colors and details easy without sacrificing design. Look closely at these square tiles; you'll see that many Granada Tile designs are placed on squares! Get inspired and find a design that will fit your space with these easy and fabulous square tiles.
Why Choose Square Tile Designs?
Square tiles have endless design possibilities. The wide range of sizes, colors, and patterns available through Granada Tile's collections make your design life easy. Use your imagination to create a fantasy oasis, an endless sea of color, a print pattern, or a superbly retro look.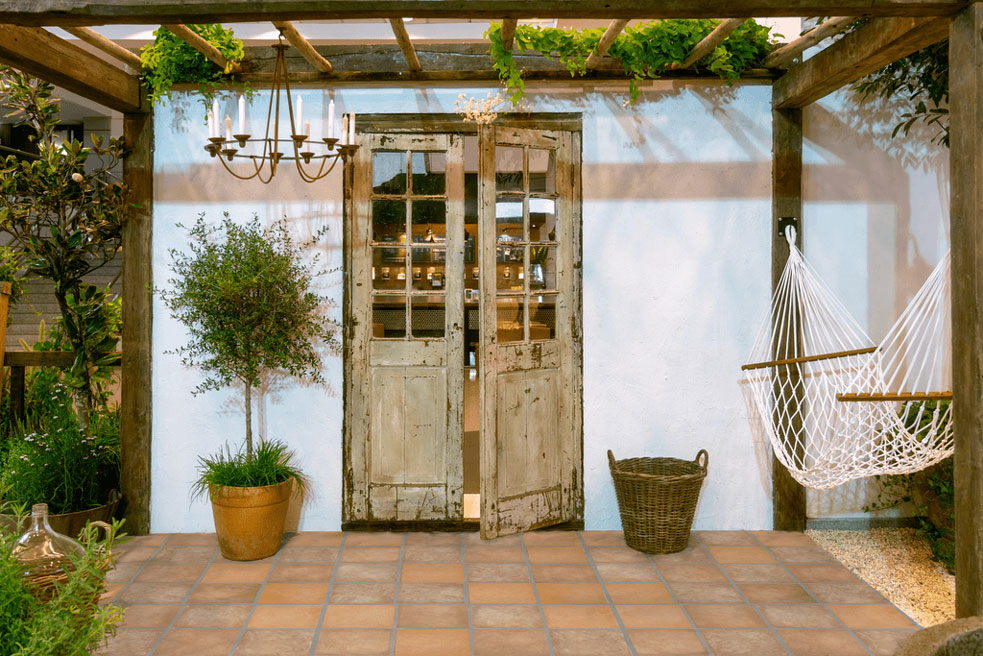 Perfect Getaway with the Olvera Collection
This backyard getaway features gorgeous brick-like patina with a hammock and architectural salvage-style wooden doors. The space welcomes you into it with the natural patina, as if it had been there for years. The natural look of the square 8×8 cement tiles from the Olvera Collection invites you to soak up the warm sun and take a deep breath after a long day.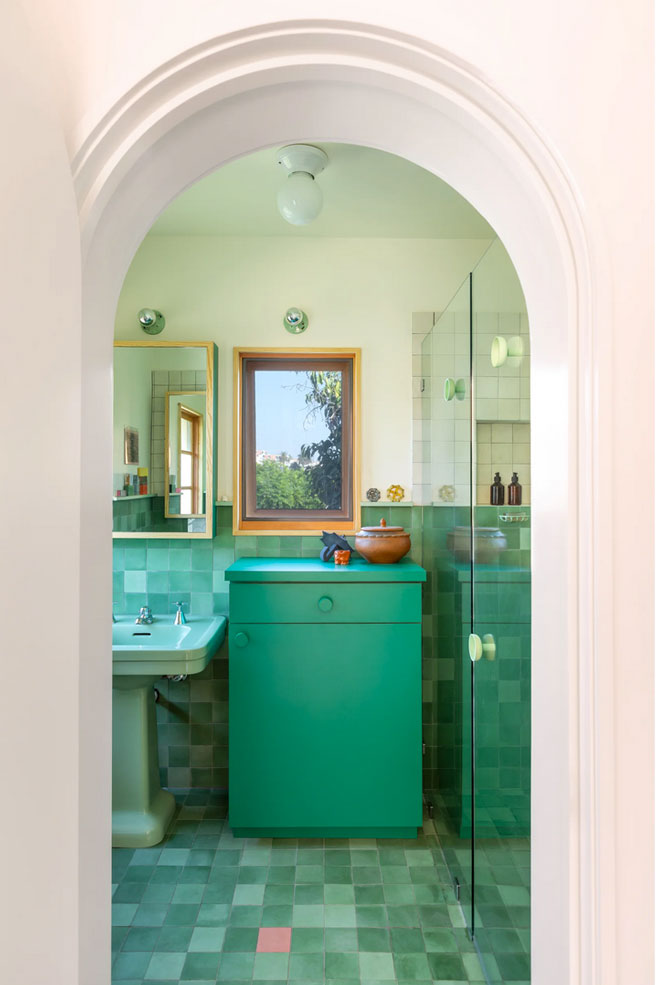 Designer: Laurel Brochton, WELCOME PROJECTS; Photographer: Laure Joliet
Trendy Green Bathroom
Ever heard of going green? Designer Laurel Broughton of WELCOME PROJECTS renovated a 1920's duplex using various shades of green Granada Tile squares, resulting in a richly colored powder room. Going with a single color creates the illusion of space. The lighter color on the upper wall complements the lower wall and floor, almost as if it were the land and sky in the image hung above the counter.


Want more designs with green tiles? Click here.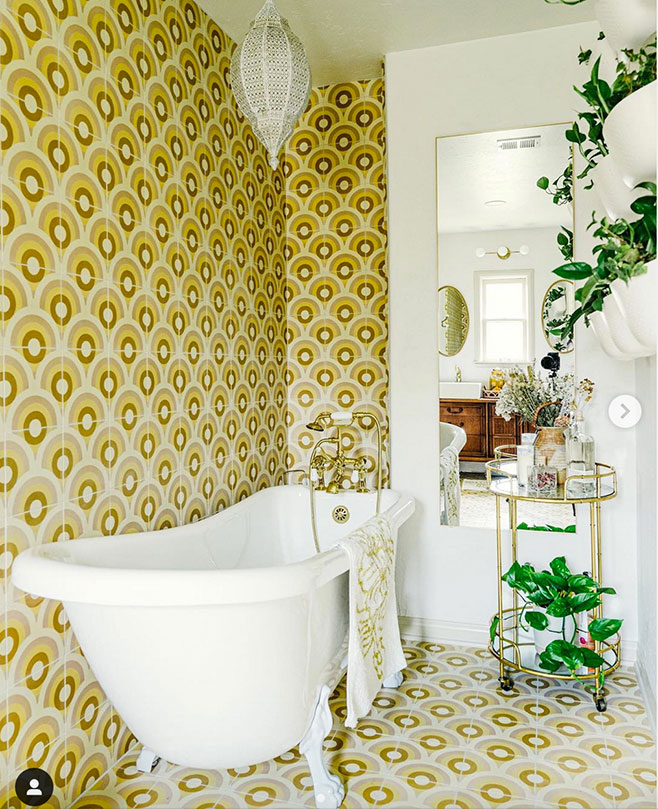 Stellar in Retro Yellow
This buzzworthy bathroom uses square tiles that go together in a sunburst pattern, made with our Byzantium cement tile collection designed by Emma Gardner. Although the pattern stays retro with round shapes, the tiles, upon closer look, are indeed squares! Another gorgeous example of squares hiding in plain sight at Le Shag Residence in California.
Rectangles on the Horizontal
Admittedly, these are not squares. If you'd like an alternative to square tiles that still looks timeless and classic, a rectangle tile has similar ease of installment but elongates a space horizontally. One recommendation is to mix-and-match colors and styles to fit your specific design aesthetic.Get a checkerboard kitchen like this with our 4×12 rectangle tiles from the Olvera Collection.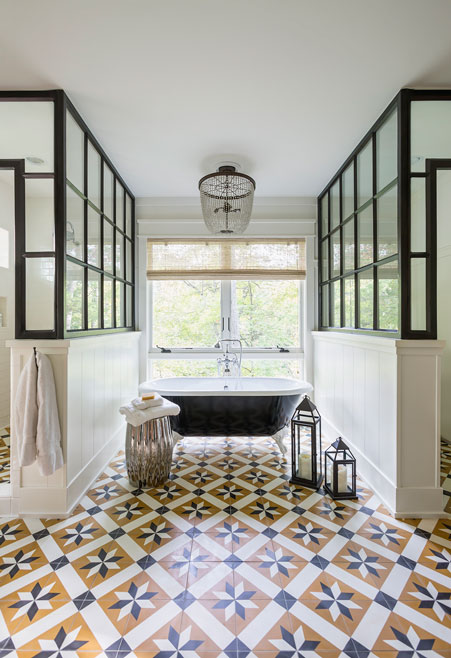 Designer: J. Kurtz Design; Photographer: Andrea Rugg
Faux Diagonals for the Drama
If you'd like to create a dynamic design for your space, take inspiration from J. Kurtz Design. This incredible bathroom uses the Granada Tile Toscano pattern to make a statement of floral starburst pattern.
If you're ready to start on your custom tile design, contact Granada Tile at 213-788-4238 or visit GranadaTile.com today!