When it comes to commercial design, one of the easiest ways to update your space is by incorporating new tiles. From restaurants to spas and coffee shops, tiles always add an extra layer of charm and character to any commercial space. If you're looking for inspiration, Granada Tile Company offers a variety of handmade artisan tiles perfect for commercial designs. Read on as we take a closer look at three of our favorite tile designs, one for each of the categories mentioned:
Restaurant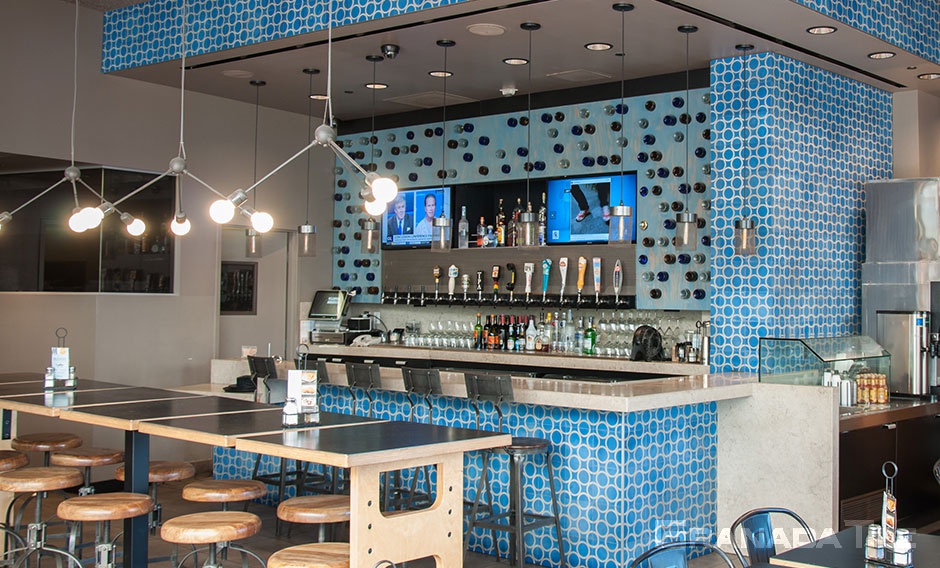 Europa 874 Tile Geometric Design Handmade by Granada Tile Company for Malibu Fish Grill Restaurant in West Hollywood
Restaurant Granada Tile's Europa 874 tile design is a perfect fit for the bustling service counter at Malibu Fish Grill in West Hollywood, California. This tile's geometric design adds a touch of modernity and sophistication to the restaurant's decor. Its eye-catching pattern and bold color scheme make a statement and create an exciting focal point for customers. The handmade tile is crafted with care, ensuring durability and longevity for busy commercial spaces like Malibu Fish Grill.
Photographer: Brian Sanderson, Salt & Pepper Studios
Spa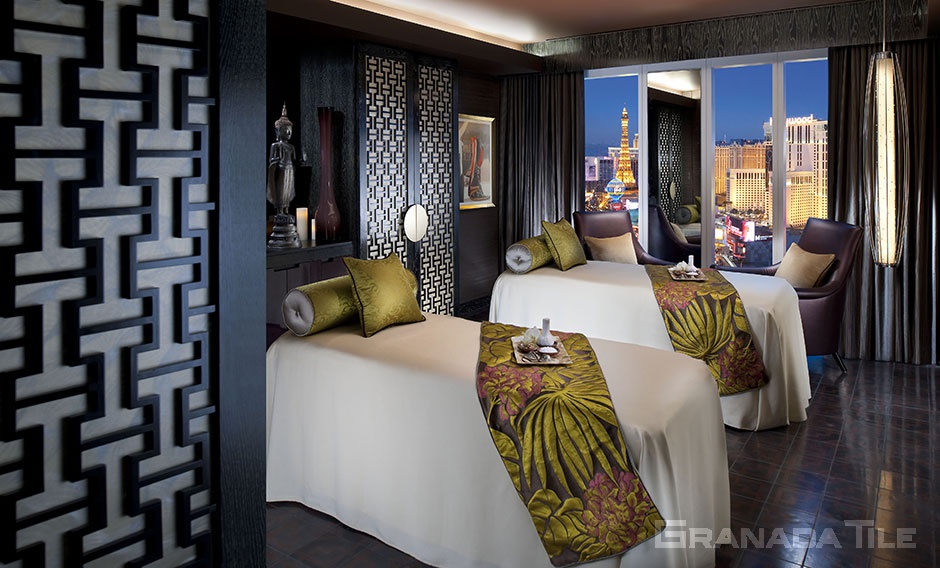 For the Spa at the Mandarin Oriental Hotel in Las Vegas, Granada Tile Company worked with Tihany Design to create custom tiles that are both elegant and understated. The black and chocolate cement tiles add a touch of luxury to the spa's decor while blending seamlessly with the overall design scheme. These custom tiles were made with quality materials and craftsmanship, ensuring a long-lasting and beautiful addition to the spa's interior. The subtle patterns on the tiles add texture and depth to the space without overwhelming the senses.
Designer: Tihany Design
Coffee Shop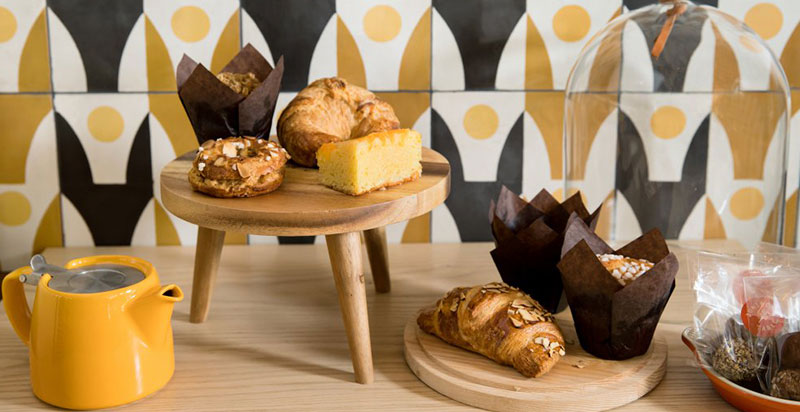 A feast for the eyes and the taste buds! Delicious pastry at the Juniper Table cafe in Palm Springs with Granada Tile's Stockholm patterned cement tile (designed by Erin Adams). This cement tile adds a touch of whimsy and playfulness perfect for a Palm Springs cafe. The tiles' soft color complements the coffee shop's warm and inviting atmosphere, making it a perfect backdrop for customers to enjoy their coffee and pastries. The unique pattern adds visual interest without overpowering the space. The handmade cement tiles are sturdy and durable, ensuring they can withstand the heavy traffic that comes with a busy coffee shop.
Designer: Chris Pardo Design: Elemental Architecture
At Granada Tile, we understand that selecting the right tile for your commercial space can be challenging. That's why our team of experienced design experts is here to help. We offer a wide range of handmade artisan tiles, each with its own unique style and personality. Whether you're renovating or starting from scratch, our team can guide you through the process of selecting the perfect tile for your commercial space. Contact us today at 213-788-4238 to schedule a consultation and start planning your next design project.