A truly unique hearth will feature a concrete fireplace design. A cement wall can showcase a wide range of patterns, colors, and styles yet hold up to heavy wear. Most importantly, these sturdy, low-maintenance designs are baked-in, making them resistant to fade. Turn over a new leaf this fall with these five inspiring fireplace designs. 

Alhambra Delivers a Vintage, Modern Mix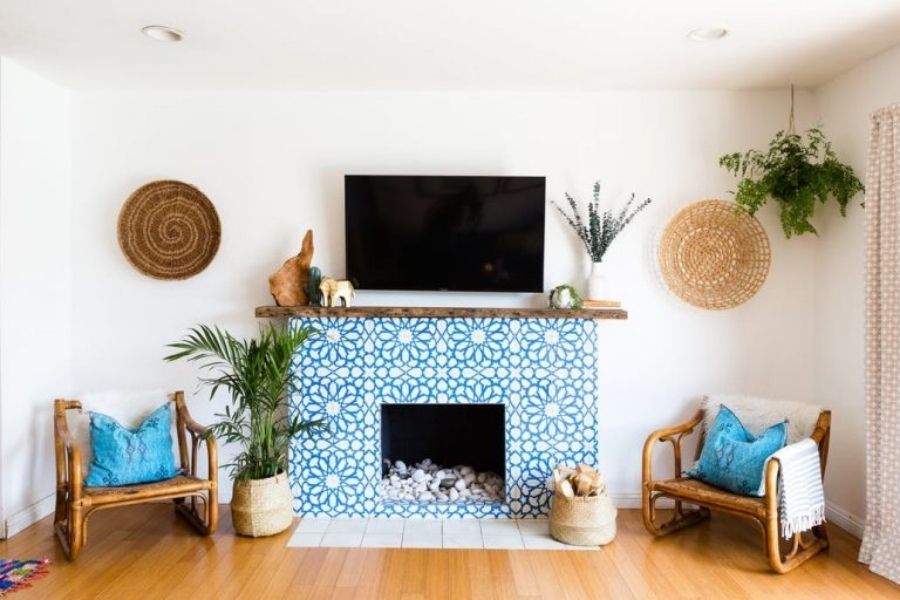 This bright blue and white fireplace with a flower-burst pattern uses Alhambra 50 B tiles to revitalize a room seen on Apartment Therapy. The style embodies a comfortable, laid-back vibe and meshes vintage and modern elements. Striking color offsets the wood patterns of the decor and radiates a beachy tone. The overall effect is welcoming, relaxing, and fun, all that is perfect for fall.

Interlocking Squares for an Ultramodern Vibe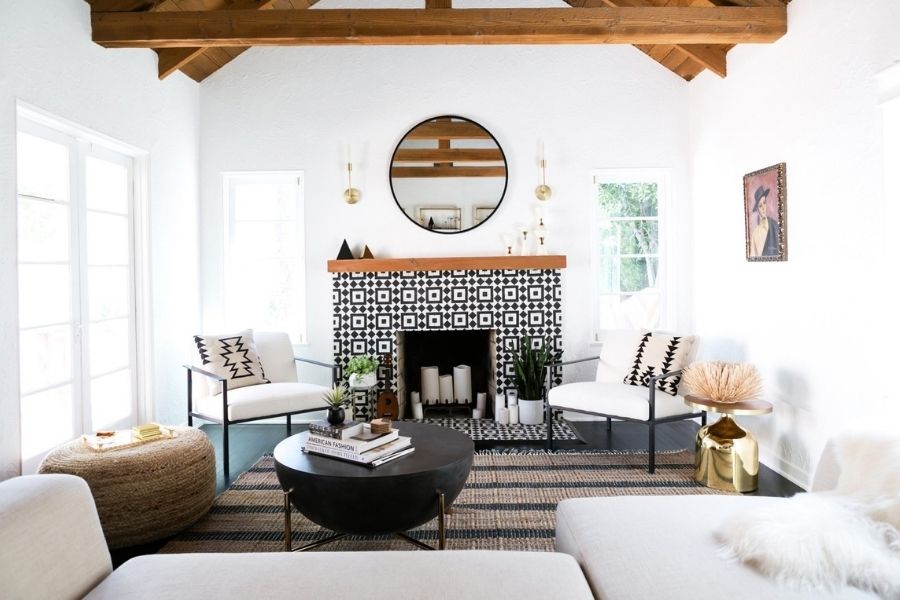 The stark black-and-white interlocking squares of our Fez 928 B tiles form a fireplace that is the standout feature of this otherwise minimalistic room. The concrete wall draws the eye to its festive Moroccan centerpiece, and the tiles add a colorful old-world charm to the space.  
Explore more exotic Moroccan styles, read here.
Hokkaido Diamond-Eye Patterns Create a Stunning Focus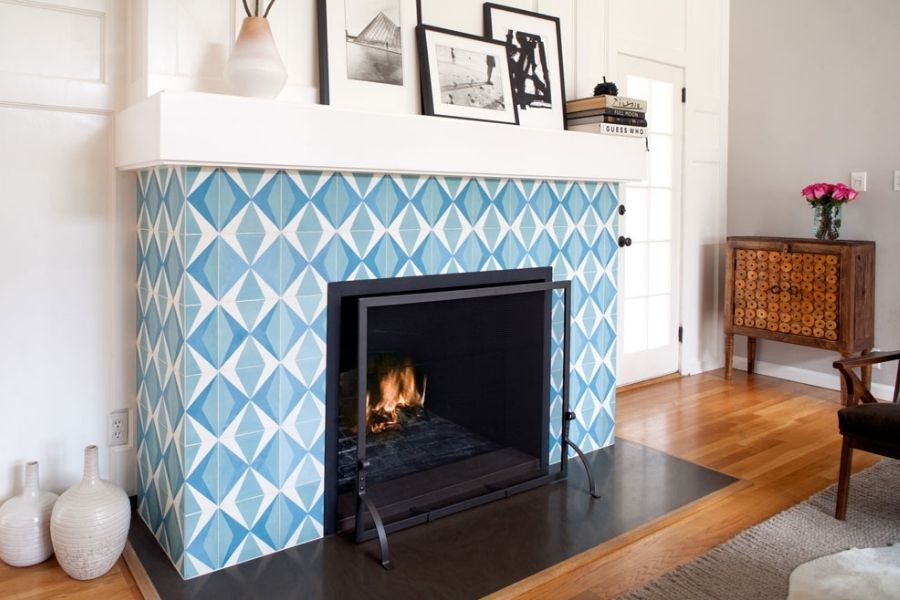 This concrete fireplace design almost looks like it's in motion, with the interweaving diamond patterns of the Hokkaido 880 tile opening and closing across its surface. Set against the white backdrop, this feature paints an eye-catching focal point that entices you to sit back and relax before its hearth. 

Modern Crosses and Diamonds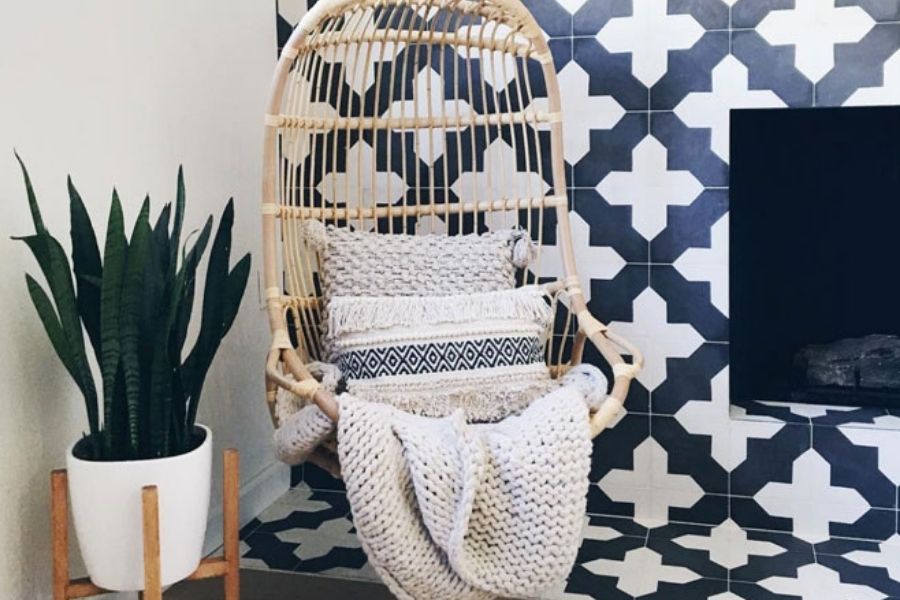 This fireplace uses our Badajoz 912 B tiles to produce a fun optical illusion. Depending on how you look, the pattern switches from intricate diagonal crosses, diamonds, or sideways moving "X" shapes. The black-and-white unframed concrete wall and fireplace have a sense of constant motion yet never fails to be quite relaxing. This corner invites you to snuggle up with a good book and a cup of hot cocoa on a cold night.

Discover a range of popular styles using our Badajoz tile here.
Serengeti Tiles Offer a Rustic, Modern Atmosphere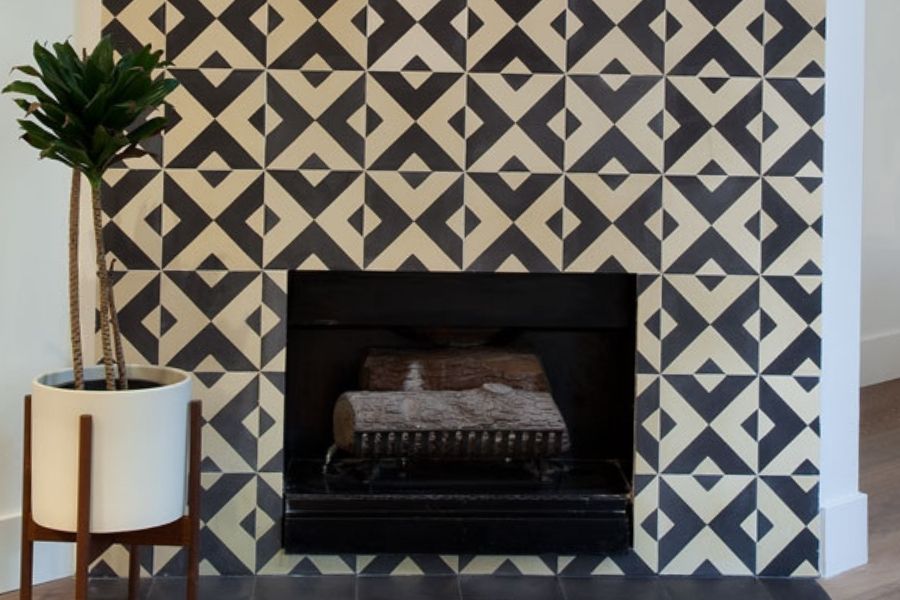 Our Serengeti 913 A tiles cover this modern concrete fireplace with alternating X-patterns. This adds an interesting dynamic to an otherwise simple aesthetic. The accent completely changes the air about the room, giving it a sense of character. These are just a few professional designs created using our hand-poured artisan cement tiles. Contact Granada Tile at 213-788-4238 or visit GranadaTile.com today for more wondrous inspiration from top-class designers.