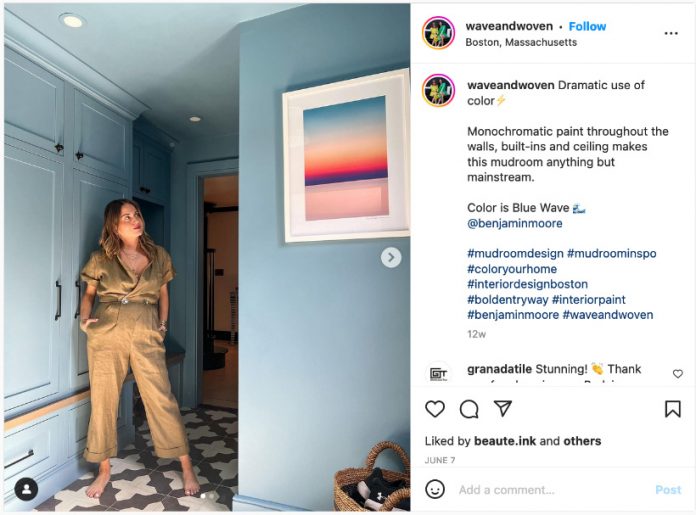 There are cement tile trends that seem to come and go, but there are some that dominate. Instagram is popular now, with people taking over all types of new and inspiring tiles, but some trends are arguably the hottest. But how does one know what tile trend is the most popular? It's not easy to tell when a trend first takes off, but some definite ones are more popular than others. So here are the top cement tile trends that took over Instagram.
1. Natural Look Tile
This tile trend isn't new, but it is still selling. Natural-looking tiles are being sold more than ever before. The nice thing about these tiles is that there are plenty of varieties to choose from. It ranges from browns, tans, and grey to whites and black, as well as variations between all those colors. This tile has a rustic feel, and the natural look works in many kitchen spaces, living rooms, and galleries. The best thing about this tile trend is that it's easy to find at Granada Tile.
2. Patterned Tile
Patterned tiles have always been popular, but they are sold more than ever. Patterned tiles come in various colors and styles, perfect for creating a certain atmosphere in your kitchen or living room. They make the perfect accent on the wall and can also be used to create art pieces. The more simple the pattern, the better. So why have we seen a huge increase in this tile? It all comes down to the fact that people like to add something different to their kitchen or living room.
4. Geometric Tile
Geometric tiles are also among the bathroom tile trends that took over Instagram. Tile trends can make a difference in creating a bathroom with consistency and flow. They can be diagonals, circles or hexagon patterns and each offers something different as they have a unique geometric look. These tiles can be used anywhere in the bathroom and create an aesthetically pleasing design, with simple and unique tiles that will blend well with any other design elements.
5. Mosaic Tile
The mosaic tile trend has been popular for a while, but it really took off in the last few years. It offers a scheme that works well with the natural look. The tiles are more beautiful when used together, as there is something special about having different colors put together to create a bigger picture. You can find tiles in various patterns and designs, but they are all visually stunning. They are bathroom tile trends that you can use on the walls and floors and create a great design. These tiles create a certain mood, one that is soothing and beautiful.
6. Black and White Cement Tile
Black and white is a tile trend that's been around forever it seems. It's easy to work with and can be used in many locations. It blends very well with almost any design style and it is a good choice when decorating a kitchen or other room that is heavily used. It's one of the bathroom tile trends that are pretty simple, but it depending on the pattern, it creates a mood that can be classic, retro or brand new and trending!
Several different cement tile trends have taken over Instagram, and each one is unique in its way. There are slight variations of the above cement tile trends, but they are still popular and appeal to them. Since they all work well together, you can use them in various rooms throughout the home.