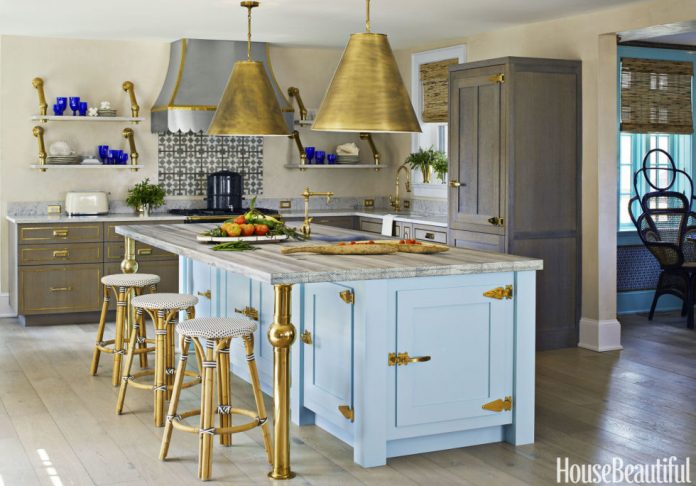 Kitchens are the heart of the home and, for most homeowners, it's important that they are just as lovely as they are functional. Guests congregate in the kitchen, holidays are centered around them, and much of daily living takes place there. A kitchen sustains us and provides us with many wonderful memories, so it should be a place you love to spend time in.
One of the easiest and most inexpensive ways you can completely change the look and feel of your kitchen is with the backsplash. All it takes is a different color and style and you've instantly upgraded your kitchen. When searching for the right material for your backsplash revamp, pay attention to cement tiles. They come in a virtually endless array of colors, patterns, and designs, and allow you to turn your vision into a reality, no matter what it looks like.
Backsplash Tiles Make a Kitchen Look Bigger and Brighter
If you have a dark kitchen that lacks adequate sunshine, then a light colored backsplash can immediately brighten up the space and make it look larger. Light tones like white, ivory and cream reflect light and make a small or dark space appear more open, from floor to ceiling. Just changing the color of the backsplash can drastically improve the look and feel of your kitchen and turn it into a brighter, airier space versus a dark uninviting one.
Backsplash Tiles Add Strength and Structural Integrity
Kitchens are well used every single day. They experience plenty of wear and tear and a backsplash can help protect the walls of your kitchen by acting as a durable buffer. The areas behind the sink and counters often get splashed with water and other liquids and food items, which can cause hard-to-clean stains and even lead to water damage and mold. Prevent scratches and stains on the walls with a well-sealed cement tile backsplash, and avoid serious damage down the road.
Backsplash Tiles Create a Stylish Focal Point
If your kitchen is lacking style, you can instantly improve a plain, boring space with a new tiled backsplash in a fresh color and pattern. An aqua backsplash tile adds uplifting color, and a series of floral cement tiles add drama, elegance, and style and act as a focal point. Tile the entire wall behind the kitchen counter, only up to the cabinets, or tile a fun design just behind the stove and up the wall. Even a small amount of cement tile on the backsplash will take the style to a whole new level and add a perfect punch of color and flair to an otherwise plain space.
Backsplash Tiles Make Clean Up Easy
Tiles are one of the easiest materials to keep clean because all it takes is a swipe with a damp sponge or cloth, and most splatters and marks are gone. No more embarrassing spots or stains, and you can have your kitchen cleaned and ready to present to guests in a snap!
Backsplashes Can Change the Theme of Your Kitchen
If there's a particular style you want for your kitchen, such as a Fixer Upper inspired farmhouse or an eclectic bohemian style, a backsplash might be all it takes to achieve the look you're going for. Crisp white tiles look classic yet charming and farmhouse-worthy, coupled with a farmhouse sink, of course. Posh black and white mosaic or geometric tiles ooze elegance. Even if you don't change the color of the walls or replace the cabinets, a refresh of the tile backsplash can completely change the theme and style of your kitchen.
Backsplash Tiles Hide Wall Damage and Imperfect Areas
If your kitchen countertops don't sit perfectly flush against the wall, a tiled backsplash can hide any discrepancies nicely. If there are any scuff marks or damage to your kitchen wall, a backsplash of cement tiles can hide these not-so pretty areas and prevent anymore damage from happening.
Backsplash Cement Tiles Add Perceived Value
Cement tiles look beautiful and expensive, and ooze style. Even though they've been around for centuries, cement tiles evoke a certain high-end style that seems only available to celebrity homes, designers, and magazine-worthy spaces. However, cement tiles are affordable and practical, and can add a serious boost to the overall look and feel of your kitchen. Cement tiles make your kitchen look effortlessly chic and add a boost of perceived value to your entire kitchen.
Cement tiles are the perfect choice for your kitchen backsplash if you want to completely change the look and feel of your kitchen with one cost-effective upgrade.
Granada Tile offers one of the widest selections of top grade cement tiles for the kitchen backsplash, with many beautiful styles to choose from as well as the opportunity for homeowners to personalize and customize their own designs. Get in touch with the sales team today to begin designing your kitchen upgrade.