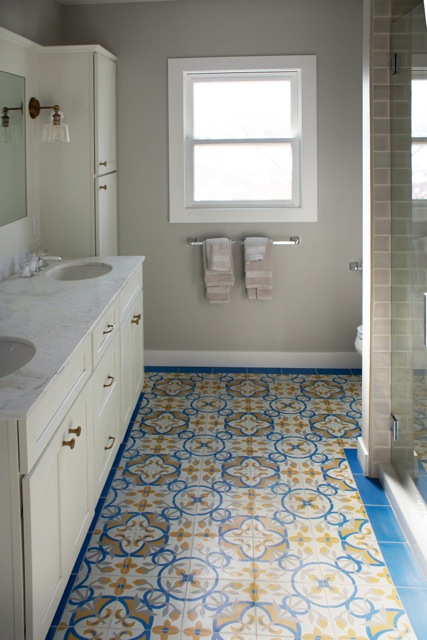 Cement tile is one of the most practical materials for bathrooms and showers. It is also one of the most stunning and diverse when it comes to design options, colors, and patterns. If you're looking into renovating a bathroom in your home and want to add an interesting focal point, adding a unique tile in the shower can punch up the space and instantly upgrade the entire bathroom, even if you don't renovate it all.
1. Striped Shower Walls
Large prints are in style right now and offer a punch without being too busy. One idea is to tile the walls of the shower with two different tile colors, in the same size and shape, and alternate the two tiles to create large stripes. Alternatively, you can flip flop the same color and size of tile to create a herringbone pattern on the walls and floor of the shower. This look is both elegant and dramatic, especially if the entire bathroom is one solid tone.
2. Colorful Mosaic Tile
The tile in the shower is a great place to play with color and shine since it's a small space and won't overwhelm the bathroom. The shower walls are perfect for adding color, and colorful mosaic tile looks both fresh and fun. Popular colors for a bathroom include blues and light greens, but feel free to personalize your space to suit your home and style and choose not-so common colors like pink or red. Balance out the bright colors with a neutral tone in the rest of the bathroom.
3. Accent Tile in In-Set Shelves and Benches
If you love the idea of a solid-toned shower (an all white bathroom is especially on-trend right now) but you want a way to break up the monotony in a small way, choose a complementary tile in a different color and shape or size for the in-set niches and for the bench if you have one in your shower.
4. Different Colored Tile in the Same Tone Family
Ombré is a style still popular around the world today, from hairstyles to clothes. It's also a popular choice for home décor and you can bring some of your favorite looks into your bathroom for a modern update. Choose tiles, preferably all the same shape and size, in different tones of the same color family and create an ombré wall in the shower. Cement tile lends itself well to this style since there is a natural organic range of shade within one color.  Select some towels and other accents in a color from the feature wall to bring the look together.
5. All Natural Tones
One of the most consistent qualities of luxury spas all around the world is serene colors. You can take inspiration from a luxury spa to create your very own relaxing retreat in your bathroom. Choose soft, neutral tones for the space, such as cream, light gray, or white, and tile the entire shower in one of these serene hues. To make the space even more serene, avoid busy patterns and too many lines, corners, and objects. Rectangular tiles are popular right now and help to make a space feel calmer and less busy. Use these tiles for the walls in the shower, and possibly transition them in the entire bathroom.
6. Patterned Floral or Moorish Tile
If crisp, clean and serene really isn't your style, then cement tiles have plenty of fun patterns for you to choose from. Create a focal point in your bathroom by tiling a wall in the shower with an intricate floral or Moorish design. You can take it up a notch even more by selecting a pattern in bright colors, or keep the colors soft with a romantic patterned design. For an unexpected twist, tile the floor of the shower with the patterned tiles and keep the rest of the shower a neutral tone.
7. Two Different Shaped Tiles
Mix and match two different types of tile in the shower to add visual interest. You can choose the same color or tone to create a cohesive look using two different shapes or sizes of tiles. Think a gray and white patterned tile on the walls with a solid tone on the floor, or a small scale scalloped tile on the walls and a subway tile look alike on the floor. The single tone will give the impression of a well-blended space that is anything but boring.
Are you ready to begin your bathroom upgrade? Get in touch with the tile experts at Granada Tile today and get started designing your dream bathroom with cement shower tile.