Your home is your retreat, and it should reflect your unique inspirations and treasures just like your own personality. Spanish Colonial tile can do that for your space, by adding a unique combination of color, pattern, and mixture of lines and curves. It's no wonder we, at Granada Tile, are partial to the allure of artisan-made Spanish tiles. Take our advice and use them to add your personality to your home!
The Specialties of Spanish Colonial Tiles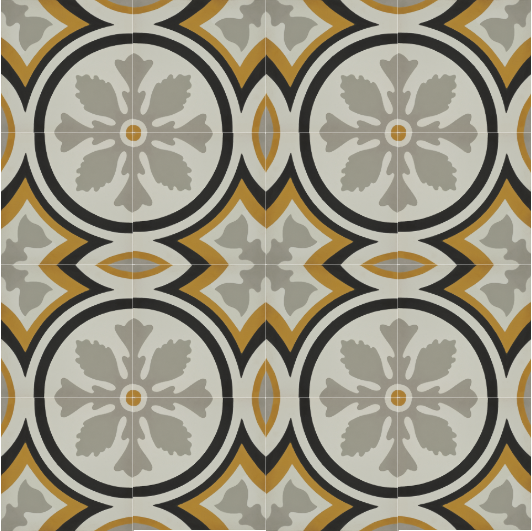 Spanish tiles from Granada Tile are unique because they are cement. Encaustic cement tiles have been around since the mid-1800s for centuries and are backed by time-honored artisanal practices. These tile patterns date back to medieval Spain, where they were widely produced. Ancient Spanish tile can be seen gracing palaces and churches as mosaic art, decorative accents and on fountains.
What traditional tile makers could never have predicted at the time was how perfect cement tiles are for modern-day homeowners. As practical as they are stylish, they are a durable option for floors, walls and outdoor spaces of your home. They can withstand moisture and messes, daily wear and tear, and survive changing trends.
Unique Ways to Add Flair with Cement Spanish Tiles
There are so many ways to use Spanish tiles in your home to add a unique flair. Designs range from exquisite, intricate patterns to bold lines and striking color combinations. Traditional Spanish tile often features earthy terracotta, golden yellow, bright cerulean blue, orange, green and aqua that help highlight desired areas.
Try this versatile tile in one or more of these ways to personalize your home:
Kitchen backsplash, island, and floor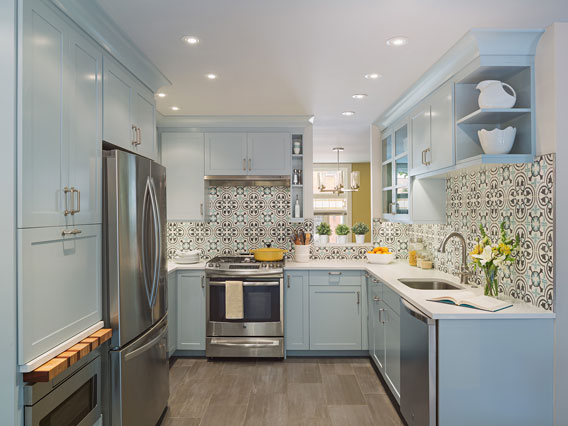 Spanish Colonial tile work amazingly well as backsplashes because they can combat moisture and food spills and protect your walls. Tile up to the cabinets or the entire wall, but don't forget the front of the kitchen island which often gets neglected. Spanish tiles are also practical for the kitchen floor, one of the most popular ways homeowners use patterned cement tiles. As seen on our Spain gallery page of historic installations, these colorful tiles can be used to accent simpler tiles or turn the floor into a dazzling work of art.
Bathroom floor and shower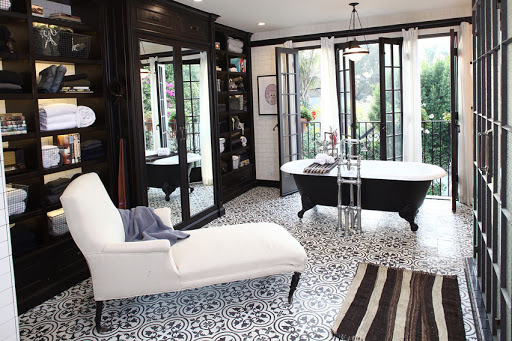 As long as cement tiles are sealed properly, Spanish tiles turn boring bathrooms into magazine-worthy spaces that can withstand water and moisture damage. A great way to add personality to a bathroom without overdoing it is to transform a shower into a feature, tile the shower floor to ceiling or add a touch of style with pattern tiles inside a soap shelf.
Outdoor patio floor and covered porch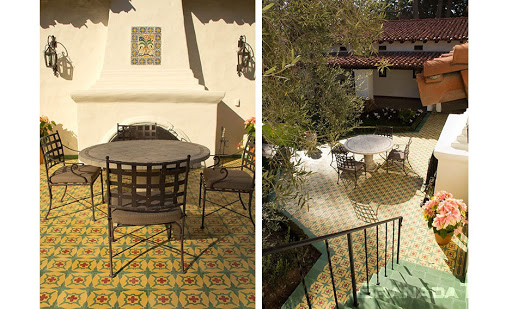 For warm climates without freeze-thaw cycles, cement tile can turn outdoor spaces into chic retreats and entertaining hangouts. Use Spanish tile on the floor of a patio and even on retaining walls and other hardscape elements. If you have an outdoor bar, use this space to get creative with colorful patterns. Spanish tile offers the high style you need to create an incredible party spot.
Foyer, hallway, and rug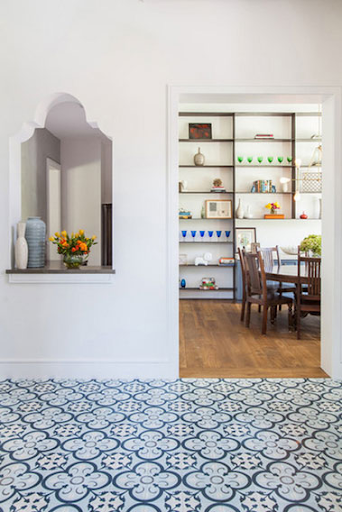 A fun and unexpected way to incorporate patterned Spanish tiles into your home is to install them in a foyer, down a hallway creating a runner with simpler border tile, or as a faux rug anywhere you'd like to add some flair.
Custom feature and crown molding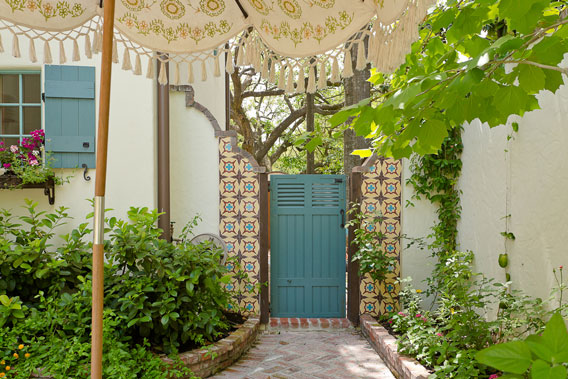 Rethink typical artwork by creating an artistic accent on a wall with Spanish tiles, like a unique take on wainscoting. Choose a pattern with colors that complement or contrast other hues. Another great way to incorporate Spanish tiles on the walls without making them too bold is to use them as an alternative to traditional crown molding.
Stair risers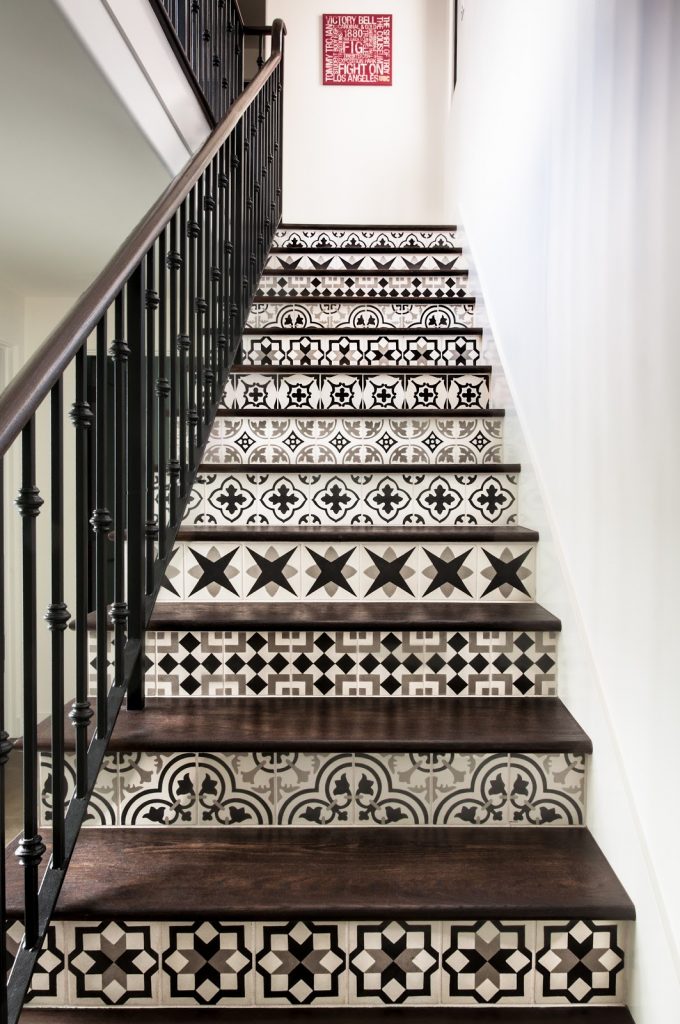 Tile stair risers inside or outside your home with Spanish tiles to add a pop of pattern and/or color. They complement the natural tone and texture of hardwoods beautifully.
Fireplace
The front of a fireplace is a smart way to make use of the eye-catching patterns and colors of Spanish tile. In this case, a little goes a long way at making a statement in your home.
Ceiling
Flip the script for how homeowners typically use tile and make a ceiling in your home the star. If your personality veers past the conventional, this design idea is for you.
Trendy and Classic Spanish Tile Designs
Spanish tiles offer both fresh and classic style for your home and allow you to put your creative spin on them.
The traditional Spanish tile designs we love reflect Moorish influences and nature-inspired shapes, like swirling filigree, twisting vines and floral centerpieces. You'll find mainly warm tones in Spanish tile designs with complementary dark hues and cool accents. Check out these traditional Spanish tiles and Mediterranean tiles found in our Echo collection.
Find Unique, Artisan-Made Spanish Tiles at Granada Tile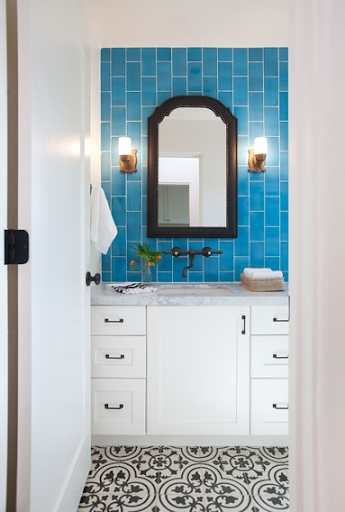 If creating a unique home that reflects your personality is important to you, look no further than the high-quality Spanish tile from Granada Tile. Our tile is still made by hand using traditional methods and offers you the durability and practicality you need to love them for years to come.
Browse our collections to find your favorite tile, or contact our team to incorporate the colors and patterns you love most into a custom design. Get in touch today and let us help you add your personality to your home!
Sources:
https://www.latin-accents.com/history-of-spanish-tile/
https://www.granadatile.com/en/gallery/residential/Walls
https://www.builddirect.com/blog/12-ways-to-use-tile-creatively-in-your-home/