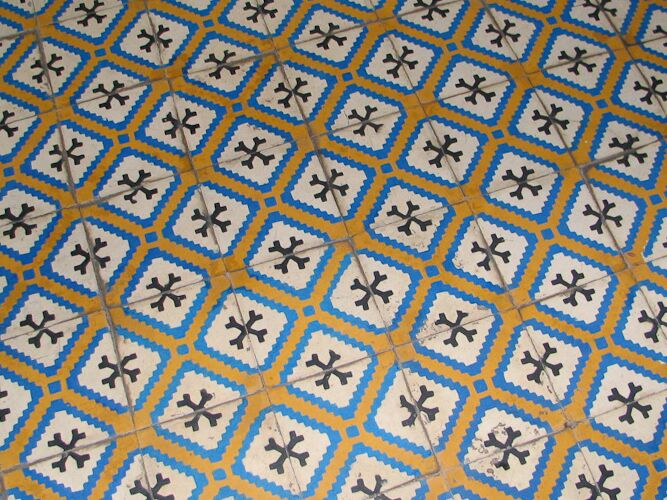 Cement tiles can be seen across countless blogs and magazines in countries around the world. Learn about the cement tile styles from various regions and cultures, and get inspired by the endless possibilities.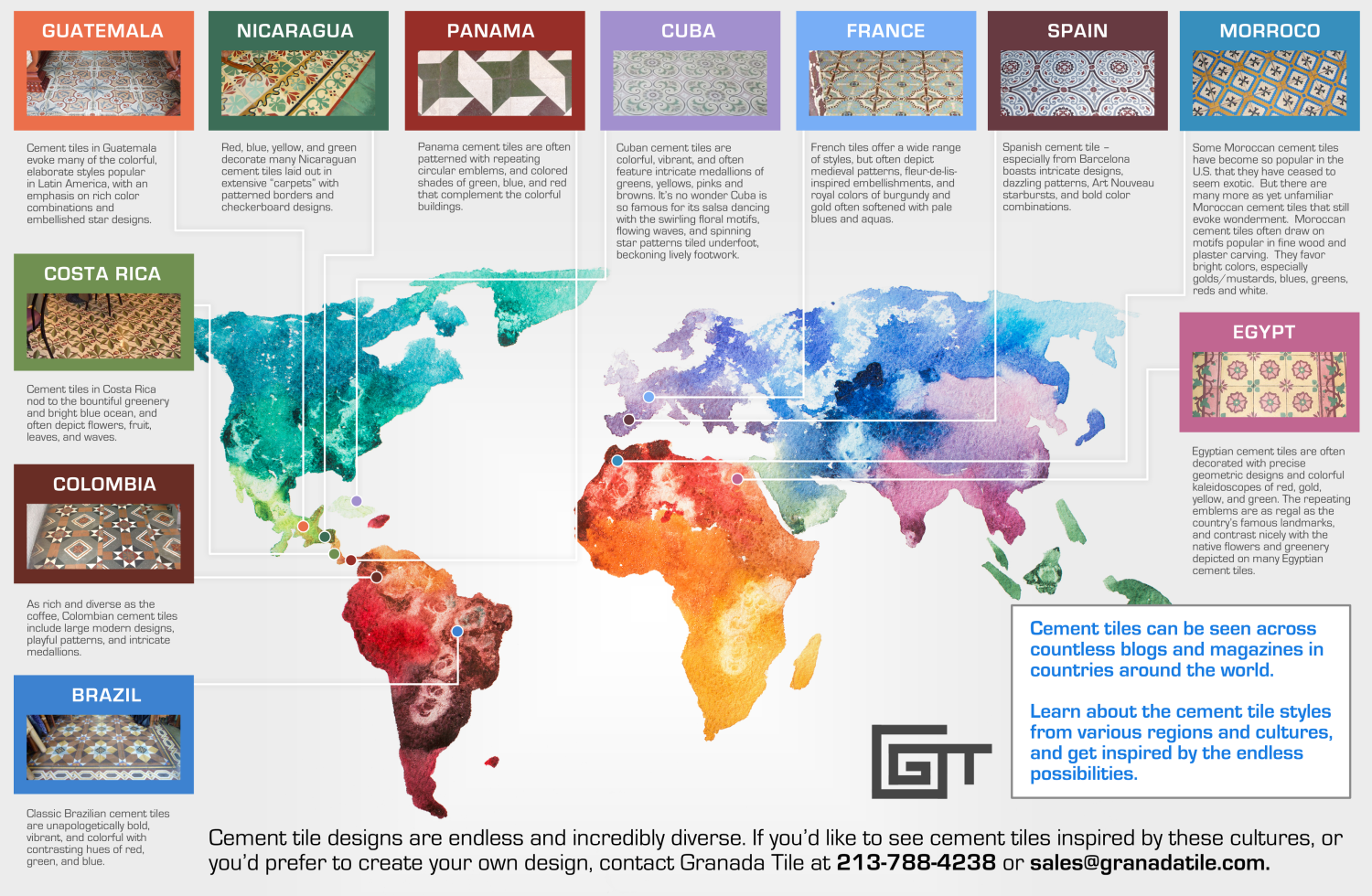 Share this Image On Your Site
Brazil
Classic Brazilian cement tiles are unapologetically bold, vibrant, and colorful with contrasting hues of red, green, and blue.
Colombia
As rich and diverse as the coffee, Colombian cement tiles include large modern designs, playful patterns, and intricate medallions.
Costa Rica
Cement tiles in Costa Rica nod to the bountiful greenery and bright blue ocean, and often depict flowers, fruit, leaves, and waves.
Cuba
Cuban cement tiles are colorful, vibrant, and often feature intricate medallions of greens, yellows, pinks, and browns. It's no wonder Cuba is so famous for its salsa dancing with the swirling floral motifs, flowing waves, and spinning star patterns tiled underfoot, beckoning lively footwork!
Egypt
Egyptian cement tiles are often decorated with precise geometric designs and colorful kaleidoscopes of red, gold, yellow, and green. The repeating stamped emblems are as regal as the country's famous landmarks, and contrast nicely the native flowers and greenery depicted on many Egyptian cement tiles.
France
French tiles offer a wide range of styles, but often depict medieval patterns, fleur-de-lis-inspired embellishments, and royal colors of burgundy and gold often softened with pale blues and aquas.
Guatemala
Cement tiles in Guatemala evoke many of the colorful, elaborate styles popular in Latin America, with an emphasis on rich color combinations and embellished star designs.
Morocco
Some Moroccan cement tiles have become so popular in the U.S. that they have ceased to seem exotic.  But there are many more as yet unfamiliar Moroccan cement tiles that still evoke wonderment.  Moroccan cement tiles often draw on motifs popular in fine wood and plaster carving.  They favor bright colors, especially golds/mustards, blues, greens, reds and white.
Nicaragua
Red, blue, yellow, and green decorate many Nicaraguan cement tiles laid out in extensive "carpets" with patterned borders and checkerboard designs.
Panama
Panama cement tiles are often patterned with repeating circular emblems, and colored shades of green, blue, and red that complement the colorful buildings.
Spain
Spanish cement tile – especially from Barcelona—boasts intricate designs, dazzling patterns, Art Nouveau starbursts, and bold color combinations.
Cement tile designs are endless and incredibly diverse. If you'd like to see cement tiles inspired by these cultures, or you'd prefer to create your own design, contact Granada Tile at 213-788-4238 or sales@granadatile.com.