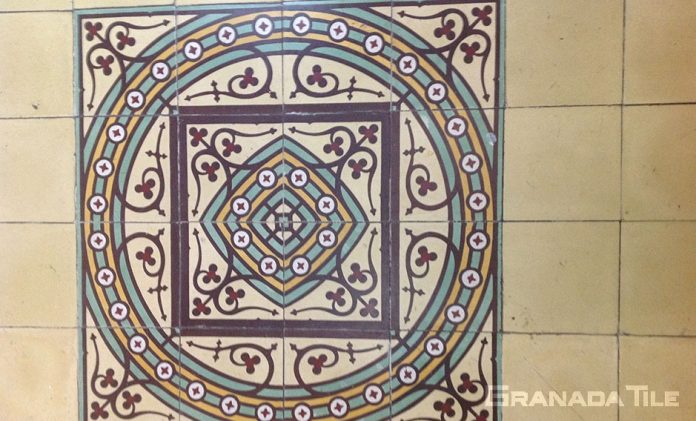 Ceramic tiles first made an appearance in the ninth or tenth century BC, with cement tile arriving quite a bit later in the 1800s when hydraulic presses were invented and Portland cement was discovered. Gracing the walls and floors of wealthy homes to extravagant palaces and temples alike, tile has become cemented in our culture as one of the most integral and impactful elements of our world's stylistic influences. Today, ceramic tile is still used all over the world, but the modern cement tile has enhanced the properties of the tile to be even more durable and longer-lasting. Cement tile comes in just about any color and pattern you could imagine, from classic styles that deliver a piece of history to your home or business to modern and truly personal styles.
Let's take a trip around the world to learn more about the different geographical influences on tile and how you can bring each unique look into your space with long-wearing cement tile.
Moroccan Tile
If you take a trip to Morocco, you'll quickly notice that dazzling, colorful tiles embrace the walls and floors of nearly every building you come across. Traditional Moroccan style tile – known as Zellige (Zellij, zelige) is made with geometric shapes and bold colors, like blue, red, brown, white and green. Zellige tiles are very traditional to this region and are made up of colorful mosaics. Visit the Granada Tile Minis collection to view our zellige-inspired cement tile.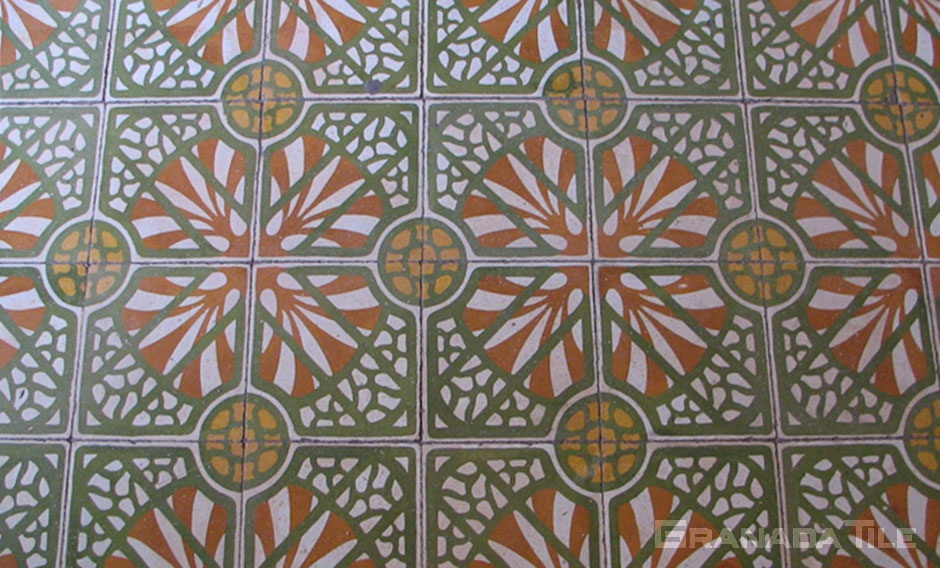 Spanish Tile
Early Spanish tile mostly consisted of unglazed bricks, mosaics, roofing tiles and water channel tile. The introduction of Islamic culture in the 8th century brought beautiful glazed tile made with metallic oxides to Spanish culture. Today, modern Spanish style tile embraces bright colors and intricate medallion, filigree and mismatched patchwork designs. Popular colors are blue, gold, yellow, green and terracotta.
Firenze Tile
Firenze tile reflects the beauty of Florence in Tuscany, Italy. Home to many masterpieces of Renaissance art and architecture, Florence has terracotta-tile domed cathedrals, sculptures, and beautiful tiles around every corner. Classic Firenze style tile emulates the beauty of the naturally colored and worn stone and terracotta tile of the past, with colors in rust terracotta red, aged brown, and rustic cement and marble. Cement tile resembling Firenze tile can provide the same classic look and feel, with improved durability.
Cuban Tile
Cuban tile brings the warmth and color from Havana and Camaguey, Cuba to your home or business to provide for a lively atmosphere. Cuban style tile often is designed in the warm colors of this Latin region, with a mix of red, terracotta, yellow, gold and brown completing patterns of filigree, medallion and bold border designs. Other colors you'll find are cerulean blue, gray, light blue, white and even bright magenta! Cement tiles are made by hand by talented artisans. They can replicate any pattern you would like to bring into your home, no matter how intricate or brightly colored.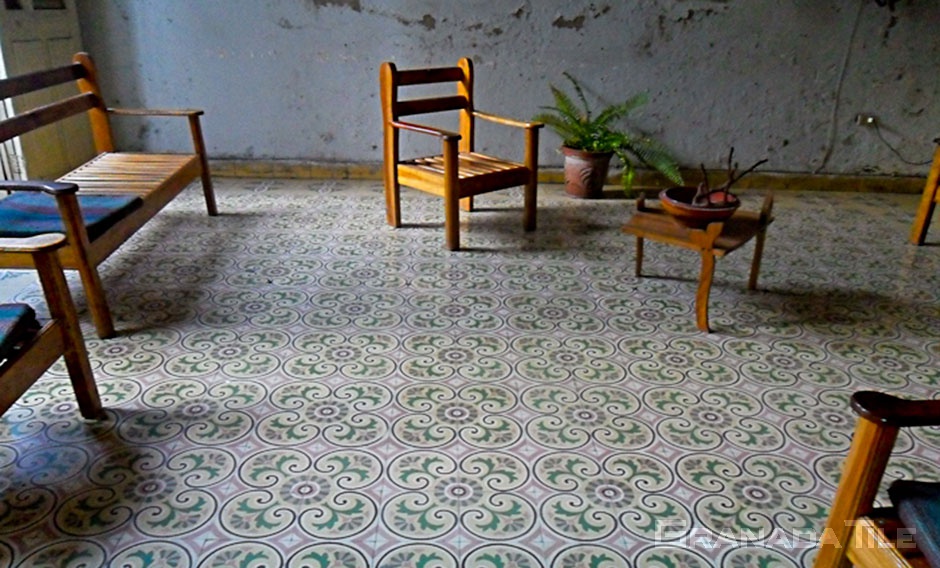 Colombian Tile
Similar to Cuban tiles, Colombian tiles are made with rich warm tones featuring red, burnt orange, yellow, gold, green, white and with touches of blue. Intricate floral and filigree designs grace the floors and walls of homes and shops alike in Colombia, and depict the romance of the intricate twirled edges, leaf motifs and mixture of rounded and pointed shapes. You'll even find geometric shapes on classic Colombian style tile with basic triangles, diamonds and squares in repeating patterns.
French Tile
France is known for being a fashion capital and style influencer to the world. You'll find that French style tile highlight royal colors like red and gold in border and edge tiles and in-between patterns, with soft pastels in baby blue and cream as the foundation. Medallions and filigree designs resemble jewelry on the floors of palaces and store fronts. They nod to the extravagant historical style of the country. While ceramic tiles chip and fade over time, as seen on antique Parisian floors, cement tiles hold up to wear and tear of time and foot traffic with minimal damage.
Colonial Tile
Colonial tile in the United States is inspired greatly by European tile, with intricate filigree and floral designs embellished with unique borders. American style tile is often made with bold, regal colors of red, gold and bright green. Granada Tile can take our country's style of tile influenced from all over the world and combine it with your unique taste to create something one-of-a-kind.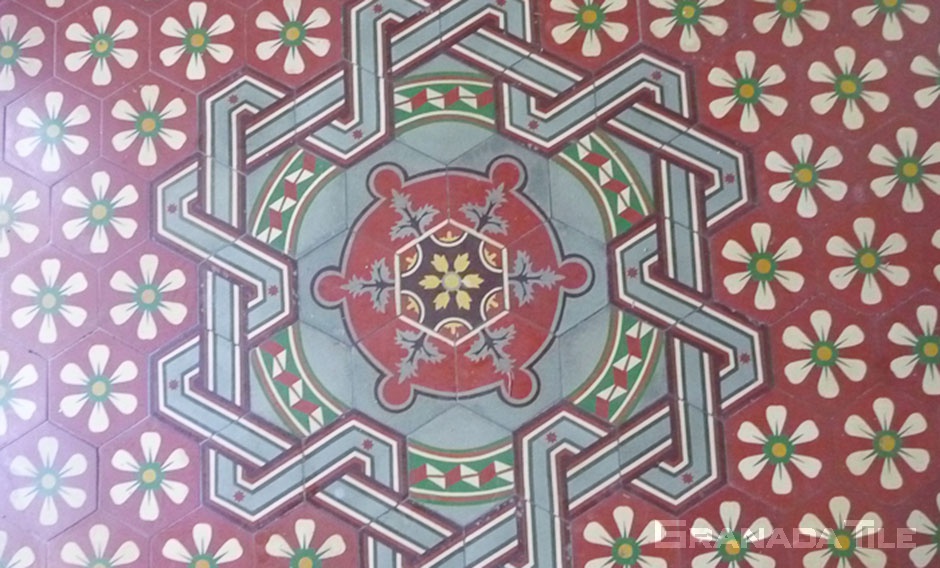 The Difference Between Cement and Ceramic Tile
Ceramic tile has been around for a very long time. They are considered the most traditional type of tile. However, they aren't immune to the cracking, chipping and fading that happens over time. Ceramic tiles are made with clay and are painted with a glaze to create the colorful patterns. Cement tiles are made using a totally different process, with a mixture of cement, powdered marble, sand and pigments that are embedded into the tile. They can have very similar designs and historical influences as ceramic tiles, but they are much longer lasting.
Find Exquisite Cement Tile Inspired by History at Granada Tile
Whether you love the look of Moroccan tile, or would like to bring in the stylistic influences of Spanish tile into your space, Granada Tile can create the stunning, hard-wearing product you're dreaming of. We've traveled across the world studying traditional tiles and can combine our experience with your unique vision to come up with a design that is both influenced by history yet showcases your personal style.
Browse our cement tile collections to find the shapes, colors and designs you love most. Experiment with customizing the color combinations using our very easy to use tool. Get in contact with our team of design experts to start the process of creating your own custom cement tile. Your imagination is the limit!
Sources:
https://www.granadatile.com/en/gallery/historic
https://www.granadatile.com/en/cement-vs-ceramic/