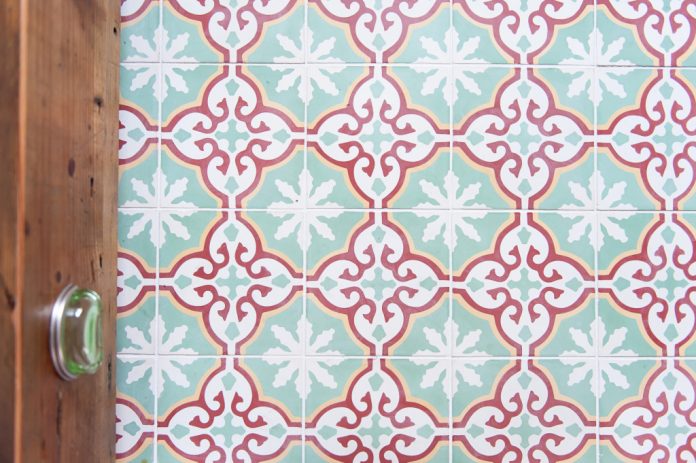 Dating back to the 10th century, Moroccan tiles are truly historic pieces of art that originate in the old city of Fez, Morocco and parts of Spain. The tiles have made a significant comeback over the years, and have hypnotized home and business owners once again with their intricate geometric patterns and vibrant colors. Granada Tile has traveled across the globe to Morocco to find inspiration for our very own Moroccan cement tile designs. Look over our inventory of beautiful Moroccan cement tiles inspired by historical installations to visualize how you can bring this age-old tile once coveted by royalty into your home.
Signature Moroccan Style Tiles
Traditional Moroccan tiles are crafted using regional clays and glaze pigments using time-honored handcrafted techniques. The signature Moroccan look is made up of complex geometric patterns and vivid jewel-toned colors. Moroccan tiles also incorporate a wide variety of pattern combinations, including squares, triangles, diamonds, stars, polygons and crosses which join together in a mathematical fashion. According to Islamic tradition, the rules of design did not allow for the portrayal of living things, and so geometric patterns rose in popularity to add color and embellishment to architecture.
In the early days, the colors of tiles were limited, mostly to white and brown. Nowadays, you'll find Moroccan style tiles in a wide array of colors, with brown, white, green, saffron, blue and black being the signature hues. These colors represent the four elements- fire, water, air and earth. Combined, they make for striking combinations.
The traditional geometric patterns Moroccan tiles are most well known for can be almost hypnotic and provide a kaleidoscope-like effect. Throughout history, they have acted as an inspirational backdrop for meditation and religious ceremonies.
The Tradition of Moroccan Zellige
Zellige, also spelled zellij and zelige, is a Moorish art form that is heavily featured in Moroccan architecture. Its design elements are based on geometric tiles that are set in a plaster base to form intricate patterns. Known as "the prince of tiles," zellige can be viewed inside ancient tombs, palaces and temples throughout Morocco. They have long since been regarded as a symbol of sophistication, wealth and power for royalty and religious establishments.
In addition to multicolored geometric patterns, zellige tile designs also include plain tile borders with mathematically placed interior mosaics, patterned border tiles and corner tiles to create a unique focal point and two-toned geometric patterns.
True zellige tiles are still made using the same centuries-old process involving skilled artisans known as Maallems. The zelliage manufacturing process involves high-quality clay, water, dyes, hammers and strong hands to manipulate and form the tiles. Before being baked in a special oven, they are set in the sun to dry. Templates are used not only for determining the shape and design, but also for cutting.
Why Choose Cement Tile Over Ceramic?
Traditional Moroccan tile is made with clays and glazes and is fired in an oven. While this method is time-honored, it doesn't produce the hardest wearing tile. Moroccan-inspired mosaic cement tile, on the other hand, is made with a combination of cement, sand, powdered marble and pigments to create a design that is built into the tile itself. They are much less likely to chip, stain or fade when compared to ceramic tile. Cement tile will help to preserve the beauty of the Moroccan style and stand the test of time in your home or business.
The other wonderful benefit of cement tile is that it is completely customizable. Once you find a design or pattern you love, or a combination thereof, you can make it your own. Choose or even create an unexpected color and come up with your own custom pattern that is inspired by the beauty of traditional Moroccan mosaic tile.
Ways to Decorate with Moroccan-Inspired Mosaic Tile
Use Moroccan style mosaic tile to add color and pattern to your home. One of the many ways of integrating tile is by creating a one-of-a-kind focal point. You can add a vibrant pop of color to your kitchen on the backsplash or floor. Alternatively, use them in a totally unexpected way like on the face of the kitchen island or peninsula. Moroccan cement mosaic tile looks great on any floor or wall in your home or business. Thanks to our cement tile manufacturing process, they'll stand up to heavy foot traffic beautifully. Create a jaw-dropping geometric design on the wall in a dining room or fireplace mantel. Tile your bathroom and shower with Moroccan inspired mosaic cement tile for a waterproof space that'll be sure to wow.
Browse the Collections at Granada Tile for Moroccan Cement Mosaic Tile (Minis)
Because our products are cement tile and not ceramic tile, Granada Tile does not carry true zellige. However, we have combined the historical and better-wearing concrete process with designs inspired by the most traditional and authentic Moroccan patterns and color combinations.
Our Minis collection features designs inspired by the traditional zellige tile we saw on our trip to Morocco. If you have any questions about our tiles, don't hesitate to get in touch with our fabulous team of experts today!
Sources:
https://www.granadatile.com/blog/get-know-minis-collection/
https://www.granadatile.com/blog/get-look-inspired-sensational-cement-tile-morocco/
http://zellijgallery.com/moroccan-tile/
http://www.badiadesign.com/moroccan-tiles/