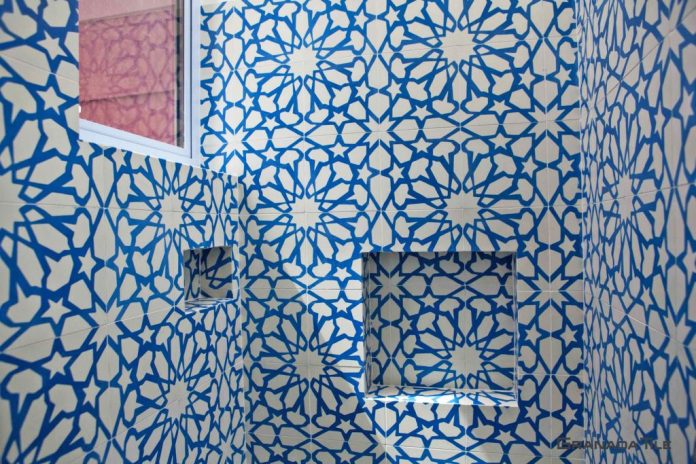 You won't find a shortage of cement tile patterns at Granada Tile. We've traveled the globe getting inspired by all of the beautiful and traditional patterned cement tiles we've come across to bring to our online shop. We've also been inspired again and again by our customers who come to us with a unique pattern they've seen while on vacation, or have dreamt up themselves. The wonderful thing about cement tiles is that no matter what tile patterns you may dream about having in your home or business, it can most certainly be done.
While each of our tile collections boasts a different stylistic influence and feel, our Echo collection is where you'll find our patterned concrete tiles.
You'll come across mostly square tiles in a wide variety of colors and patterns. Bold geometric shapes and lines in highly contrasting colors give a modern appearance. Yet, checkered tiles still offer a classic look. Two-toned tiles with a classic border recreate the look of gingham on a floor, and tiles with large circles play homage to popular retro style.
If you're looking for something more traditional and intricate, you'll love our Mediterranean, Moroccan, and Spanish Colonial designs. They are awash with unique floral, medallion, and kaleidoscope-like patterns and colors. Patterned floor tiles can make a statement in any room, from a kitchen to a bathroom. They can be used as a showcase piece, to enhance other textures and colors, or to turn an otherwise plain space into one that wows.
A few favorite places to use patterned tiles are:
Kitchen backsplash
As wall art
In a guest or master bathroom
In a shower
Surrounding a fireplace
Outdoors on a covered patio
Cement tiles add instant style and personality, all without a major renovation or structural change.
Forget needing to complicate your home refresh with all new furniture and accessories. Installing cement tiles in unique tile patterns is often all you need to update and add character to a space. It's a single change that makes a huge impact, not only on the look of a room but on the perceived value. It's no secret how popular patterned floor tiles have become in the past few years, and you can use their popularity to your advantage to add value in your home.
If you don't see a tile pattern you absolutely love in any of our collections or in-stock tiles, did you know that you can create your own custom design? Use our custom layout tool to come up with a color combination and pattern design to create something completely one-of-a-kind. Each of our cement tiles are made by hand, so they can create a custom mold for your pattern, just as they would for any new design.
If you want to make a change in your home or business, and want to take advantage of the durability and long-life of cement tiles, then start browsing tile patterns and ideas now to come up with your perfect design.