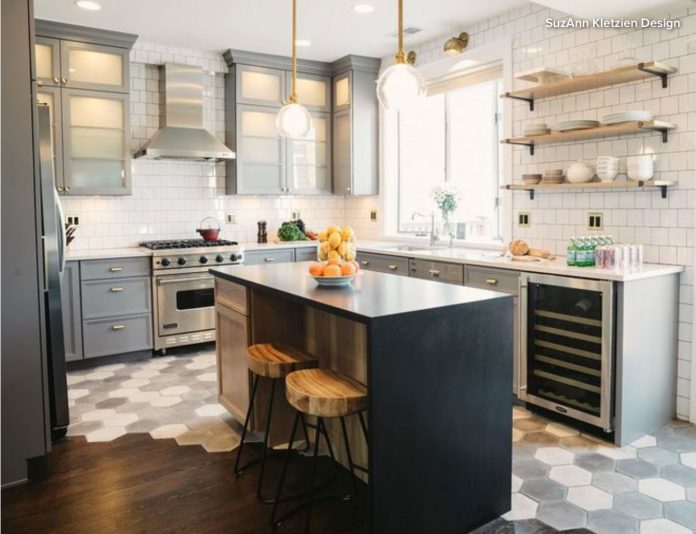 Use An Uneven Border of Hexagon Cement Tiles To Soften Your Kitchen Space
We love Houzz for connecting with architects, interior designers, kitchen planners, home builders and home owners. We also turn to it for ideas. We wanted to share a few that we found in a recent post, 10 Tile Layouts You Haven't Though Of, that might spark a few thoughts for what to do in your home.
Here's one we love, designed by SuzAnn Kleitzien Design. This kitchen uses hexagon cement tiles to provide visual relief from the many right angles found in a kitchen. To further enhance the effect, the uneven border of concrete tiles merges with the wooden floor, providing a soft border between the kitchen and the adjoining great room. It's an idea that works well in these types of rooms, subtly setting off the kitchen area from the other spaces. It can be especially useful in a room that is extremely large, creating intimate "rooms" that break up an otherwise cavernous space.
Whether you're considering plain hexagon cement tiles or one of the hexagon tile designs from our new patterned hexagon tile collection, we can help you pick the perfect encaustic tile for your space. Call us today — 213.788.4238 — or use our live chat service to talk one of our staff. We're sure you'll fall in love before the grout even dries.
SaveSave
SaveSave