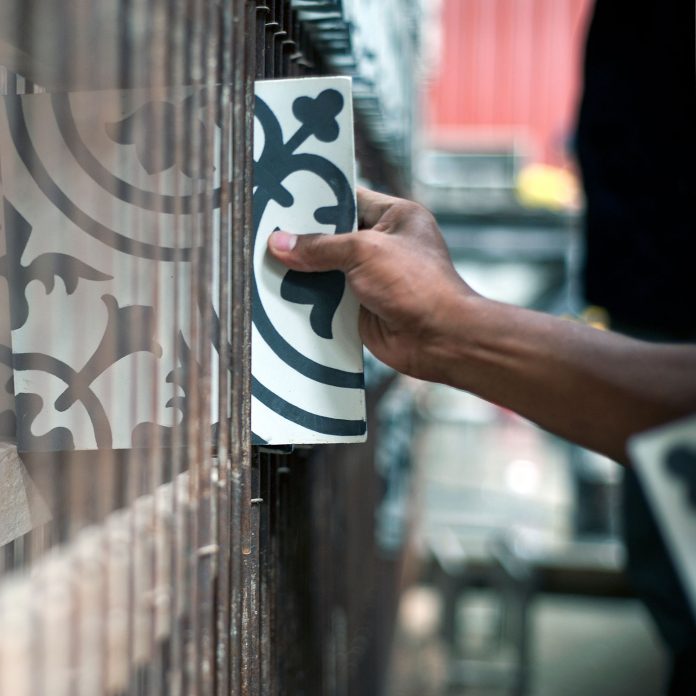 Granada Tile offers designers the ability to create luxurious and haute office spaces with concrete tiles. Concrete tile is a durable, long-lasting and professional-looking material that works with many career types, from marketing professionals to designers to accountants. It is important to create a space that creates warmth, makes working comfortable and is professional and design forward.  By using our concrete tiles for your office or store front, you can utilize customizable color schemes and shapes to create the perfect atmosphere for you, your employees and, most important, your clients. Whether you are looking for a functional, modern look or a more traditional decor, Granada Tile has the option that is best for you. Here are a few tips to help maximize your design-focused office space using concrete tiles.
Profession: Artistic or Traditional?
One thing to keep in mind when designing your space is your profession. Because of the versatility and multitude of color, design and shape options available with concrete tiling, you can customize your office space to match your professional tastes. If you are an at-home accountant, neutral tones will create a professional yet modern space, lending a calm and placid environment to your space. You can also implement a more corporate, professional look by using larger tiles to make your office seem like it belongs in a high-rise in Manhattan. Architects and forward-thinking contractors will especially want to show off their design aesthetic using concrete tiles: this is one of the best ways to impress potential clients who are looking for a midcentury or contemporary look when remodeling their own homes. No matter what, you will want to make sure your clients are comfortable in your office setting, and concrete tile is the perfect way to meet your clients' needs.
Using Geometry in Your Designs
Geometric patterns enhance any space, and concrete tiles are known for their versatility when it comes to geometric design. By combining smaller tiles with larger ones, you can create depth and character to an office space without adding cluttered accessories or extra layers of paint. Because of this versatility, you can use brightly colored tile to accentuate neutral palettes, creating an invigorating space without obscene costs. Another way to enhance your space is using tiles containing different shapes such as hexagons, to create a bold statement, especially if the tiles are different colors. This will add nuance to your space in ways otherwise unimaginable! The best part of using geometry in your concrete tile is that it cuts across aesthetic boundaries; geometry can be used to create a rustic, Mediterranean look, or it can create a supremely clean and modern look for your office.
Keep Yourself in Mind
When thinking about the space you are designing, it's also important to focus on your aesthetics since you will be the one spending the most time in your office space. During the design process, you will want to make sure that your new office space matches your personality. If you are known as a bright, cheery person, you will want to make sure that your new design features bright blues or greens balanced by traditional black and white tiles. If you are known as a serious or somber person, you can feature darker tiles accented by brighter floors or 3D designs. You will also want to consider how aesthetics impact your work process. Do you require a cozy space to focus, or are you inspired by floral, circular line work? If you need something on the cozy side, it is best to use neutral blue tones with rustic accents to create a beachside-inspired office space. If you need vivacity to be inspired, arabesque and 3D tiles are going to give your space the life you crave. Even though you will want your office space to appear professional and match your career path, you are the one that will spend the majority of time there, so comfort is key to the design process. The goal is to be productive, so make sure you create a productive space for you and your business!
View our amazing selection of concrete tiles perfect of an office or retail shop now!