Since the advent of social media, 'foodies' has become a movement which spans borders, cultures, and platforms. There's something equally soothing and exciting with seeing stunning gourmet food perfectly laid out against a background of beautiful kitchenware, gorgeous locales, and even artisan cement tiles. If you're the type to photograph and share gourmet meals, you know the setting can be almost as important as the meals themselves. Having the ideal backdrop to frame the rainbow of colors spread across elegant dishware is crucial to the perfect picture. Very little makes a better background than a vibrantly patterned cement tile. Instagram bloggers across the world are discovering the glory of using encaustic cement tile to frame their culinary adventures. We've cherry-picked a few of our favorites to highlight how you can create delicious pairings of food and scenery.
Simple patterns work well with simple, bright food on social media
Instagram's well known for its filters, but often none are needed if the food stands out strongly enough. When working with a smaller meal, keeping the background noise down with a basic pattern is an artistic choice which allows the colors of the meal to shine. Granada Tile's Serengeti pattern blends smoothly into the grey-toned dining set, like the spread @essexla showcased in the Instagram post below. This trend is easy to incorporate into any home kitchen. Using a patterned encaustic cement tile instead of a single-toned tile or basic wood can lend visual interest in a monochromatic kitchen. Simple patterns work well with accent pieces, allowing bright colors to shine.
Contrasting colors give depth to food photography
Working with Instagram sometimes means going big or going home. The plethora of food posts on the platform means standing out is key to visibility. @HeirloomLA proves this point with a recent smorgasbord spread of ceviche, chips, and taco fixings, all framed by a beautiful muted color tile pattern. Granada Tile's La Rochelle tile (in stock now and available online) balances out the bright and varied colors of the food while its accent color ties neatly into the table's existing tilework.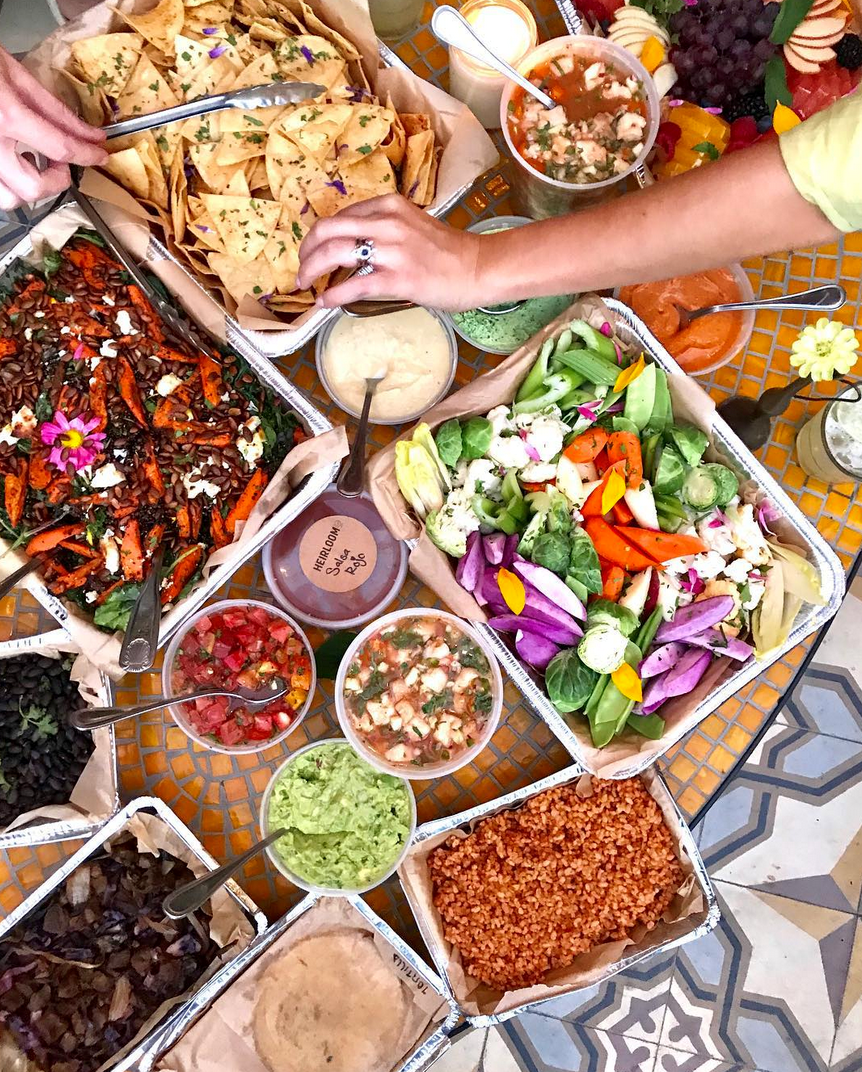 Balance small plates with big patterns for a beautiful Instagram post
Small plates are a food trend which have exploded on the Instagram scene. Allowing guests to sample multiple dishes at a fraction of the cost, they do more than expand the culinary palette – they provide beautiful photography. Small plates are just that, small, and work well when set across a backdrop of bright, bold encaustic cement tiles. In @rancho_santana's post, they balance the dainty bites with custom colored Normandy tile. By pairing the delicious nibbles with a bold tile, they achieve the same effect as someone upgrading a basic kitchen. The sweeping curves stand out on their own without overwhelming the key attraction (the food) and furnish the image with an intricacy difficult to match. You can own this look (and many others) at home, by ordering tiles from Granada Tile's in-stock page and contacting the sales team with any questions!