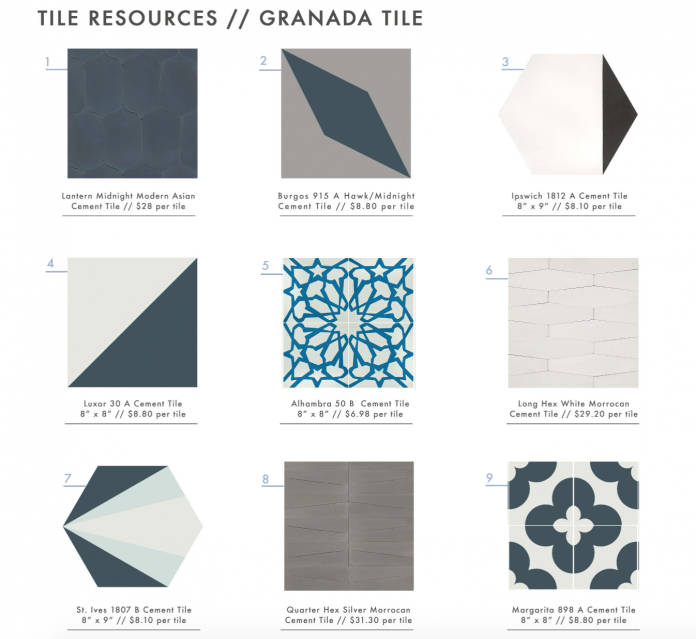 Interior designer Emily Henderson's Burgos patio tile has created a lot of excitement around here. Henderson's a big fan of tile of all kinds, "There are few things that are as permanent and as impactful as a good tile," she writes, "Not only can a good tile make the space, but it can also set the tone or style for any room and make it something that feels special." We agreed wholeheartedly!
In the interest of helping her readers, Henderson recently shared a list of her favorite tile resources. We were happy to say we were among them. Here are the nine selects she culled as the favorites from our catalog.
1. Lantern Midnight | 2. Burgos 915 A | 3. Ipswich 1812 A | 4. Luxor 30 A | 5. Alhambra 50 B | 6. Long Hex White | 7. St. Ives 1807 B | 8. Quarter Hex Silver | 9. Margarita 898 A
About Granada Tile, Emily writes:
Granada Tile – As you all know by now my favorite room in our house is the patio and it's all due to that beautiful cement tile (#2) by Granada Tile in a hawk and midnight colorway. I could spend every hour out there and the tile has really made that area a special space.
Thank you, Emily! We certainly agree!
Unsure about which concrete tiles will give you the same feeling in your space? We can understand why! With over 400 eye-catching designs and over 40 vibrant colors to choose from, making a decision can be tough! Let us help! Email us at Sales@GranadaTile.com or, even better yet, you can call us at 213-788-4238. We'd feel happy to help you decide which of our encaustic tile designs would be perfect for your project. We know you'll fall in love with your new cement tiles even before the grout dries.