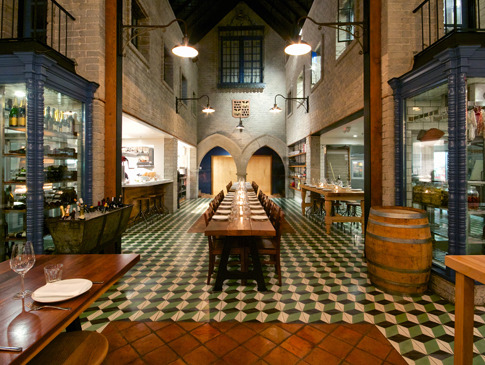 Los Angeles's LaBrea Avenue is bursting with new places to see and be seen.  One of the newest places for breakfast (and lunch and dinner and drinks) is also one of its oldest and most iconic spaces:  Republique at 624 LaBrea Avenue, between Wilshire Boulevard and 6th Street.  Walter Manzke is not only the chef, he's also the brains behind the design of the restaurant.
Legend has it that the space — with its gothic arches and flamboyant blue and yellow Spanish mosaic tile water fountain — began life as Charlie Chaplin's office.  And, for 23 years, it was the home of Campanile, one of the places where, under the guiding hand of Chef Mark Peel, California's farm-to-table cuisine got its start.  It was also the birthplace of Nancy Silverton's LaBrea Bakery, one of the first bakeries to bring artisianal bread to Los Angeles. 
So when Manzke took over, he walked into a space rich with history.  With most of the renovation money going into upgrades you can't see — drains, pipes and vents — he had to be resourceful.  Turning to friends and family, he wove the look of the restaurant from bits and pieces of Campanile, the Phillippines (where Manzke has two restaurants) and family construction projects.  The wrought iron chandeliers were designed by one friend, the brass that fronts the bar was salvaged from another friend and the copper hanging lights in the front room are created from old pipes from Campanile's plumbing.     
Of course, being a cement tile company, we were immediately drawn to that beautiful concrete tile floor.  While Manzke, who owns two restaurants in the Philippines carted in the 5000 cement tiles from there, we couldn't help but notice that they look very much like our own Burgos tiles.  In fact, they're so similar they could almost be identical!  We love how the geometric, architectural design balances out the space's industrial feel and how the black, green, and cream pattern warms up the cavernous space.  Not to mention that they're perfect for a restaurant space — easy-care, low maintenance, long-wearing and environmentally friendly!   
Thinking about adding some Burgos tiles to your own space?  Check out our in-stock selection, see what's availablle in our webstore or we can create a custom color way for you to bring out the best in your space!  
The same qualities that make our cement tiles perfect for a hardworking coffee shop or restaurant space — in addition to their beautiful designs and vivid colors, our concrete tiles are long-lasting, easy-care, and low maintenance — make it perfect for your home, whether used as floor tile or wall tile.  Call us today at 213-482-8070 to discuss which of our encaustic tile designs would be perfect for your home or restaurant project.