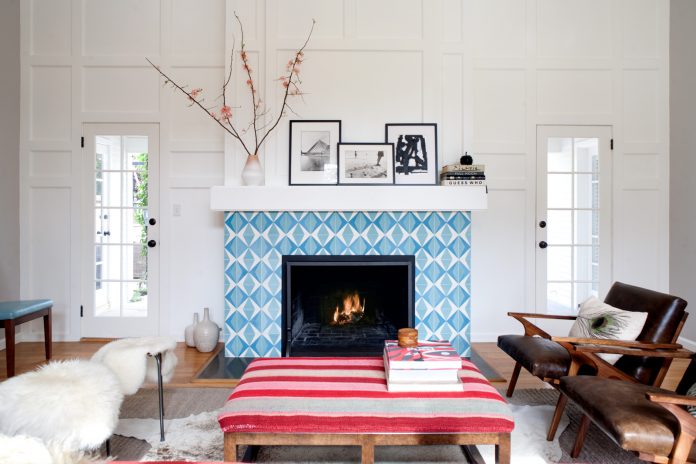 As some of you may know, we just released our latest group of cement tile patterns, designed by Paul Schatz and, while we impatient to see them installed, we know it'll be at least a few months since we see any photos. In the meantime, we were excited to discover this fireplace which uses our Hokkaido concrete tile from our Echo Collection as the fireplace tile. It's one of our favorite designs and we don't think it gets enough love!
A modern encaustic tile, Hokkaido's vaguely Asian design is reflected in its name. Custom colored in varying shades of pale blues (blue, sky and white), the fireplace surround feels surprisingly cool. Both the colors and the simple tile design are unexpected and help a traditionally warm element and one that radiates heat in the winter, feels fresh and crisp in the summer. Play around with our interactive catalog to see what color combination works for
Many of our most popular concrete tile designs, like the Cluny concrete tile in chocolate, white and sky pictured, our Badajoz cement tile, our Fez encaustic tile in blue and white and in black and white, and our Serengeti cement tile are in stock and ready to ship out to you immediately! The qualities that make Granada Tile's cement tiles the choice of award-winning coffee shops and hot restaurants around the country — along with their beautiful designs and vivid colors, our concrete tile is long lasting, easy care and low maintenance — are the same ones that make it perfect for your home tile project, whether used as patio tile, porch tile, kitchen floor tile, kitchen backsplash tile, bathroom tile, shower tile or laundry room tile. Start by visiting our cement tile shop to peruse our large selection of in-stock handmade master-crafted cement tiles and call us today at 213-788-4238 to discuss which of our encaustic tile designs would be perfect for your home or restaurant project.
Von Fitz