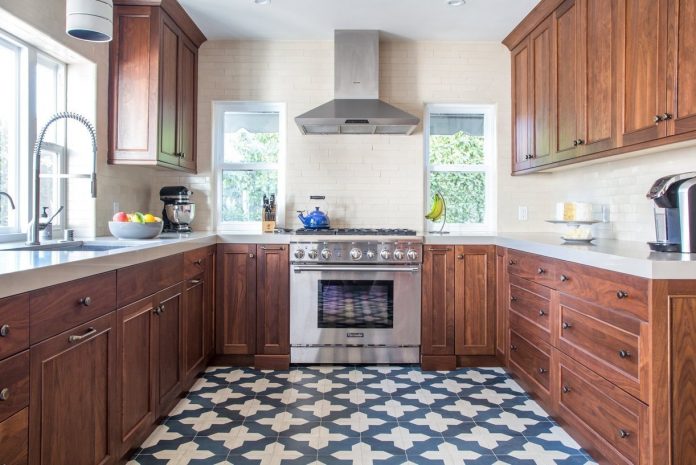 The Moorish yet modern lines of Granada Tile's Badajoz cement tile in black and white add a graphic punch when used as a kitchen floor. In fact, this kitchen by interior designer Jessica Helgerson gets so much love on blogs and Pinterest, we felt surprised it hasn't taken the world by storm.  So we felt very excited when we discovered the pattern in a recent house tour on Apartment Therapy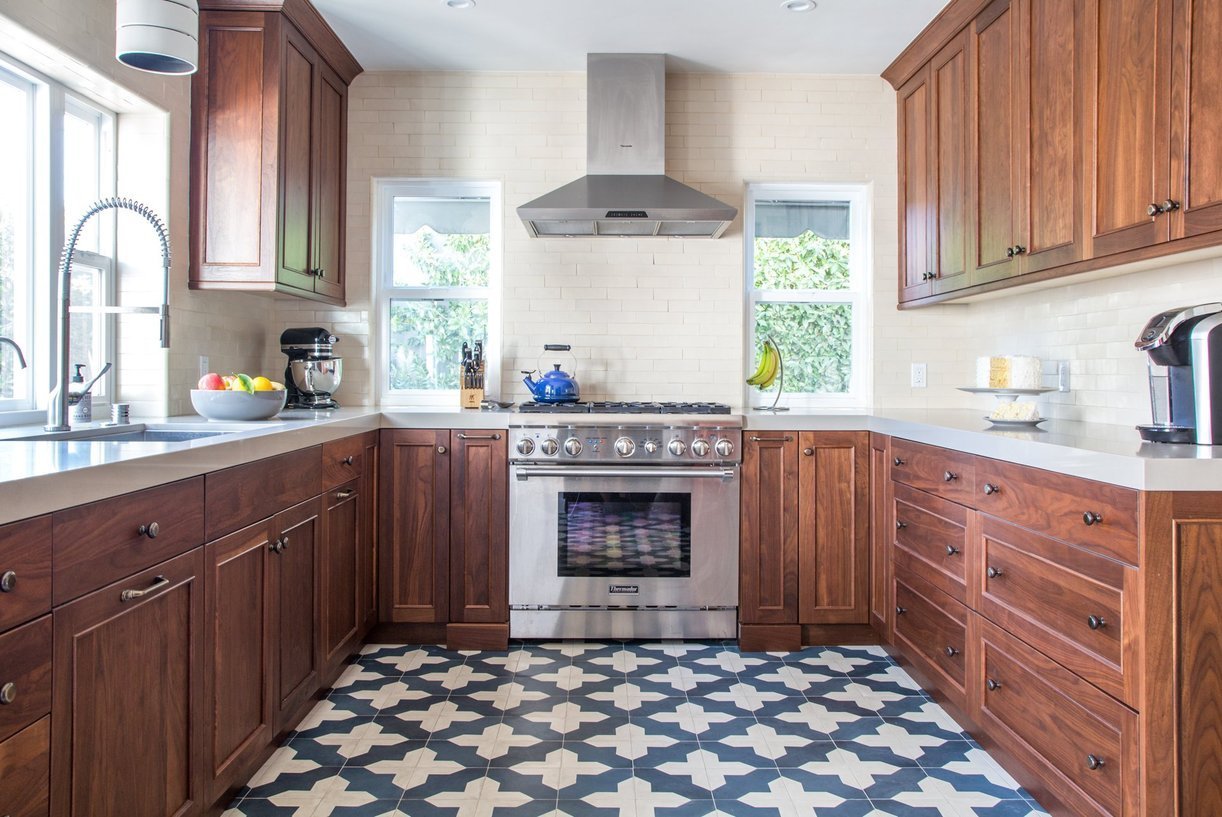 In black and white and used as kitchen floor tile, it once again straddles that tricky line between classic and contemporary.  This concrete tile floor's unique tile pattern works to bring the kitchen in this Spanish Revival-style house firmly into the 21st century. Balancing traditional, modern and Spanish Revival style, this kitchen tile draws together the wood cabinets, a stainless steel stove, granite countertops and a brick wall into a cohesive and striking whole.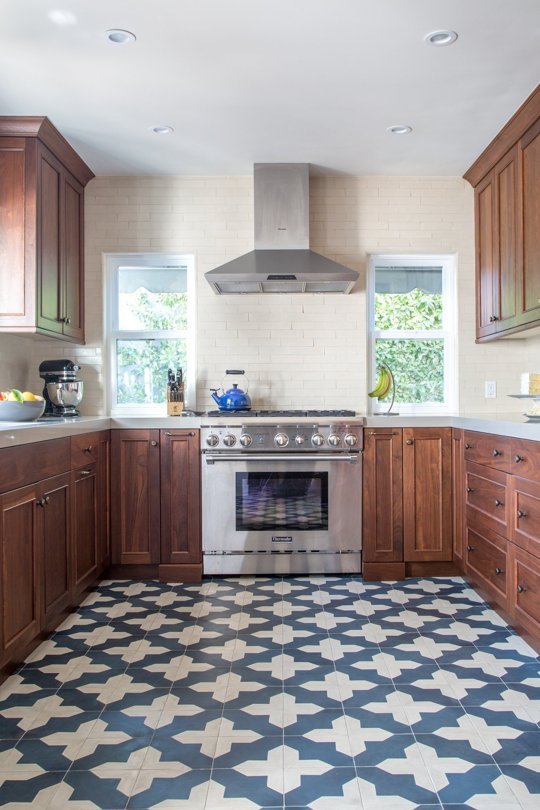 he clean, strong lines of the concrete tile also lets this room hold its own against the dark hallway. We love the way it emphasizes the archway, one of the many wonderful features of the architectural style of this Los Angeles home.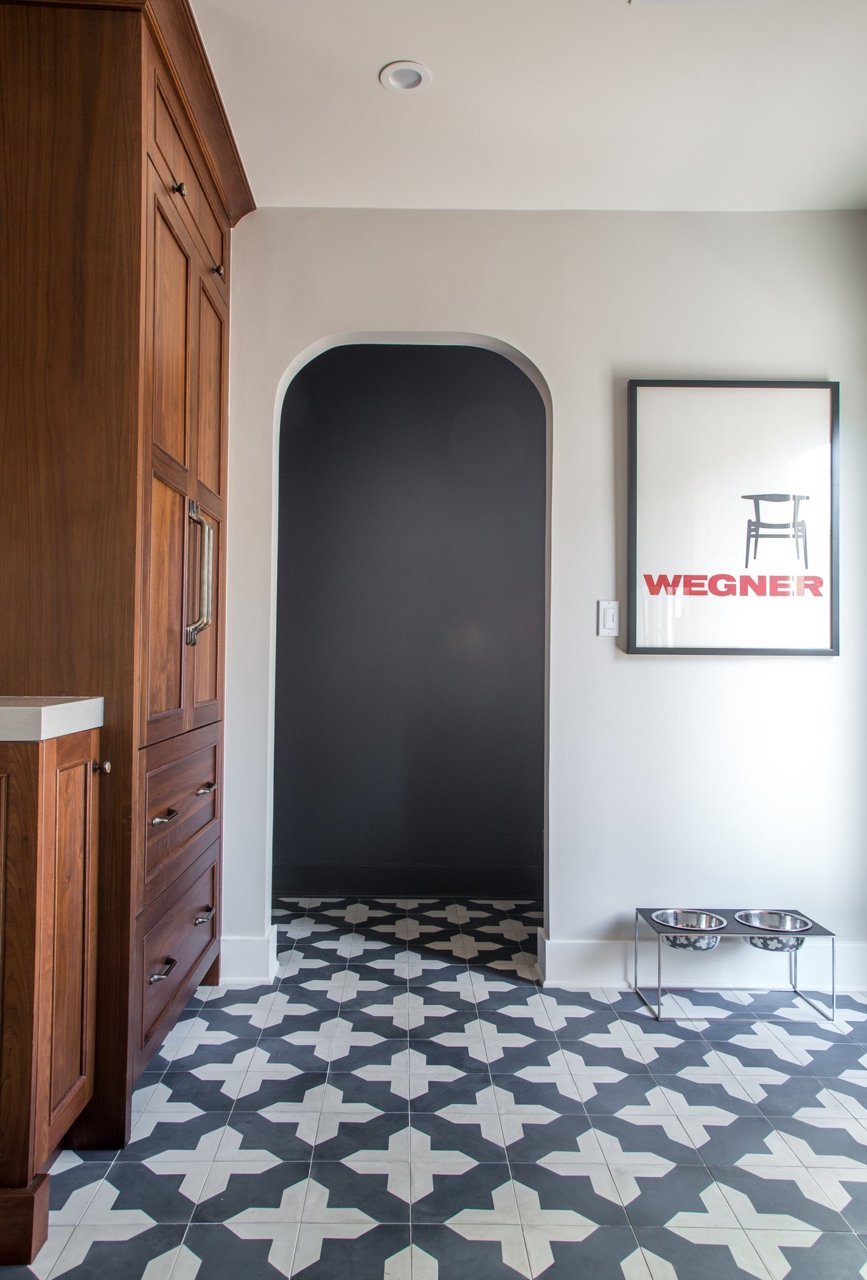 Many of our most popular concrete tile designs, like our Badajoz cement tile, our Fez encaustic tile in blue and white and in black and white, our Cluny concrete tile and our Serengeti cement tile are in stock and ready to ship out to you immediately! The qualities that make Granada Tile's cement tiles the choice of award-winning coffee shops and hot restaurants around the country — along with their beautiful designs and vivid colors, our concrete tile is long lasting, easy care and low maintenance — are the same ones that make it perfect for your home tile project, whether used as patio tile, porch tile, kitchen floor tile, kitchen backsplash tile, bathroom tile, shower tile or laundry room tile.  Start by visiting our cement tile shop to peruse our large selection of in-stock handmade master-crafted cement tiles and call us today at 213-788-4238 to discuss which of our encaustic tile designs would be perfect for your home or restaurant project. images courtesy of Bethany Nauert