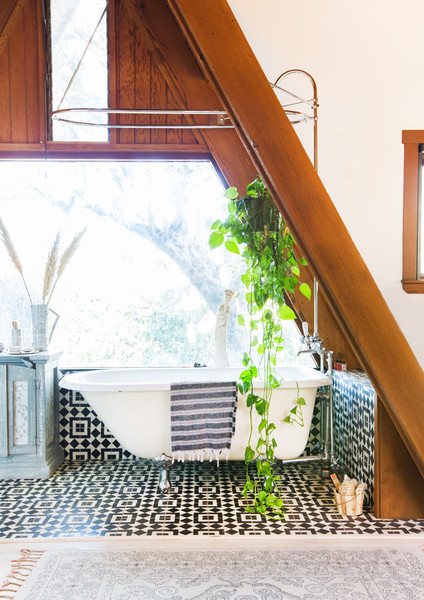 Fez Cement Tiles Bring Bohemian Flair To This Hollywood Hills Bathroom.
What's more bohemian luxurious than a claw foot bathtub with a leafy window view? Arguably, not much! And when the floor is covered in Granada Tile's black and white cement tile? In our opinion, that's #bathroomgoals. And it belongs to Desanka Fasiska of Lux/Eros, the cult pottery line, as seen in Lonny.
The black and white concrete tile ground the warm wood tones. The geometric pattern balances the voluptuous greenery. The classic design grounds the antique tub.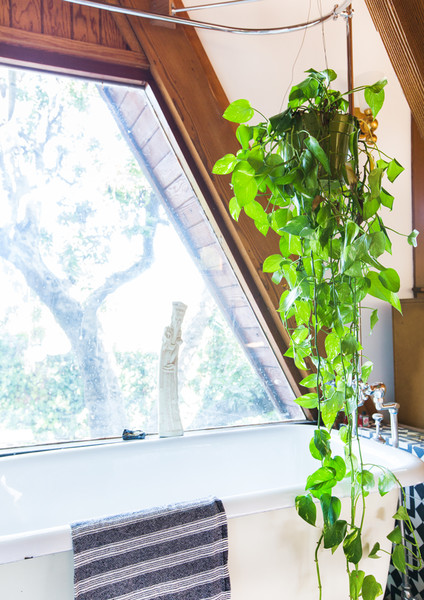 Granada Tile's cement tile is ideal for a bathroom tile floor. Their porous surface makes them less likely to be slippery. They're also long lasting, easy care and low maintenance. Start by visiting our cement tile shop to peruse our large selection of in-stock handmade master-crafted cement tiles. The black and white Fez cement tile pictured above is available and ready to ship out to you immediately! Or check out our interactive catalogue. We've got over 40 colors and 400 designs for you to choose from. Arguably, with so much to choose from, you might need help making a decision. Call us today at 213-788-4238 to discuss which of our encaustic tile designs would be perfect for your home or restaurant project. Let us help you find the cement tile design that best reflects you! We're sure you'll fall in love before the grout dries.