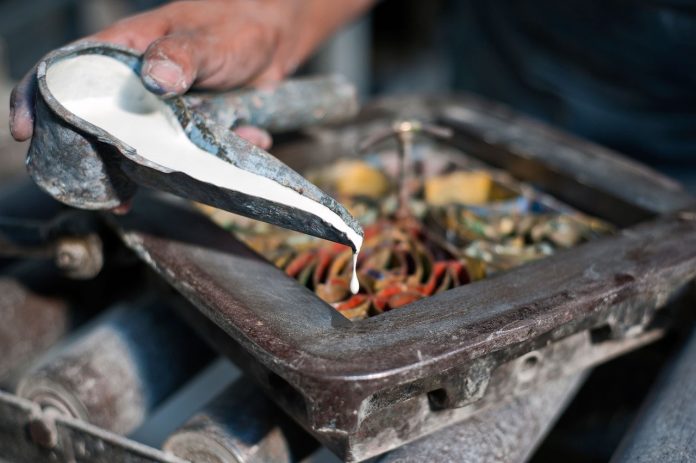 If you've started shopping for cement tiles for an upcoming home or commercial upgrade, you may have come across the question, "what is the difference between hand painted and hand poured tiles?"
While it may not seem like it, there's a big difference between the two and each greatly affects the overall look and longevity of the tile.
Cement Tiles: Hand Painted or Hand Poured?
Unlike ceramic tiles, cement tiles are not hand painted, since they are not painted with a glaze or fired in a kiln. Concrete tiles are made with the color pigment set into the mold, along with the other materials like powdered marble, sand, and cement. The layer of color that is melded in with the design is much thicker than hand painted tiles and lasts a lot longer without fading and chipping. Cement tile designs cannot wear off since the color is 1/8 of an inch deep.
The difference between the manufacturing process of ceramic tiles and cement tiles is what sets hand painted apart from hand poured. It's also what gives cement tiles their strength and longevity.
The Benefits of Hand Poured Tiles
As seen by floor tiles in historic buildings in Paris in the 20th century, cement tiles can stand up to the test of time and nature without major damage. Ceramic tiles from the same area and similar structure shows severe chipping, cracking, and fading. A ceramic tile's surface glaze and hand painted design are what makes them vulnerable to wear and tear.
If you're looking for a beautiful artisan-made tile that won't wear away from daily usage, food spills, or other messes, then look no further than painted concrete tiles.  Your floors will remain beautiful, even with a busy family or business, and your decorative tiles will remain as a work of art for many years to come.
Where to Use Hand Poured Concrete Tiles
Poured cement tile is a popular choice for a number of places in a home or business. They can be used practically as a durable floor, or as a decorative accent on a fireplace mantel. Here are some ideas of ways to use poured cement tile:
As a trim around a door or archway
Floor or wall medallion
In the bathroom
Hand painted tile backsplash
To bring texture and color into a room
Granada Tile offers hand poured cement tiles made by artisans using traditional methods. When properly taken care of, they will last for many years with little wear and tear. You can choose a design from one of our collections and in-stock tiles, or create your own completely custom design. No matter what you choose, you'll receive the same top quality poured cement tiles.