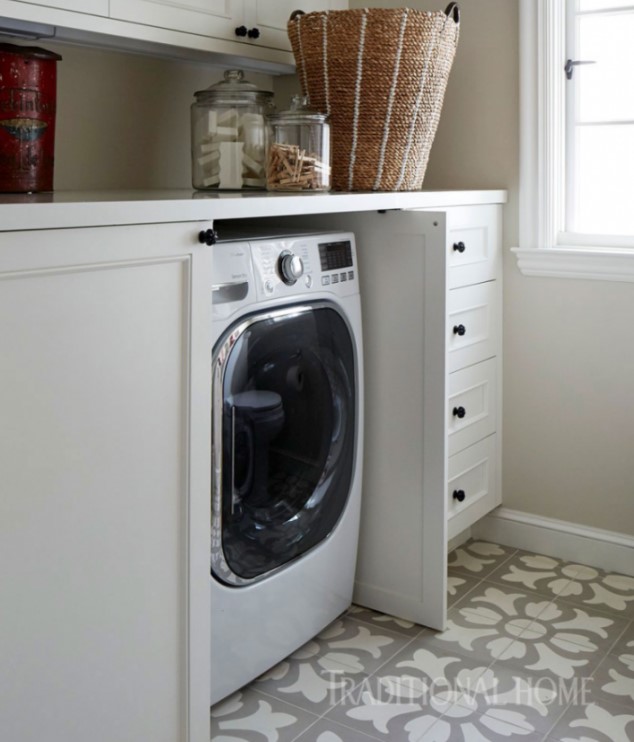 In the laundry room of her home in San Mateo, California, designer Kari McIntosh Dawdy ofKari McIntosh Design, uses Granada Tile's Lille cement tiles in grey and white to add a wash of fun and pattern to the otherwise white room. The encaustic tiles are a perfect marriage with the 1932 Spanish Colonial home's style. In addition, with their clean, bold pattern, they nod to McIntosh's singular style which blends high-low mixes and flea market finds with modern pieces for a result that feels modern and never kitsch.
Click here for the full house tour.
For the grey and white Lille cement tiles seen in this photo, in stock and available to ship out immediately, click here.
The chameleons of the concrete tile world, Granada Tile's cement tiles are able to fit into many styles, from bohemian to beachy, exotic and collected, to modern and graphic. We've got over 40 vibrant colors and 400 eye-catching designs for you to choose from. Many of our popular designs are in stock or your favorite cement tile pattern can be custom colored for enhance your interior design. Of course, we're here to help you make a decision. By the same token, you can call us at 213-788-4238. We'd feel happy to help you decide which of our encaustic tile designs would be perfect for your project. We know you'll fall in love with your new cement tiles even before the grout dries.
photo by John Merkl fromTraditional Home