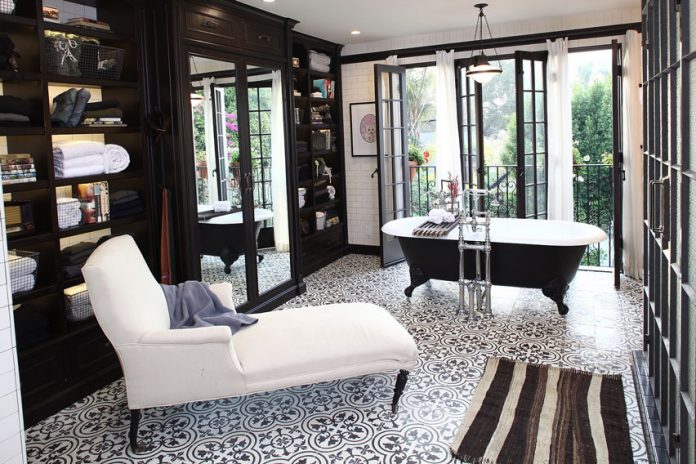 Many people incorporate cement tiles into their design projects for classic elegance and sophistication. For quite some time, they have been a stable of interior design. We've even seen them put into use hundreds of years ago, and today, stunning homes around the world exhibit different variations of these lovely tiles. In this article, we will give convincing reasons you need Granada tiles and how you can use them creatively to make your next home design project newsworthy. From Architectural Digest and Décor to House Beautiful and even Food magazine, see why Granada Tile keeps making news all over the world!
Benefits of Cement Tiles
Cement tile offers unique advantages over other tiles.
1. Durable
It can be tempting to kind of tiptoe around on some flooring types out of concern for damage. Children can not be permitted in your living room's white carpet, for instance, and pets might not be allowed on your wood flooring. With cement tile flooring, you may just live your daily life without these worries.
Cement tile is known to be durable and won't scratch or stain. With minimal care, it can last you a lifetime.
2. Easy to Maintain
Cement tile is very easy to maintain once installed and sealed. Generally, all you need to care for it is mop using water and light soap. Compare that to the occasional steam cleaning and regular vacuuming you'd need to perform on carpet, or the refinishing you'd need to perform on wood. It is clearly evident that cement tile will allow you to spend less time cleaning and more time doing things you truly enjoy.
3. Versatile
Cement tiles are also versatile. They aren't just limited to flooring. Since cement tile is suitable for indoor and outdoor environments, it is a perfect choice to connect both living areas. You can use it on fireplace surrounds, backsplashes, accent walls, and countertops for more flexibility in home design.
4. Massive Design Patterns and Styles
When it comes to design, there are a ton of design patterns and styles available with cement tiles; from simple plain tiles to elaborate patterns that create a style statement. You can combine them to form a distinctive design element or pattern.
Ways You Can Use Cement Tiles Creatively in Your Home
Your Shower or Bathroom
Due to its exceptional water resistance, Granada tile can transform an ordinary bathroom or shower into a visual treat. Not only is it a wonderful way to highlight the finer details of your bathroom, but it can also serve you for many years with little maintenance.
Kitchen Backsplash
Instead of a plain and conventional kitchen backsplash, why not try a backsplash made of cement tile? When properly maintained, cement is more water-resistant and simpler to clean than other materials.
They go beyond being just practical and are a remarkably trendy and stylish way to create a statement with your cooking space.
Home Flooring
Since it's durable, cement tile is utilized more often than hardwood or other flooring types. It provides wonderful flooring to incorporate character into the different spaces in your home.
Laundry room
Rather than leaving your laundry room bare or ignoring it, cement tile is an easy yet intelligent approach to updating your laundry space so that it's both elegant and functional. It is also a durable and reliable way to transform laundry from a chore into something fun.
If You Are Looking for Stunning Cement Tiles for Your Home, Try Granada Tile
If you want the best tiles for your home decor, contact Granada Tile at 213-788-4238. Our experienced design experts would be pleased to show you our collection of artisan tiles currently in stock and help you plan your next design project.