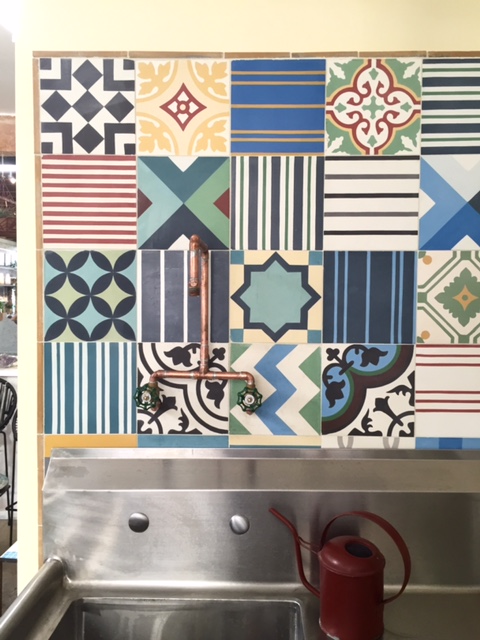 Tile is a go-to material for many areas in residential and commercial spaces. It comes in a nearly endless range of colors, textures, designs and sizes, and is durable and strong enough for high-traffic areas, making it a popular choice for home and business owners.
To avoid being overwhelmed with all of the choices available and to make sure you're purchasing the best tile for your wants and needs, think about the following considerations before you buy tile.
Type of Tile
One of the most common and familiar types of tile many buyers go to is ceramic tile. Ceramic tile offers a wide variety of styles and can make a durable floor just as much as a lovely backsplash. However, ceramic tiles are lagging a bit in popularity in recent years due to the rise and advertising of cement tile. Cement tile offers just as many design options as ceramic tile but is more durable and hard-wearing due to the unique manufacturing process. Cement tile is not fired in a kiln like ceramic tiles but is made of a mixture of powdered minerals, color pigment, cement and sand that is compressed with about 2,000 pounds of pressure. Other types of tile include natural stone, mosaic, porcelain, glass and terracotta. No matter which type of tile you're looking into, the same buying considerations apply.
Tile Size Options
Tiles range greatly in thickness, shape and size, and the type you choose will depend on the application and location of the tile. Floor tile thickness typically ranges from ½ inch thick to 5/8 inches thick, and comes in a variety of shapes including square, rectangle, hexagon, diamond, and more which can measure 4X4 to 6X6 to 24X24 inches. Wall tiles are usually less thick and are smaller, and range from rectangular subway tiles that are 3X3 inches to mini tiles that are 2X2 inches and great for backsplashes, accent walls and small floors. The thicker the tile the more durable it will be for high-traffic areas like a kitchen, hallway or bathroom. Smaller sized, thinner tiles make great decorations for a backsplash or wall design.
Slip-Resistance
Slip-resistance is another important feature to look for in tiles, with the rating referred to dynamic coefficient of friction, abbreviated as DCOF. The DCOF rating refers to a tile's level of slip-resistance measured by the force required to keep a surface in motion sliding over another surface. In comparison to the old slip-resistance rating system COF, coefficient of friction, DCOF relates to the slip-resistance of a material when an object is already in motion (a person). Lower DCOF numbers mean there is less friction and thus, a higher tendency of slip. A DCOF rating of at least .42 is recommended for basic residential applications, and for use in rooms that can have wet floors. The DCOF rating for cement tiles is about .85 on average, with a minimum estimated rate being about .65, since that is the DCOF rating for unglazed porcelain, textured tiles. Cement tiles are an excellent choice for both wet and dry rooms, like bathrooms, showers, and warm outdoor spaces.
The Visible Qualities of the Tile
When looking into purchasing tile, you'll want to look out for a few visible characteristics that can indicate the quality level of a tile, as well as research the non-visible qualities. This is especially important for cement tiles, since they are not governed by the same ratings as ceramic and porcelain tiles. When shopping for cement tiles, look at the thickness and consistency, a clear definition of the design, the consistency of colors and depth of tones, clean and straight edges, the strength and weight of the tile, and the color layer to ensure it's sufficient, usually 1/8 inch thick.
The Visible and Invisible Problems
You'll also want to be careful to look for visible signs of issues, such as an inconsistent thickness of the tile, a blurry design, significant variations of the same color, chipping around the edges, crumbling on the back of the tile, and a color layer that is less than 1/8 inches thick. Other factors that matter but will be hard to find out are the ratio of cement to sand used, which will affect the durability of the tile, and the quality of the pigments used. It's always a good idea to request the Engineering Test Reports that are performed by a third-party testing agency to get a feel for the overall quality and durability of the tile.
Before buying the tiles for your new building or renovation project, consider these essential points for choosing the best, most durable and highest quality tile product you can afford.
Cement tiles make a great alternative to ceramic tiles, which tend to fade and wear more quickly. Check out the stunning collections of residential and commercial cement tiles at Granada Tile, or get in touch with our sales team to create your own custom design!