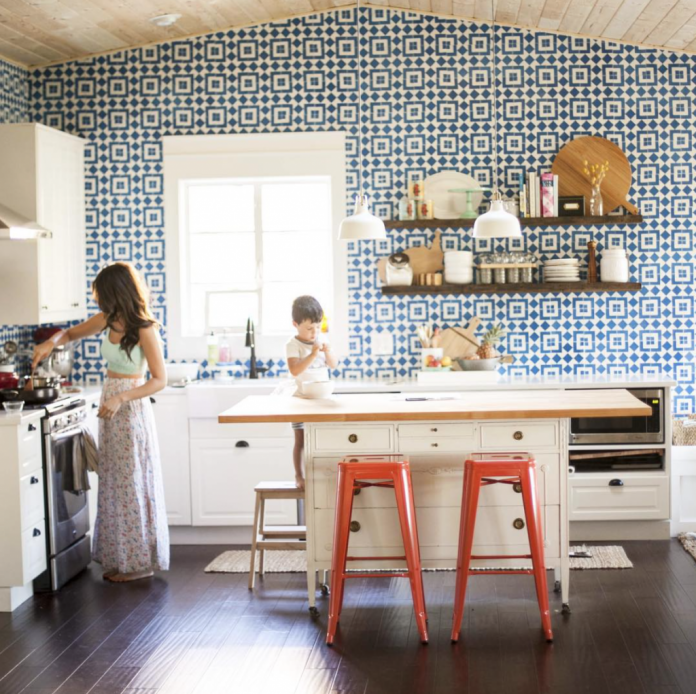 Concrete tiles, also known as cement tiles, are popular products for both residential and commercial spaces. After experiencing a revival in the early 20th century and dipping away again in the 50s and 60s, concrete tiles are making a comeback. Revered for their durability and unique designs, concrete tiles are one of the most popular choices for kitchens. If you're currently in the process of renovating your kitchen, or you've been dreaming of upgrading your kitchen space, concrete tiles are definitely a material to look into. And here's why.
Why Are Concrete Tiles Great for Kitchens?
You'll have a hard time finding a material that is as vibrant and offers as many design possibilities as concrete tiles. They can be made into just about any color, pattern, and design you can imagine, which is a reason why many homeowners are choosing concrete tiles over other materials, like hard wood floors and plain ceramic tiles, for their kitchens.
Cement tiles are incredibly durable and hardy, thanks to their manufacturing process. A mixture of cement, sand, color pigments, and mineral powders are poured into metal molds, backed by aggregates and reinforced by about 2,000 pounds of pressure. The result is a tile that won't fade, chip, or show signs of wear and tear easily, and a design that will remain as lovely as it first did for a long time.
The Top Reasons Why Concrete Tiles Are Perfect for Kitchens
Water-Resistant
It's no secret that spills happen in the kitchen. Washing dishes can be messy, and cooking mishaps are all too common. Concrete tiles don't show the signs of water damage like hard wood floors. Properly sealed concrete tiles are a great option for the kitchen floor and the backsplash that each see their fair share of spills, splatters, and sprays.  NOTE: Cement is an absorbent material, like natural stone, so it must be sealed at the end of the installation process.  Cement tiles are not recommended for countertops.
Durability
Concrete tiles are renowned for their unmatched durability. They are heavier than ceramic tiles, and show less signs of wear and tear from heavy use.
Colors and Patterns
The kitchen is the favorite part of the home for many homeowners, and it's a space that deserves as much style as the other rooms in your home. Concrete tiles can be made into just about any color you can think of, and formed into virtually any pattern or design. If there's a color or pattern you saw in a magazine, or abroad on vacation that you love, you can have concrete tiles designed to replicate your inspiration.
Create a One-of-a-Kind Look
Each concrete tile is made by hand. Unlike manufactured ceramic tiles and other synthetic materials, concrete tiles display their artisan quality and special attention to details. While all of your concrete tiles will blend beautifully, each shows subtle differences that give away the handcrafted process.
Eco-Friendly and Non-Toxic
Concrete tiles are eco-friendly and made using minimal energy, since they are hand crafted without heat. They are also made with natural materials, and do not contain lead or other harmful synthetic ingredients, which makes them an ideal material for a kitchen where you prepare food for your family.
Concrete Tiles Aren't Just for the Floors
Concrete tiles are excellent for not only the floors but they are also perfect choices for a kitchen backsplash and underneath the kitchen island. They will hold up to the constant wear and tear on the floor, splatters on the backsplash, and kicking and scuffing under the island counter top.
Classic Yet Unique
Concrete tiles are one of the trendiest antique materials on the market. Tiles have been produced for centuries, and experienced a revival in the early 19th century when Victorians began using concrete and encaustic tiles for their homes and inside commercial spaces. Today, concrete tiles are gracing the pages of home décor magazines for their vast variety of designs and styles. Options include solid colored tiles, geometric shapes, classic black and white patterns, culturally-inspired designs, and a wide array of colors.
Very Versatile
Concrete tiles are ideal for every area of your home, including the living room and dining room floor and walls, the stairs, the bathroom, and the patio. If you would like to use a product that can blend well and tie in with the other features in your home, then concrete tiles are a perfect choice. You can use complementing designs and colors that separate their own area and create a cohesive look.
For your kitchen remodel, don't overlook the versatility of concrete tiles. The result will be a kitchen that's perfectly on point to your personality and that will keep up beautifully for many years to come.
Granada Tile is a top concrete tile manufacturer with a wide variety of kitchen concrete tile designs. Customers can pick and choose their favorite styles, personalize designs with their own colors, or create their own custom design.