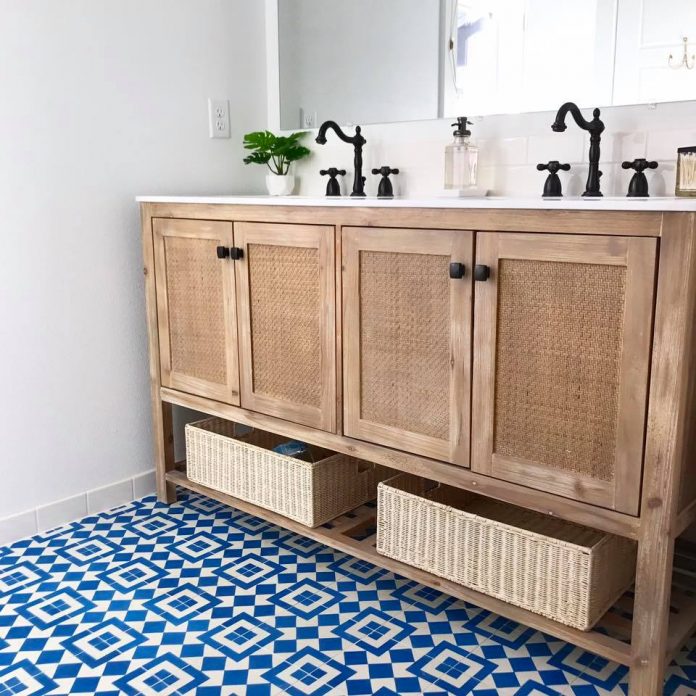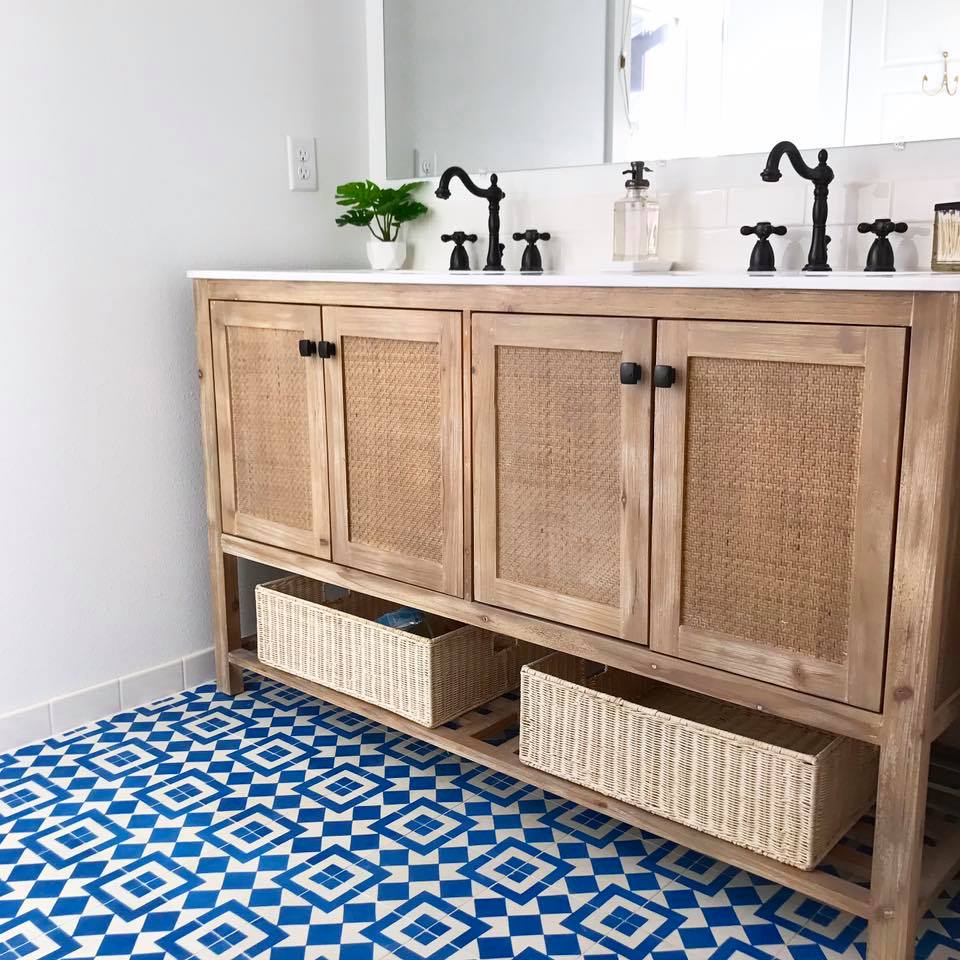 Concrete tiles are praised for their incredible durability and range of styles, and make a great choice for bathrooms. If you want to add more color, texture, and pattern to your bathroom, concrete tiles are an ideal material that can also deliver on practicality and efficiency. There are a variety of places where cement tiles can be used, with the most obvious being the bathroom floor.
Are you in the process of upgrading your bathroom and wondering if concrete tiles are the right choice for your floor? Here are the top considerations and factors to keep in mind.
The Concrete Tile Difference
Concrete tiles are made with a mixture of sand, cement, fine powdered minerals, and color pigments that is poured into molds and set using 2,000 pounds of pressure. Each concrete tile is painstakingly made by hand, leaving no two tiles alike. The result is an artistic product that is hard wearing and stands the test of time and constant usage. Concrete tiles are more resilient than ceramic, which are made with clays and fired in a kiln rather than compressed.
Concrete Tiles Are Water-Resistant if Properly Sealed
One of the biggest benefits of concrete tiles is that they are water-resistant. Bath time splashes and daily pampering sessions won't be a match for the water-resistant nature of concrete tiles. They combat mold and mildew and don't allow bacteria to permeate their surface. Water simply beads off of them, which makes them a great material for the bathroom floor.
Concrete Tiles Retain Heat and Cool
In-floor heating is a very popular choice for master bathrooms and guest baths alike. If you are thinking of putting this in your bathroom remodel, cement tiles will make the most of your investment by retaining the heat and not allowing it to escape. When it's summer outside and the in-floor heating is turned off, concrete tiles will keep the room cool and your utilities bill low.
Concrete Tiles Are Highly Customizable
Unlike what you might have thought, the bathroom is an excellent place to show off some style and pattern. Even a small bathroom doesn't have to be plain and boring. Light colors and soft neutrals are brightening and give the illusion of more space, but that doesn't mean they can't have an interesting pattern. Floral motifs and geometric patterns in light colors provide elegant style in an understated way.
Concrete Tiles Are Easy to Clean
With such heavy daily usage, bathrooms need to be cleaned on a regular basis, sometimes every other day to keep up with water splashes, hair, dust, and smudges. That's why you need to look for a bathroom floor material that makes cleaning easy and quick. Concrete tiles are stain-resistant so you won't have to worry about smudges setting in or water damage discoloring the floor, and they are easily wiped with a cloth and a bit of water. In only a few minutes, your bathroom floors can look sparkling new, often without heavy chemicals.
Concrete Tile Floors Can Be a Focal Point
Creating a focal point in a room not only makes it more enjoyable for you and guests but it also can boost the value of the space. A focal point adds a punch of style without having to spend big bucks on a total renovation. Make the bathroom floor your focal point with unique concrete tiles in a fun pattern or color combination. Bright colors and darker tones hide hair and dust better, and completely change the look and feel of a bathroom. Without doing any major remodeling, you can give the impression of a serious style upgrade with simply making the bathroom floor a unique focal point.
Concrete Tiles Are a Stylish Classic
When looking at materials for a room upgrade, you typically have two options: to choose what's classic but seen everywhere, or choose what's trendy and unique but may go out of style in a couple years. With concrete tiles, you can enjoy the rare advantage of having both. Concrete tiles have been around for hundreds of years and are still popular today, currently experiencing a boost in sales which makes them a trendy product. If you want something for your bathroom floors that has timeless appeal but is unique and will make a dramatic change in your bathroom, then choose patterned concrete tiles.
Where to Buy Concrete Bathroom Floor Tiles
Granada Tile offers one of the largest selections of concrete tiles for every part of your home. You can choose the tile for your bathroom floor from the different collections, or customize your own with unique colors and patterns. Our designers will work with you to create the bathroom floor you've been dreaming of, to totally transform the space.
Get in touch with our sales team today to get started designing!