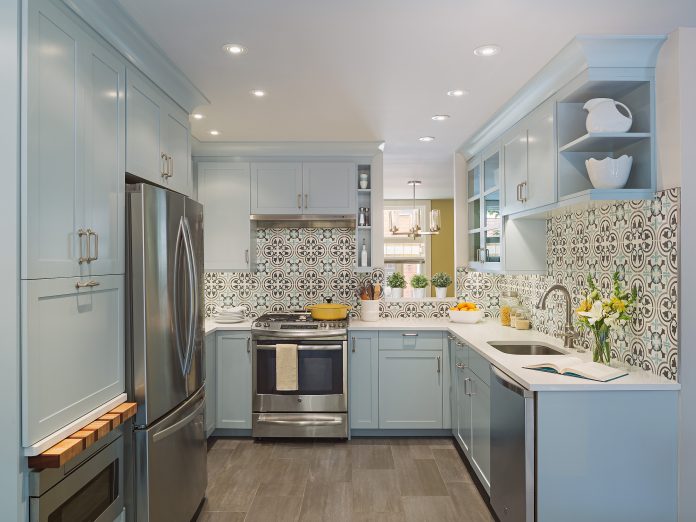 Pastels – especially pale blue and pale pink – have been heating up in home design for a few months already.  These baby soft colors pack a powerful punch when combined with stark white and metallic accents. Far from looking juvenile, these hints of color look surprisingly modern, putting a contemporary spin on traditional elements and washing a softer edge over modern details. Granada Tile's Cluny cement tile, in an in-stock and ready to shipcombination of chocolate, white, and sky, are ready to kick your space up a notch. Just take a look at what they've done for this traditional kitchen in Philadelphia!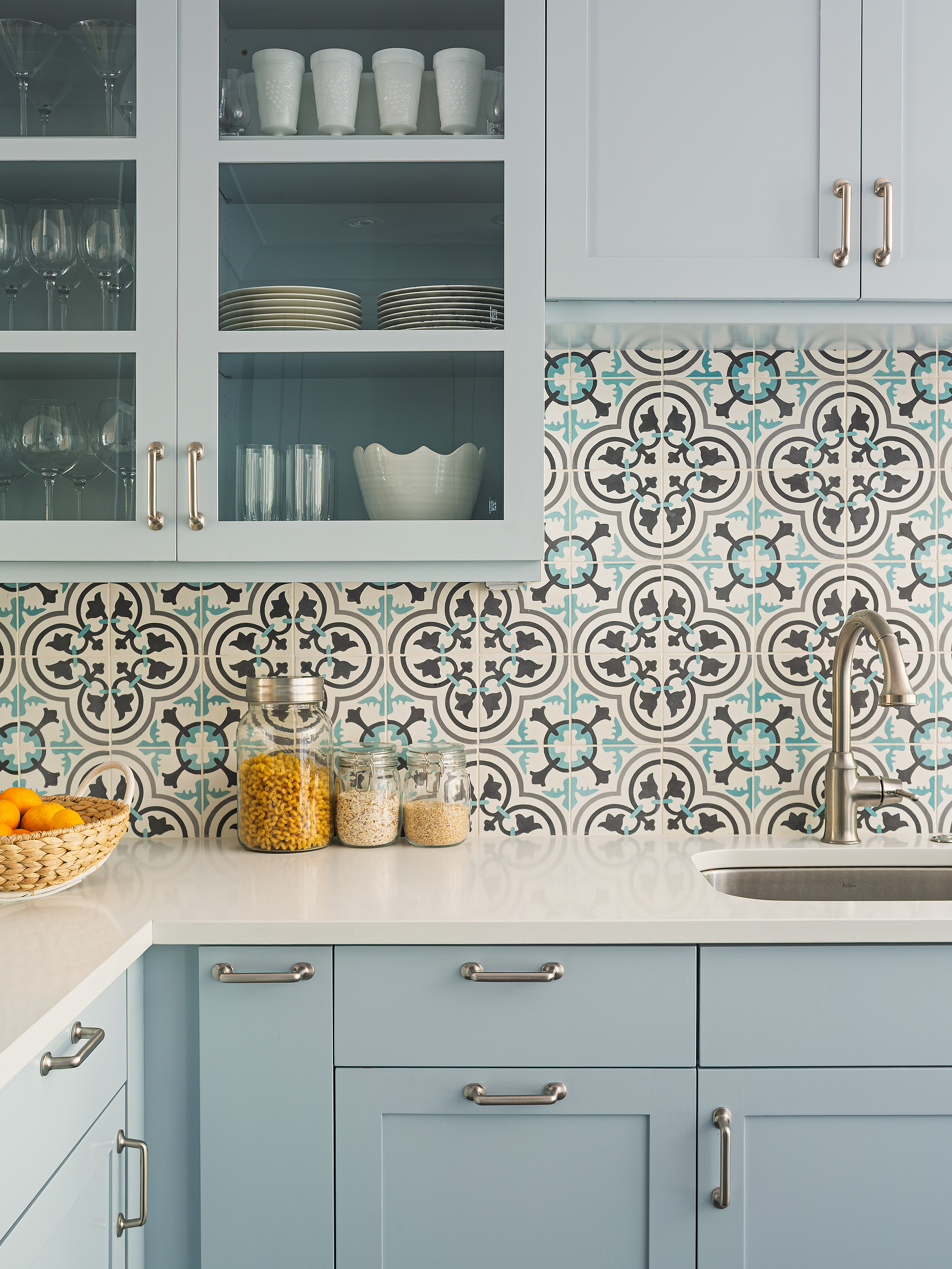 The Cluny concrete tile backsplash, combined with a wash of pale blue paint on the wooden cabinetry, takes this traditional kitchen to the cutting edge, putting a modern spin on the space while still retaining the familiar and enduring elements of this popular kitchen style.  In fact, if you're considering updating your current kitchen, this is a great example of a simple update: wash a pale blue paint over your white cabinets and swap out your current kitchen backsplash for the beauty of Granada Tile's Cluny encaustic tiles and, voila! A fresh spin on your old space that could easily be in place to debut for the holidays!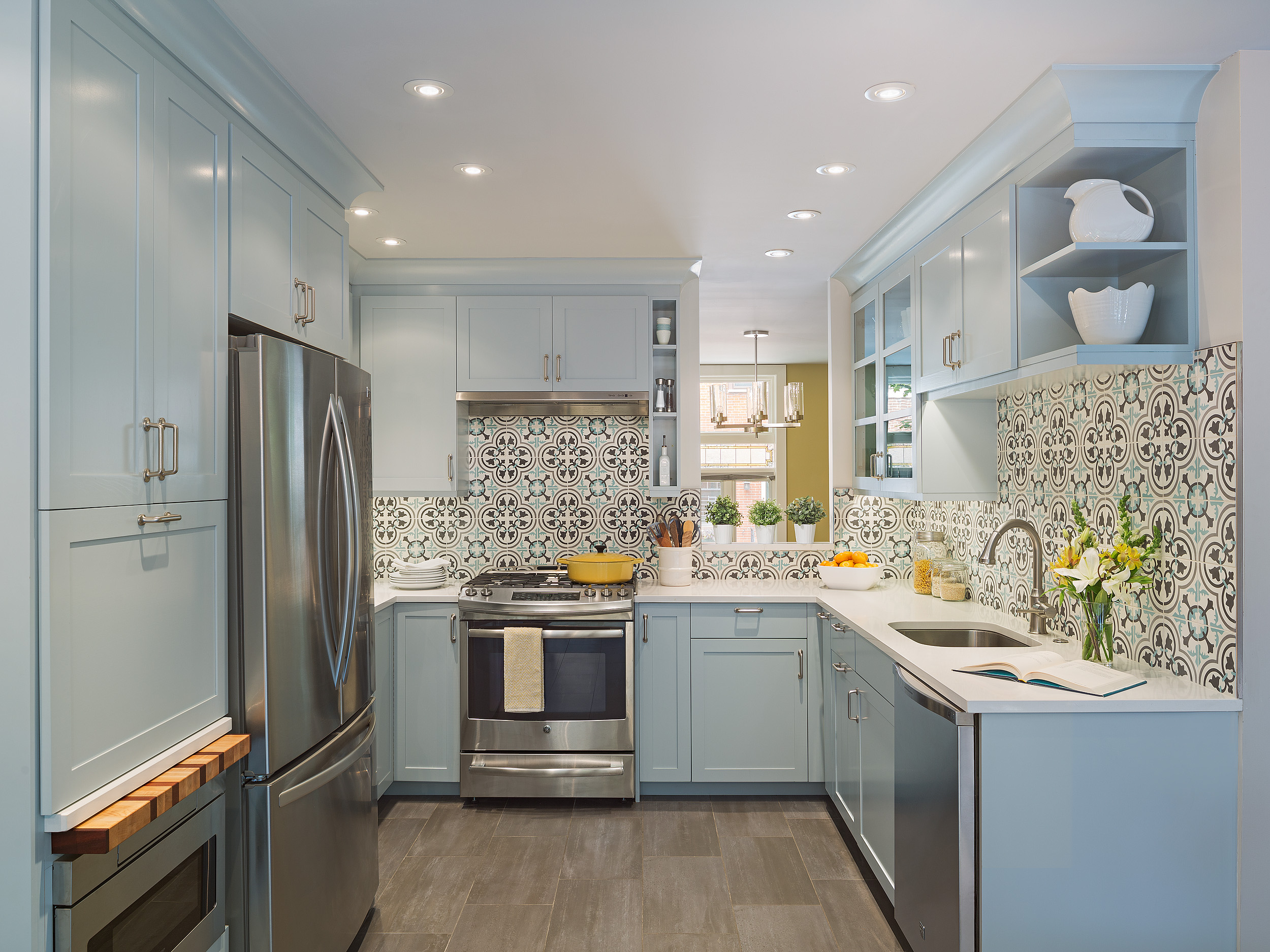 Many of our most popular concrete tile designs, like the Cluny concrete tile in chocolate, white and sky pictured above, our Badajoz cement tile, our Fez encaustic tile in blue and white and in black and white, and our Serengeti cement tile are in stock and ready to ship out to you immediately! The qualities that make Granada Tile's cement tiles the choice of award-winning coffee shops and hot restaurants around the country — along with their beautiful designs and vivid colors, our concrete tile is long lasting, easy care and low maintenance — are the same ones that make it perfect for your home tile project, whether used as patio tile, porch tile, kitchen floor tile, kitchen backsplash tile, bathroom tile, shower tile or laundry room tile. Start by visiting our cement tile shop to peruse our large selection of in-stock handmade master-crafted cement tiles and call us today at 213-788-4238 to discuss which of our encaustic tile designs would be perfect for your home or restaurant project.