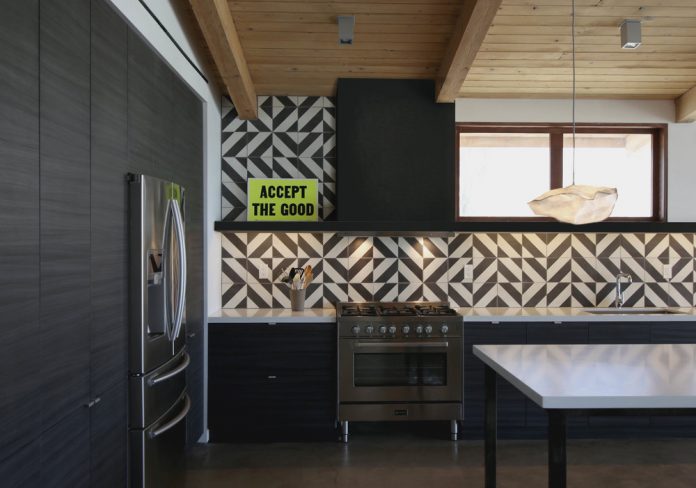 When you think about the part of your home that your family spends the most time in and connects in, you might picture your kitchen. The kitchen is the heart (and stomach) of the home that fuels your family, serves as the centerpiece for gatherings and entertaining, and is the favored place to just hang out. Now ask yourself, is it your favorite place in your home? If it's not, that may be because it's outdated, doesn't suit your personal style, and doesn't fit in with your home's style.
What can you do about it? It doesn't have to cost a lot or require an extensive renovation to create a kitchen you love to be in and look at. All it takes to make a big visual impact is one simple tool, cement kitchen tiles.
So Much to Love About Cement Kitchen Tiles
We love cement kitchen tiles because they are practical and extremely durable, can be designed into virtually any color or pattern, and are fairly easy to install. If you're creative and handy, you can even install them yourself! The truth is, it doesn't have to take whole new cabinets and new countertops to create a beautiful kitchen. Cement tiles are often all you need to take your kitchen from blah and uninspiring to invigorating and inviting.
From kitchen wall tiles to kitchen floor tiles, cement tiles should be your new secret weapon, not just if you're on a budget and don't want a complete renovation, but if you want to love your kitchen!
Unlike ceramic tiles, cement tiles are not painted or glazed on the surface, and the design is actually embedded into the tile itself. When properly installed and sealed, they are resistant to cracking, fading, water and food messes.
If you're ready to use cement tiles to upgrade your kitchen, get inspired with our 5 favorite kitchen tile designs!
Black and White Kitchen Tiles
You can never go wrong with black and white. Classic for virtually any space and time, black and white kitchen tiles instantly dress up and update depressed kitchens.
Walls
Black and White Tiles on the Wall and Island
This modern style kitchen combining natural elements, like the wood paneling against the refrigerator and ovens, is exactly the style that has become so popular for homeowners who love clean lines and rustic accents. The geometric black and white kitchen wall tiles used on the kitchen island tie everything together and add some much-needed pattern in this kitchen that lacks traditional elements.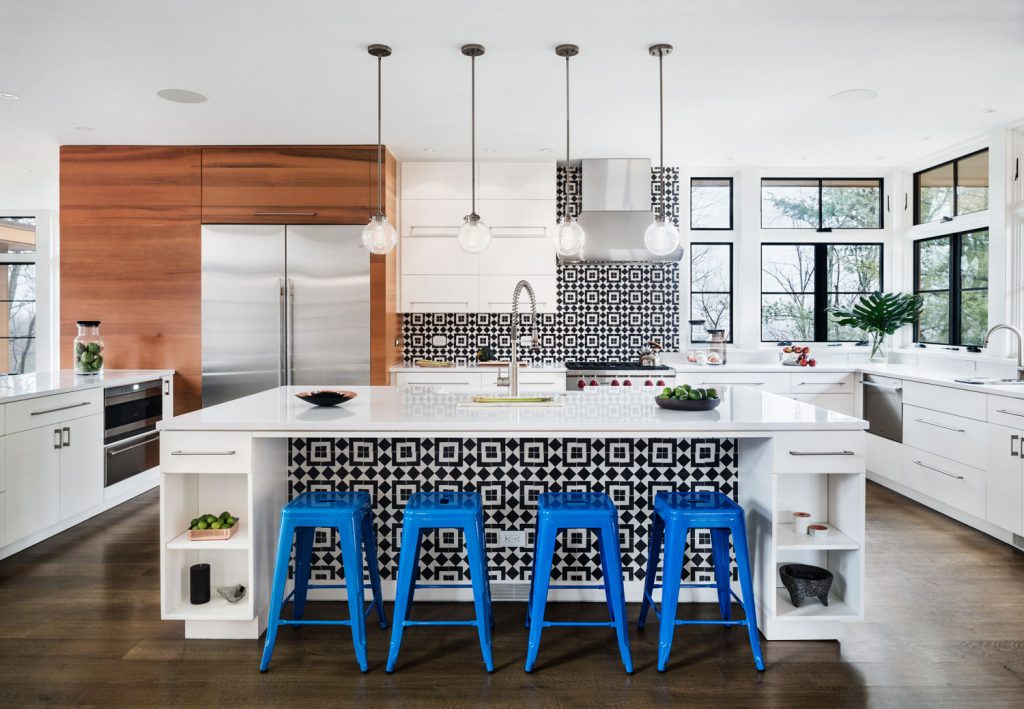 Graphic Black and White Wall Tiles
We love the modern yet playful design of this trendy kitchen with the use of graphic, Santander-style black and white kitchen wall tiles. The individual tiles feature two black diagonal stripes against a white background, and when placed randomly, as done on this kitchen backsplash, create a fun yet clean-lined look. The black and white kitchen tiles become more intricate and wild than if placed all in the same direction and offer something for those craving fresh and trendy design.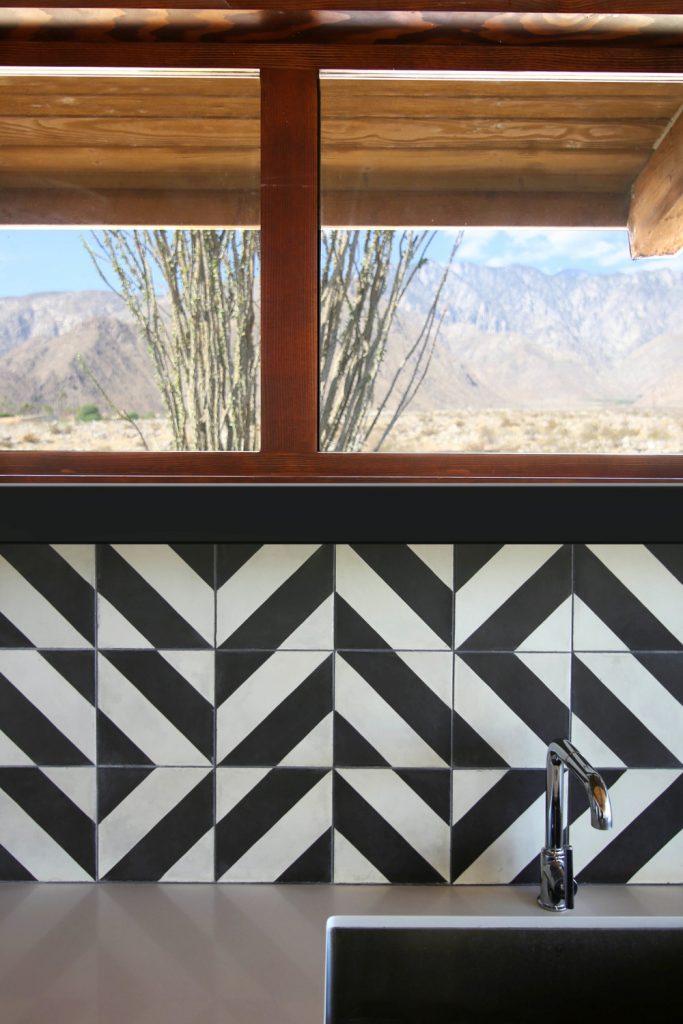 Floors
Black and White Floor Tiles for Kitchen
Check out the stunning black and white kitchen tiles on the floor of this chic kitchen. We love how sophisticated this streamlined tile looks in this kitchen, and how it balances the bold black beams and trim to create a space that is extremely stylish and high-end. Even if you don't have a high-end budget to spend, you can create your own bit of luxury with elegant black and white floor tiles for your kitchen in a sleek modern design or traditional Moorish design that will go with virtually any style kitchen.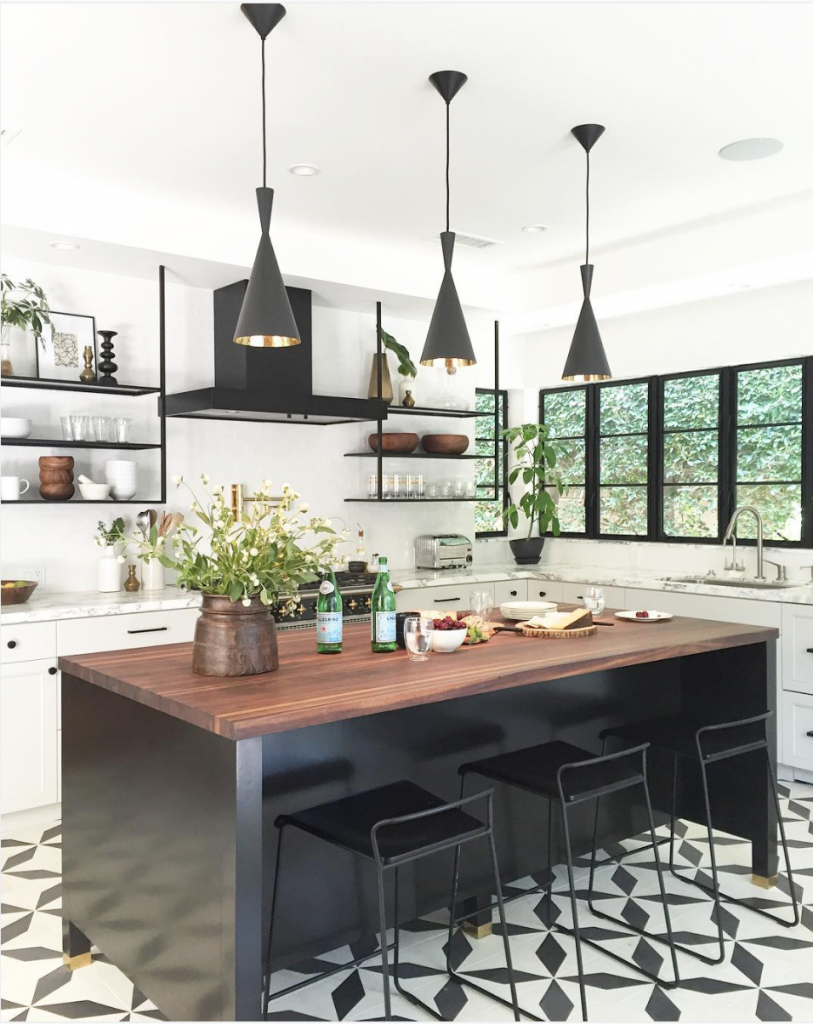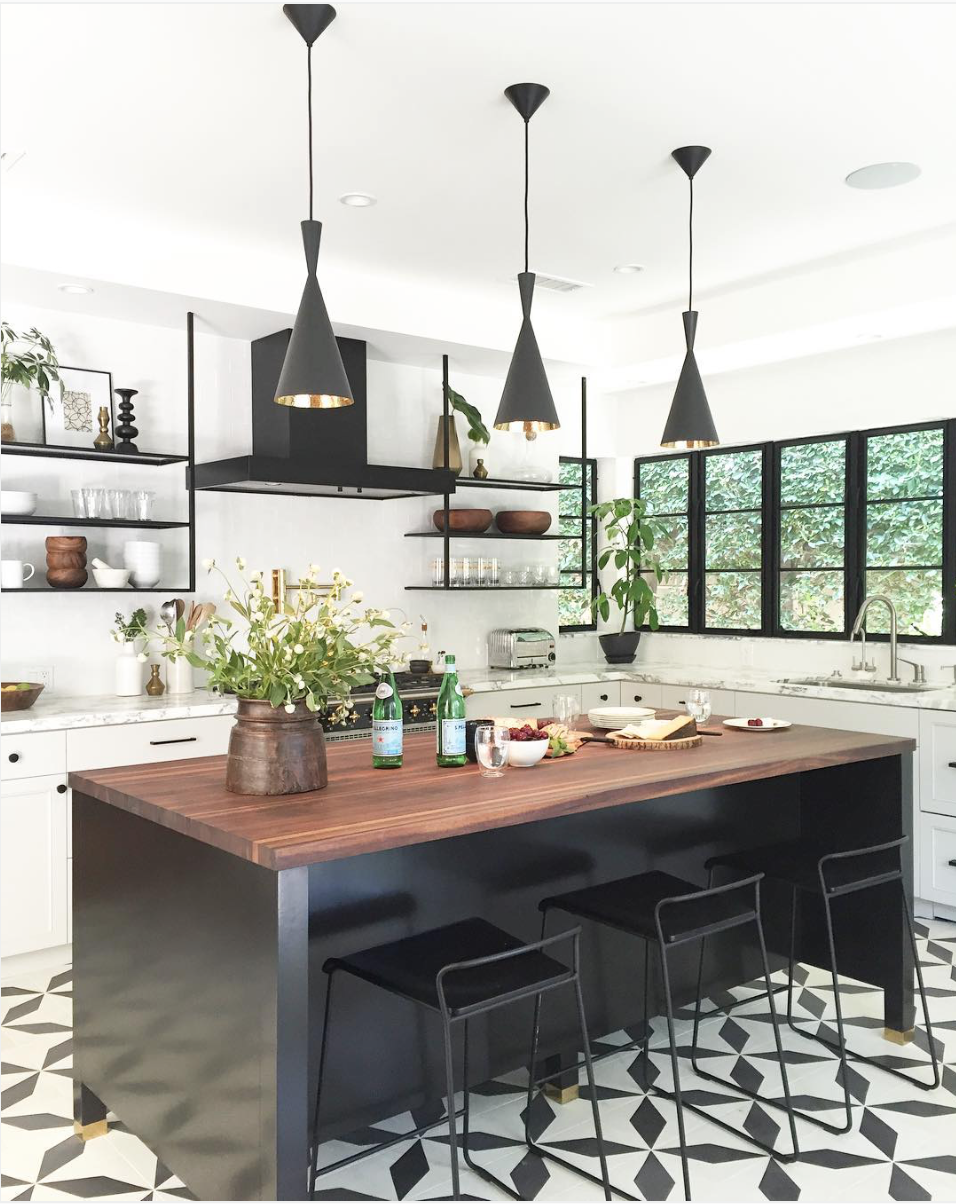 Colored Kitchen Tiles
Colored kitchen tiles come in just about any color or hue you can imagine and can even be made into a custom color not normally available. Add a subtle or bright pop of color in your kitchen using these ideas as inspirations.
Walls
Chocolate, White and Pale Blue Kitchen Wall Tiles
Take a look at this gorgeous kitchen that uses traditional cement kitchen wall tiles in chocolate, white and a sky blue to complement the baby blue kitchen cabinets and make the space look bright, fresh, and unique. We love that the colors used in this tile design make the space look modern while adding pattern to avoid a too-plain space. It adds contrast and a classic pattern to make sure this kitchen never looks out of style.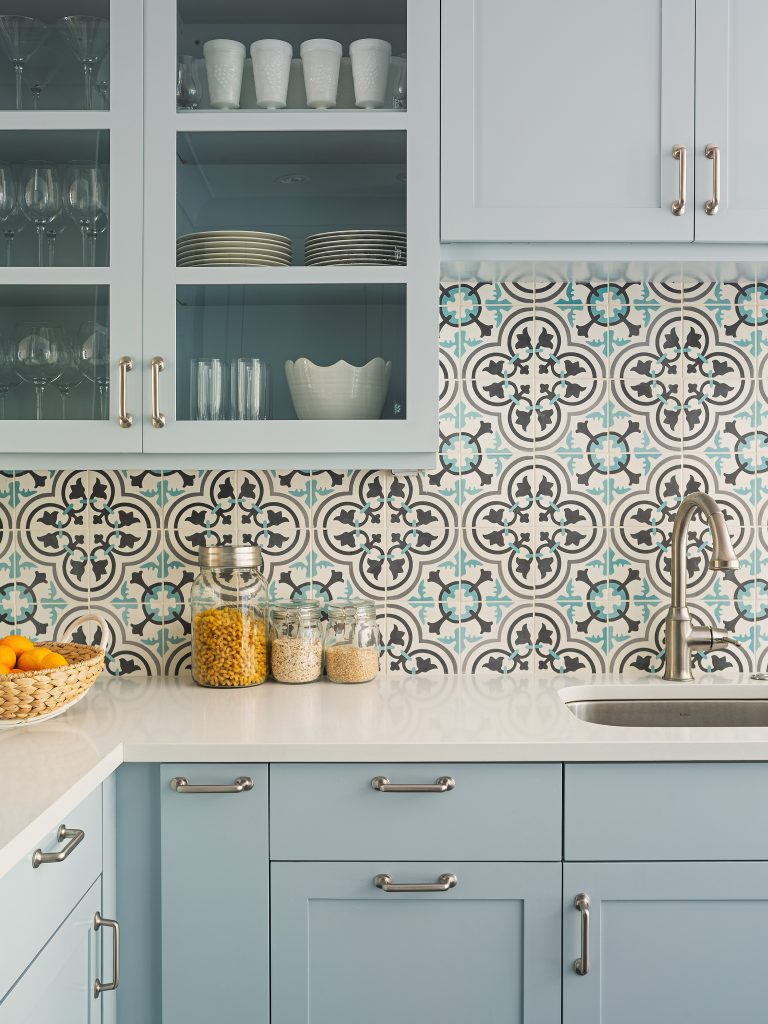 Floors
Deep Blue, Burgundy and White Floor Tiles for Kitchen
Who says you can't combine color with color? This bold kitchen challenges the idea that if you have a bold color on the cabinets, you need to keep everything else neutral and simple. When you look at this kitchen, you can see how each part works together and complements each other. The blues naturally go together, the white complements the white wall tiles, and the red element adds a beautiful contrast with the blue. The traditional patterned tile design also helps to keep this kitchen from looking too modern.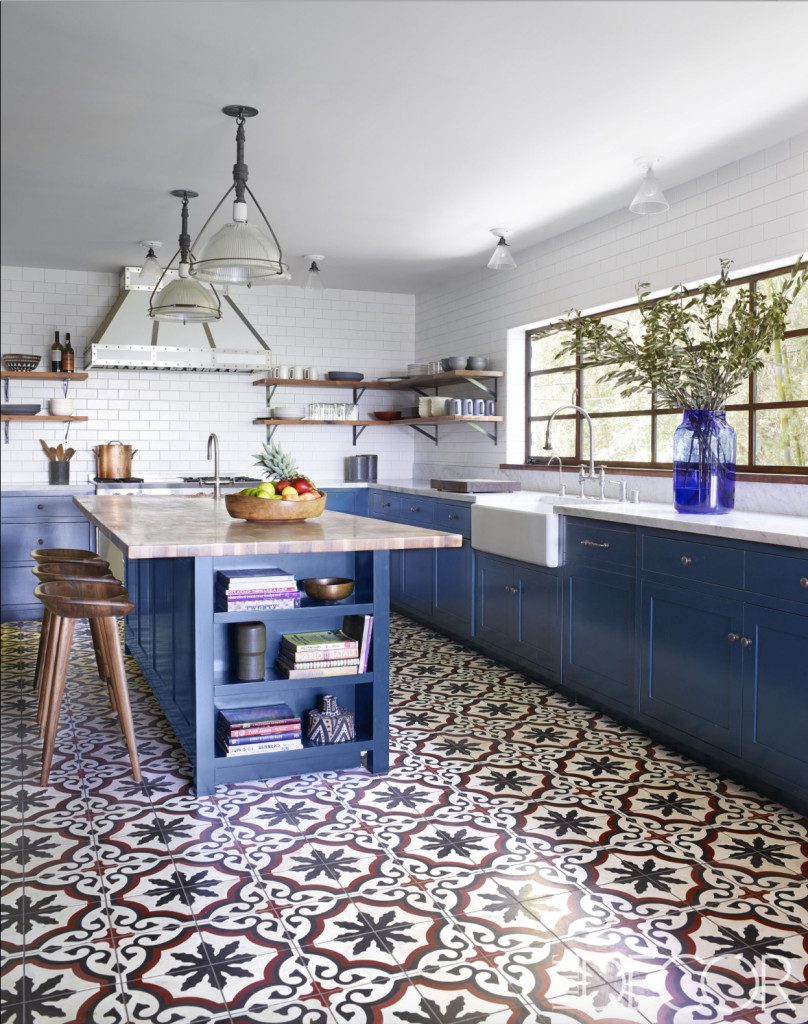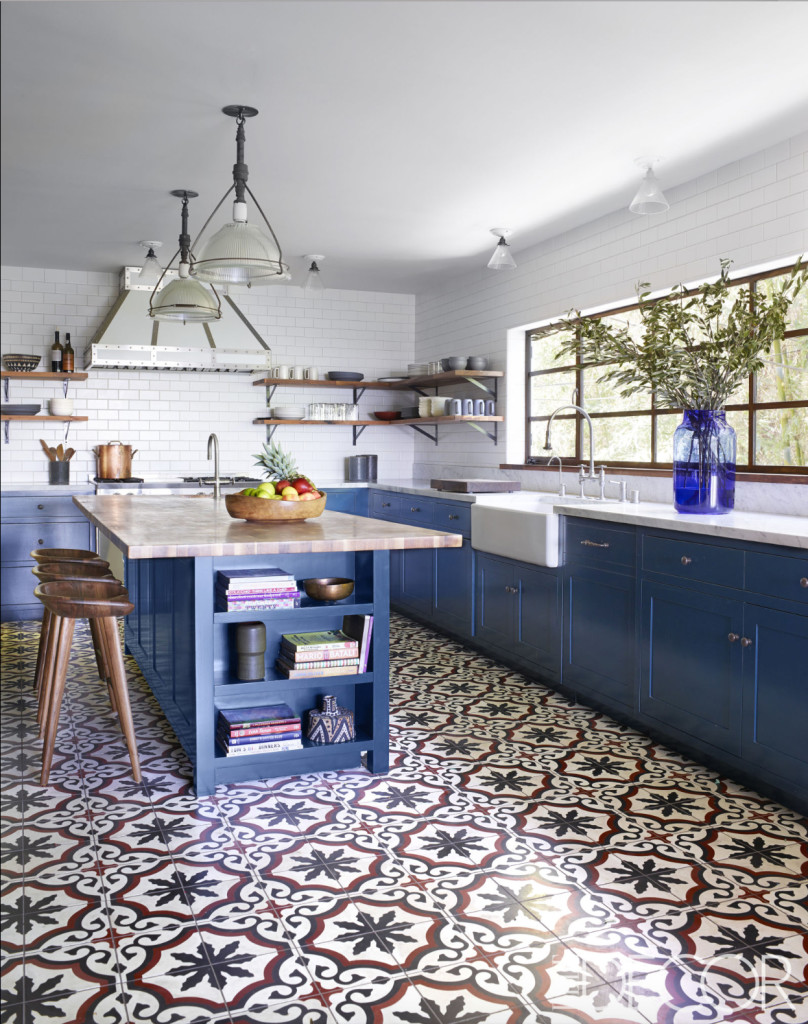 Are you ready to transform your kitchen with cement tiles? Get in touch with our sales team today to learn how to order or customize your perfect kitchen wall tiles or floor tiles for kitchen!