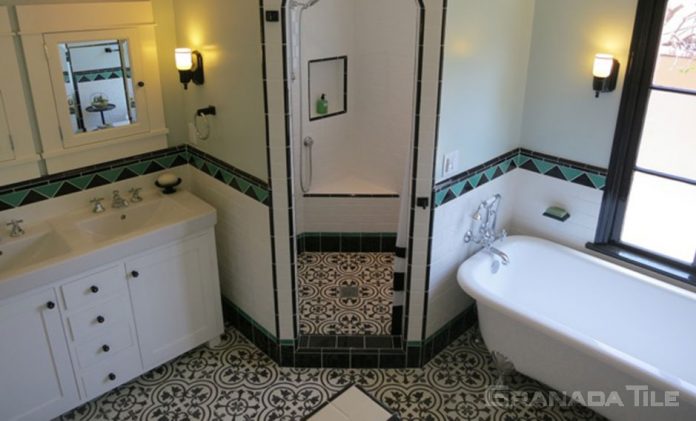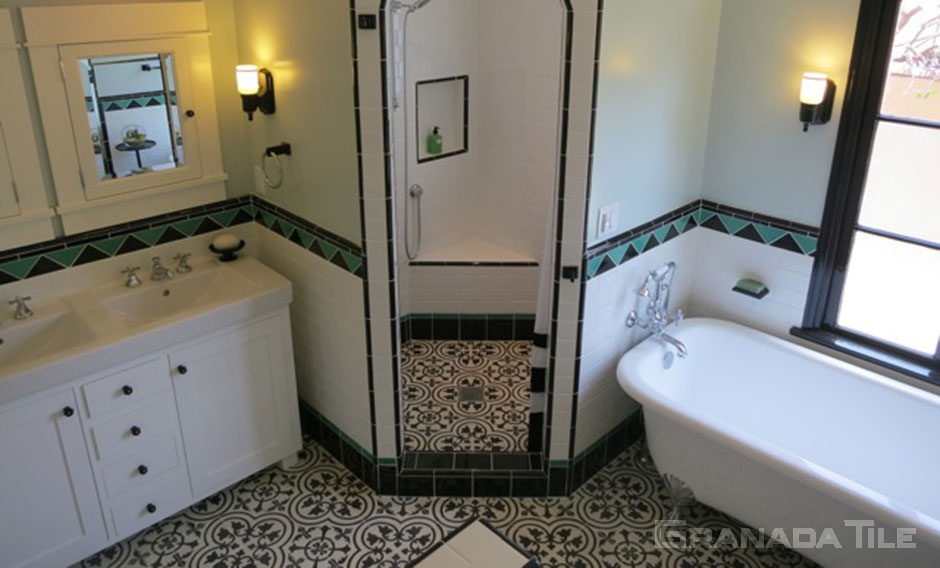 If you have a small bathroom that's stuck in the past, not your style, or that you just need to freshen up to match your taste or home's style, there are many simple DIY projects you can complete over a weekend. The great thing about a bathroom is that it doesn't have to take much to modernize it and make a big visual impact.
If you're ready to be inspired to update your small bathroom, you'll love our DIY projects below. You can save time and money by not hiring a contractor and not having to renovate the entire space.
Your Secret Weapon: Cement Bathroom Tiles
It's no secret that we love everything cement tile here at Granada Tile. We believe in it so much, that we've dedicated our business to offering the highest quality cement tiles in a huge array of colors, patterns, and designs. You see, with cement bathroom tiles, you only need to learn how to install one material to totally upgrade your bathroom. A new countertop and sink may also help, but if you don't have the budget for a complete renovation, cement tiles will be all that you need to completely change the look of your bathroom space.
Here's why:
Cement tiles come in so many colors, sizes, shapes and patterns, that you can use them on the walls, on the floor and in the shower, all while achieving a cohesive look
Cement bathroom floor tiles are durable and practical, offering a non-slippery surface that is soft underfoot and able to withstand moisture, cracking and fading
Cement tiles are easy to DIY if you know how to properly lay, grout, and seal them. If you read our guides or watch some YouTube videos, you'll be well on your way! Check out these helpful links:
Cement tiles are one type of material that can complement each area of your bathroom, making it look like you spent big bucks on a total renovation
Three Projects to Get You Started
Now that you've got your secret weapon, it's time to decide how you will use it to maximize your budget and time. Small bathrooms don't need a lot of material, which will work in favor of your pocketbook. Colors, shapes, and sizes of bathroom tiles will create different atmospheres in your bathroom, so feel free to get creative and think about what areas you want to showcase and whether or not you want your bathroom to be serene and spa-like, or eclectic and bold.
Here are our three favorite cement tile ideas for small bathrooms that you can DIY:
Tile a Shower Niche
What is a shower niche? A shower niche is an indented space inside a shower that people use to place their bar of soap, shampoo and conditioner. Tiling the inside of a shower niche is the perfect place to go bold with a striking color, a unique pattern, or an interesting-shaped cement tile.
Take a look at this example we love: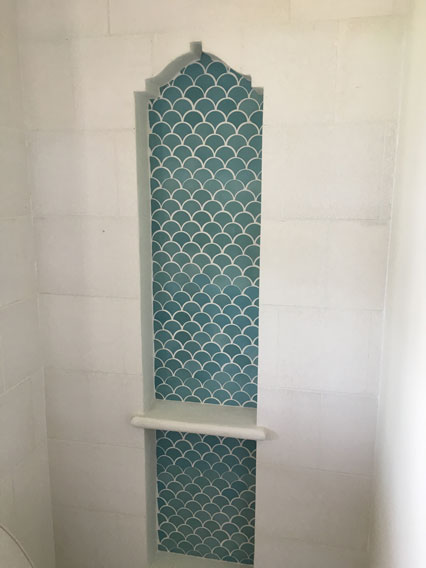 The majority of the shower is tiled in a plain, creamy white tile, while the shower niche makes a fun statement with aqua bathroom wall tiles in fish scales from our Minis line. It's the perfect amount of space to add color without overwhelming the shower.
Focusing on the shower niche only is the perfect weekend DIY project. It does not take a lot of time, material, or skill. Yet it provides an immediate lift to your shower and whole bathroom. With the experiences you gain on this initial project you will feel a lot more confident creating small bathroom tile ideas and handling the work yourself.
Tile the Shower Floor
The shower floor is another place to get creative. Shower floor tile is especially beneficial for a small bathroom because you can add fun color and pattern in a way that doesn't take away from the softness and serenity of the space, or make it feel smaller than it actually is.
Tile shower ideas for small bathrooms range from the blank to the bold. You have the freedom to create a custom shower stall that looks and feels exactly how you want. And thanks to the unique features of cement tile, these floors stand up to regular use better than most other shower materials.
Take inspiration from this image and pick a cement bathroom tile in a funky pattern with a few colors incorporated into the design. Because the rest of the tile used is white, along with the vanity and sink, these bathroom floor tiles from our Echo collection add just the right amount of pop to avoid a boring bathroom.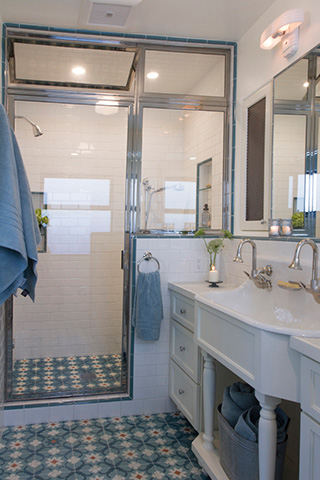 Tile the Wall Behind the Sink
The space behind the sink on the wall before a vanity mirror starts is a perfect yet unique place to add cement tile. Most homeowners skim over this area, but we encourage you to make the most of it and add elegant bathroom wall tiles to create a custom look.
Bathroom tile ideas for small bathrooms are all about making a big impact with small details. The space above the bathroom sink is perfect because everyone sees it eventually, but they probably don't notice it initially. It's an element that guests appreciate after examining it up close, but it still complements the bathroom as a whole. Those kinds of thoughtful touches are the hallmark of good design.
See how elegant this touch of tile adds to this wall space? These glossy white cement bathroom tiles in the arabesque shape from our Andalucia Collection ooze elegance and sophistication. No one will ever know that you DIYed it!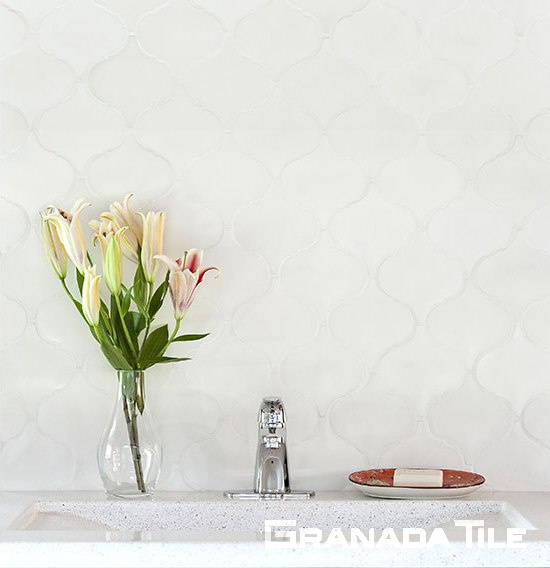 Why Cement Tile is Perfect for DIY
The idea of DIY is appealing for a lot of reasons. Who wouldn't want to save money, master new skills, and get the satisfaction of completing a project that's improving their own home? Despite the abstract allure, however, the reality is that DIY projects can be dirty, draining, and disastrous. People tend to avoid them after having a terrible experience of their own or hearing about a friend's DIY fail.
Those concerns are valid, especially if you are a novice home remodeler. Bathroom tile ideas for small bathrooms can seem overwhelming, even if the space is tiny. In this case, cement tile is the material of choice because it's especially easy for anyone to work with. You don't have to be a DIY guru or a pro with a caulk gun to bring your small bathroom tile ideas to life. Here's why:
Versatility
Small bathrooms leave you with limited options. Cement tile is manufactured in a vast variety of sizes and shapes and therefore fits into any space. If you are working with odd dimensions or unusual building requirements, expect to find cement tile options that fit perfectly while still looking stylish.
Strength
Not all tile is created equal. Some varieties are surprisingly fragile. You end up with a lot of cracks, chips, and broken tiles even if you are working carefully. Cement tile is just the opposite. It is extremely durable whether it is installed on the floor or the wall. Be as bold as you want with your tile shower ideas for small bathrooms because you know your material is going to perform as promised.
Simplicity
It doesn't matter if your small bathroom tile ideas are focused on the floor, walls, shower or sink. You will be amazed at how easy it is to work with cement tile. After watching the videos above and laying down your first few tiles, you will quickly get the hang of it. Then, faster than you thought possible, the space will be covered and transformed. Lots of DIY first-timers have been anxious at the start but thrilled at the end thanks to the unique properties of cement tile.
Style
There is a thin line between a stunning design and a silly design. Your bathroom tile ideas for small bathrooms might look amazing in your mind. But with the wrong tile choice they just fall flat. Cement tile comes in so many colors, patterns, and variations that you can bring any design you can imagine to life. Making the right selection is especially easy with Granada Tile because our inventory has such consistent style and universal appeal. If you are new to DIY and to interior decorating, don't worry – cement tile will never look out of place.
DIY Your Cement Tiles with Granada Tile's Custom Design Options
When you choose Granada Tile, you can DIY your small bathroom tile projects and even DIY the tile itself to make it your own.
If you see a tile you love in one of our collections or in stock tiles, you can customize it with any color you'd like, whether from our color palette or your imagination. See a color you love but not in the right design or pattern? We can customize that too!
Get in contact with our sales team and designers today to begin your DIY small bathroom project using cement bathroom tiles!