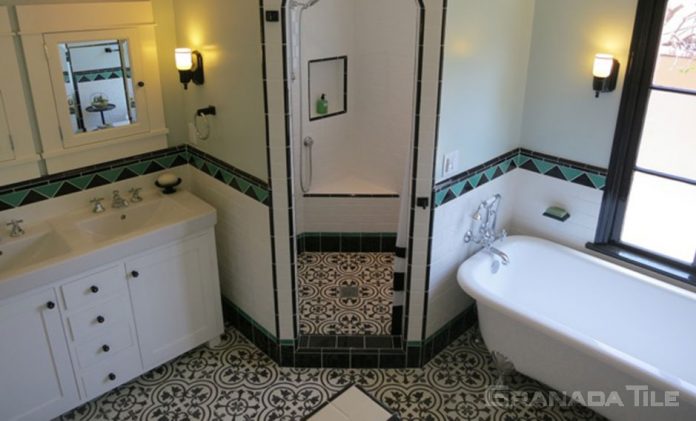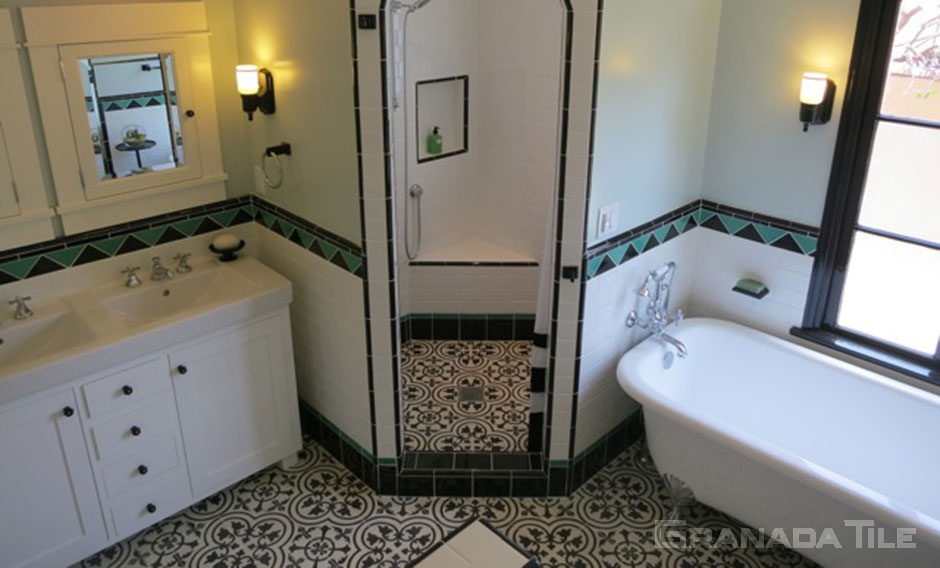 If you have a small bathroom that's stuck in the past, not your style, or that you just need to freshen up to match your taste or home's style, there are many simple DIY projects you can complete over a weekend. The great thing about a bathroom is that it doesn't have to take much to modernize it and make a big visual impact.
If you're ready to be inspired to update your small bathroom, you'll love our DIY projects below. You can save time and money by not hiring a contractor and not having to renovate the entire space.
Your Secret Weapon: Cement Bathroom Tiles
It's no secret that we love everything cement tile here at Granada Tile. We believe in it so much, that we've dedicated our business to offering the highest quality cement tiles in a huge array of colors, patterns, and designs. You see, with cement bathroom tiles, you only need to learn how to install one material to totally upgrade your bathroom. A new countertop and sink may also help, but if you don't have the budget for a complete renovation, cement tiles will be all that you need to completely change the look of your bathroom space.
Here's why:
Cement tiles come in so many colors, sizes, shapes and patterns, that you can use them on the walls, on the floor and in the shower, all while achieving a cohesive look
Cement bathroom floor tiles are durable and practical, offering a non-slippery surface that is soft underfoot and able to withstand moisture, cracking and fading
Cement tiles are easy to DIY if you know how to properly lay, grout, and seal them. If you read our guides or watch some YouTube videos, you'll be well on your way! Check out these helpful links:
Cement tiles are one type of material that can complement each area of your bathroom, making it look like you spent big bucks on a total renovation
Three Projects to Get You Started
Now that you've got your secret weapon, it's time to decide how you will use it to maximize your budget and time. Small bathrooms don't need a lot of material, which will work in favor of your pocketbook. Colors, shapes, and sizes of bathroom tiles will create different atmospheres in your bathroom, so feel free to get creative and think about what areas you want to showcase and whether or not you want your bathroom to be serene and spa-like, or eclectic and bold.
Here are our three favorite cement tile ideas for small bathrooms that you can DIY:
Tile a Shower Niche
What is a shower niche? A shower niche is an indented space inside a shower that people use to place their bar of soap, shampoo and conditioner. Tiling the inside of a shower niche is the perfect place to go bold with a striking color, a unique pattern, or an interesting-shaped cement tile.
Take a look at this example we love: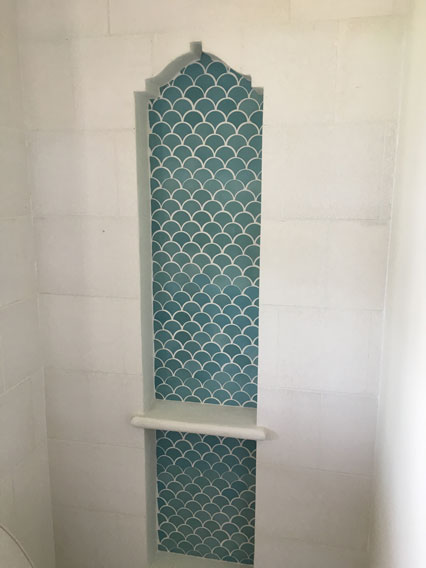 The majority of the shower is tiled in a plain, creamy white tile, while the shower niche makes a fun statement with aqua bathroom wall tiles in fish scales from our Minis line. It's the perfect amount of space to add color without overwhelming the shower.
Tile the Shower Floor
The shower floor is another place to get creative. Shower floor tile is especially beneficial for a small bathroom because you can add fun color and pattern in a way that doesn't take away from the softness and serenity of the space, or make it feel smaller than it actually is.
Take inspiration from this image and pick a cement bathroom tile in a funky pattern with a few colors incorporated into the design. Because the rest of the tile used is white, along with the vanity and sink, these bathroom floor tiles from our Echo collection add just the right amount of pop to avoid a boring bathroom.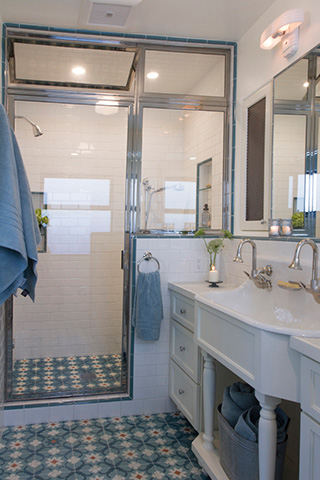 Tile the Wall Behind the Sink
The space behind the sink on the wall before a vanity mirror starts is a perfect yet unique place to add cement tile. Most homeowners skim over this area, but we encourage you to make the most of it and add elegant bathroom wall tiles to create a custom look.
See how elegant this touch of tile adds to this wall space? These glossy white cement bathroom tiles in the arabesque shape from our Andalucia Collection ooze elegance and sophistication. No one will ever know that you DIYed it!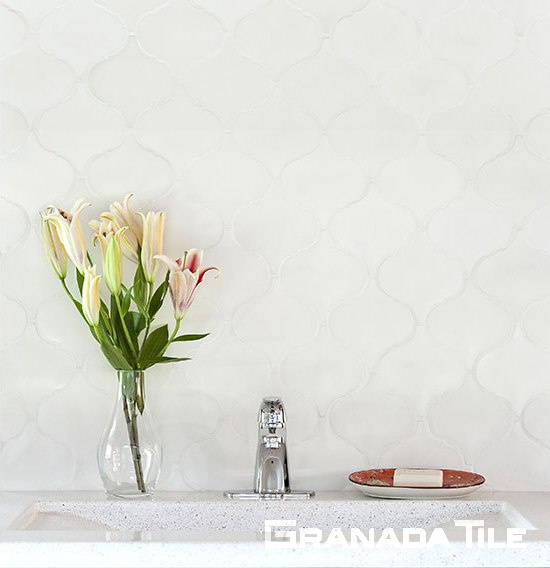 DIY Your Cement Tiles with Granada Tile's Custom Design Options
When you choose Granada Tile, you can DIY your small bathroom tile projects and even DIY the tile itself to make it your own.
If you see a tile you love in one of our collections or in stock tiles, you can customize it with any color you'd like, whether from our color palette or your imagination. See a color you love but not in the right design or pattern? We can customize that too!
Get in contact with our sales team and designers today to begin your DIY small bathroom project using cement bathroom tiles!