In their otherwise black and white bathroom, Nick and Amber Wills of Wills Casa installed our Fez concrete tiles in their shower stall to perk things up and because they'd loved the pattern since they came across at Intelligensia Coffee in the Silver Lake section of Los Angeles. Because their shower stall area is actually not the square you might think from the photo above, there was some debate as to which way to lay the cement tile, square to the entrance to the shower or angled?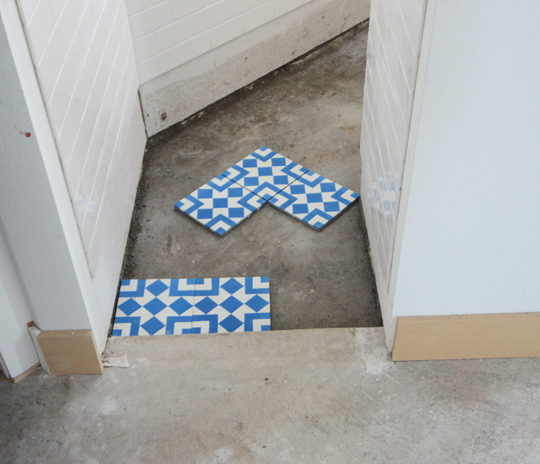 In the end, they decided to lay it at an angle to the entryway to the shower because it would be squared off to the main footprint of the shower stall: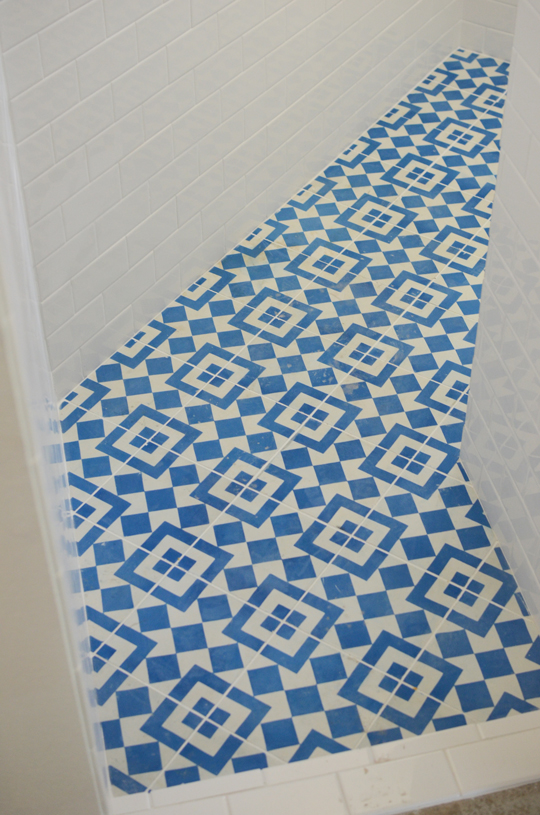 We love this use of our tile.  Like a installing a cement tile backsplash in a kitchen, using cement tiles on just the floor of a shower stall can add color and pattern and make a big impact with lower cost and commitment.  Plus, as we noted last week, using concrete tile on the floor in a wet room like a bathroom or kitchen is a great idea not only because it looks good, but because it feels good on the feet and is apt to be much less slippery than porcelain tile.   For a closer look at all the changes that Nick and Amber made to their bathroom, check out the full blog post here. The same qualities that make Granada Tile's cement tiles perfect for a hardworking coffee shop or restaurant space — in addition to their beautiful designs and vivid colors, Granada Tile concrete tiles are long lasting, easy care and low maintenance — are the same ones make it perfect for your home, whether used as floor tile or wall tile.  Start by visiting our web store to peruse our large selection of in-stock handmade master-crafted cement tiles and call us today at 213-482-8070 to discuss which of our encaustic tile designs would be perfect for your home or restaurant project.