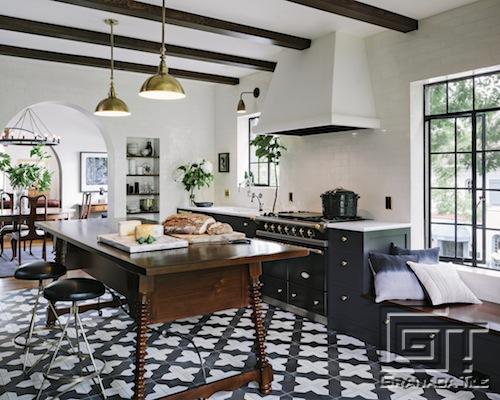 Cement tiles have been popular since the 1860s and this is for a good reason—they are one of the most practical and beautiful types of tiles available. Cement tiles offer a huge range of benefits that make them a good choice for any room in your home. We've created a list of the top ten benefits of cement tiles to show you just how flexible and durable cement tile floors really are!
They are a hardwearing option for any room.
Cement tiles can stand up to a lot of use making them a great choice even for areas that see a lot of traffic. You don't need to worry about stains or scratches as long as the tiles are properly installed and maintained, as their surface is very hardwearing. These tiles will outlast many other types of tile, including ceramic ones. A cement tile floor will look as good as the day it was installed with just a little care.
Cement tiles can be used for many purposes.
Cement tiles aren't just limited to flooring; you can use them to tile walls, floors, and pretty much anything else you can think of. This multipurpose functionality gives you the option to use these tiles where and how you want. You could even tile the whole bathroom to create a contemporary wet room look.
They're easy to care for.
Once installed and sealed cement tiles are very easy to care for. Unlike other solid flooring options such as wood or stone, cement tiles do not need any regular maintenance such as resealing or refinishing. In fact, all cement tiles need is mopping and occasional resealing as required!  [This is inconsistent.  Cement tiles DO need regular maintenance.]
A cement tile floor can help insulate your home.
Cement tiles have a high thermal mass meaning they hold their temperature well. Installing a cement tile floor can help keep your home cool in the summer and warm in the winter—this helps reduce your air conditioning costs in hot weather and heating costs in the cold weather!
Cement floors can be installed very quickly.
An experienced professional can complete cement tile installation very quickly and the finished result gives an instant designer feel. This makes them a great choice for people who want a stylish look for their floors in a short timeframe.  This is a bit misleading, since you have let the Thinset dry, then the grout dry, then the sealer dry.  All of these steps take time.
There's a large variety of design patterns and styles available.
One of the biggest benefits of cement tiles is the sheer amount of choice when it comes to design. There's a massive selection available from plain tiles for a simple look to intricate patterns that make a real style statement and everything in between. Tiles can be combined to make a unique pattern or design feature, and you could even create your own cement tile rug!
There's a huge range of colors to choose from.
Even the most selective of homeowners will be able to find the right color among the huge range of tiles available. Whether you're looking to make a statement or want a more subdued look for your floor you'll find the perfect tile color for your needs. If you really can't find the right match or color combination you can take advantage of the next benefit…
They're customizable so you can create your own design.
One of the most interesting benefits of cement tiles is that manufacturers are able to produce small batches of tiles (min 50 square feet). This means that if you can't find a design or color combination that fits your needs you can opt to have your own personal tile designed and manufactured. If your tile requires a particular color not currently in the color palette, ask about color matching services.
They use environmentally friendly materials and manufacturing methods.
Both the base of the cement tile and the colored surface layer are made from natural materials, which make them an environmentally friendly tile choice. The production method also has a limited impact on the environment as cement tiles are produced without firing, meaning no fuels are burnt to make the finished product. To ensure that cement tiles are strong and durable the manufacturer uses pressure (instead of heat) to harden the tiles.
Cement tiles are a practical tiling solution for every room.
Cement tiles are a practical option for any room. Once sealed they are fairly stain resistant and offer a non-slip surface that'll prevent you slipping, even with wet feet! They can be used in all rooms of the house including bathrooms. They're even a popular choice for outdoor patios in temperate climates.
Even though they've been around for over 150 years cement tiles truly are one of the most flexible and durable tiling options available today. If you're looking for a tiling solution for the floor in any room of your home you'll find a cement tile that fits your needs. Choose cement tiles for a truly unique tiling solution that can add color, style and a designer feel to every room in your home!