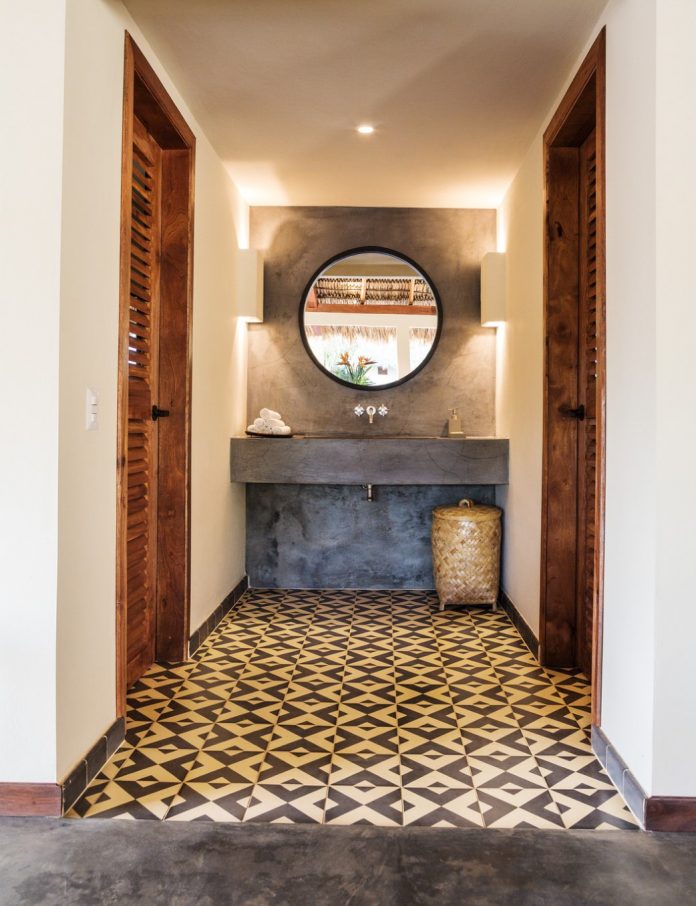 Tiles have always been a go-to material for the bathroom, but have you considered cement tile for your remodel? If not, it's about time you do. Cement tiles have been showing up in magazines, home renovation TV shows, and décor blogs more and more, and for good reasons. They can make your life easier after your remodel and reward you with an incredibly stylish bathroom, even if you decide not to do a total gut job.
Why Choose Cement Tiles Over Ceramic Tiles?
Cement tiles offer top notch durability and longevity compared to their well known counter part, ceramic tiles. Cement tiles are made with color pigments, aggregates of marble powder, and, of course, cement. They are compressed with about one ton of pressure and are very strong. Ceramic tiles are made with clays and fired in a kiln. They tend to wear quicker than cement tiles, and lose their coloring and luster over time. For your bathroom remodel, consider the qualities of cement tiles versus ceramic tiles and which will be best in the long run for your bathroom.
The Benefits of Cement Tile for the Bathroom:
Cement Tiles and Water
After sealing, Cement tiles are water resistant and combat water damage from mildew and mold. They are also slip-resistant even when wet and can prevent falls in the bathroom, unlike ceramic tiles. The dry areas in the shower aren't safe from water damage either, and cement tiles on the walls and in the shower can further help keep your entire bathroom free from mold and staining.
Cement Tiles Are Low Maintenance
One of the best qualities of cement tiles is how easy they are to clean, with only a cloth and a bit of water. This reason is why cement tiles are great for the walls of the bathroom in addition to the floors. They can create a spectacular bathroom with wall-to-wall tile all while being the easiest to clean. The durability of cement tiles also makes them very low maintenance, and as long as they are sealed properly before the grout is applied, they won't crack, scratch, or fade easily.
Cement Tiles Won't Go Out of Style
Cement tiles are each made by hand, with each one being one-of-a-kind. Top quality, artisan materials will never go out of style, and there will always be a color or pattern to fit your taste and current trends. Cement tiles are completely customizable, and if there's a color or design you don't see in stock that you like, the manufacturer can easily make something for you. Cement tiles are also easy to remove and re-install, so if you ever change your mind about your bathroom tile, or you simply want to try a new design, you won't have to go through an extensive remodel again.
Cement Tiles Retain Heat from In-Floor Heating
For your bathroom remodel, you may be considering in-floor heating. When your feet aren't freezing on the bathroom floor on chilly mornings, you'll be so glad you made the investment, and cement tiles will help make sure that heat isn't lost since they're great insulators.
Considerations to Keep in Mind:
Cement tiles can no doubt turn your bathroom into a space worthy of a magazine spread, but installing cement tiles can be a different story if you're not prepped with the right materials and knowledge.
Professional or DIY?
Watching tutorials will be essential if you choose the DIY route, and most cement tile manufacturers will be able to answer your questions about the tile itself, grout, or sealant. However, if you've never installed tile before you may want to hand the job over to a professional, especially considering that cement tiles are made by hand and will have very small variations in thickness and edging.
Getting the Right Materials
Second, you'll want to choose top quality cement tiles from a reputable manufacturer if you want to enjoy all of their benefits to the fullest. Once you decide on your tile, you'll want the best tools you can afford. If you're hiring a professional, then this information won't apply to you. But if you're DIY-ing, it's best not to choose a cheap tile cutter. You can purchase or rent a tile cutter that will provide the best results. Also, have plenty of buckets and sponges on hand to keep the tile as clean as possible.
Installing Cement Tiles
If you're installing your cement tiles, then the best thing you can do to ensure a job well done is to follow all directions to the letter. From laying the cement board under the tile to applying the grout to keeping the tiles completely clean as you go, all steps contribute to the best installation possible.
If you're ready to start planning your bathroom remodel and choose your cement tiles, get in touch with Granada Tile. Our sales team can guide you through our collections or help you create your own custom design.