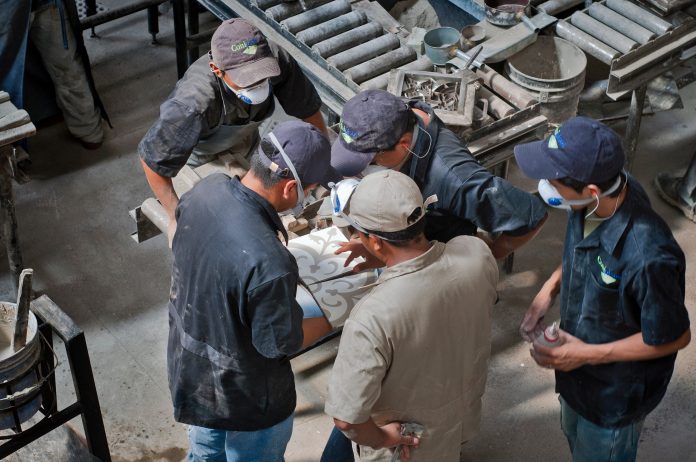 Cement tiles have a lot of advantages over ceramic or porcelain tiles. They are long-lasting, relatively low maintenance, quite sturdy and totally eco-friendly, but you need to pay close attention when you choose your tile. As cement tiles become ever more popular, the market is starting to see tiles that are "faux cement." These purport to carry many of the same qualities, but they're not the same. Learn about the difference between high-quality cement tiles and the faux tiles that will advertise benefits, but may not deliver the finished product you desire.

Choosing High-Quality Cement Tiles
It's important to know that cement tiles are not all created equal. For the most part, a genuine quality cement tile will be handmade in a small production facility. If your cement tiles appear to have been made using mass production techniques, they are probably faux tiles. The difference is in quality control. Quality cement tiles are carefully regulated to produce pieces that can withstand whatever you throw at them.

The Differences Between Quality and Faux Tiles
When you're examining tiles for quality, there are a number of red flags to watch for. If the tiles are not of uniform thickness, if they don't lay flat, this is because the production process hasn't been consistent, often the result of mass production rather than individual care. If the patterns on the tile are blurred or the color shows unusual variance, that's because of sloppy pigmentation.
If you can see chipping around the edges that's likely because of poor manufacturing techniques, and particularly a weak concrete mixture. The same goes for tiles that are weak or crumbly at the back. This results from poor mixing or improper hydraulic pressure.

Invisible Tiling Weaknesses
There are also a lot of weaknesses or issues with faux tiles that are invisible to the naked eye. If the mixture was made improperly, such as using too much sand or too much water, your tile's structural integrity will be compromised. It'll be weaker and won't last nearly as long. Likewise, if the producer uses cheap quality pigments, you may seem fading colors, especially in tiles that are exposed to direct sunlight.

Avoiding Inconsistent Tiles
It can be very hard to tell the difference between faux tiles and solid cement tiles. That's why when it comes down to avoiding weak or uneven tiles, your best bet is to go with a respected source. At Granada Tiles, we have a long history and reputation for providing small-batch, handmade and high-quality cement tiles that are genuine, eco-friendly and durable. Our tiles are all handmade and intricately quality controlled.
Our tiles will not fade, will be of uniform size and will be rugged enough to stand up against heavy traffic. The color patterns are poured in and set, not painted, so the designs won't fade, won't run and you can have as many colors as you want. If you're ready to go with the eco-friendly solution to your tiling needs, we're ready to set you up. Check out our current in-stock set of cement tile designs, and get in touch with us for more information or to place your order today.