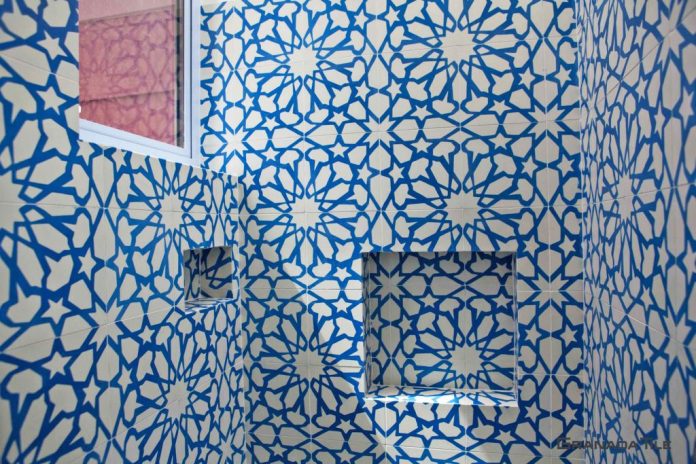 Cement tiles aren't just popular because of the stunning designs available, they're also one of the most durable types of tile on the market. In fact, there are many examples of 100-year-old cement tile installations that still look great today. So what is it that makes cement tiles so hardwearing?
Historic Techniques Brought To Life With Quality Craftsmanship
Cement tiles aren't a new invention; their development can actually be traced back to 19th century France. And while modern technology has been implemented in many parts of the tile industry Granada Tile still bases their cement tile production techniques on this historic French method as we believe it creates the highest quality tile available.
All of the cement tiles made by Granada Tile are handmade by our talented craftspeople using a technique developed in France in the late 1870s. Every cement tile begins with a design, which can be chosen from our huge range of design molds or exclusively designed to meet your needs. Granada tile has a huge repository of traditional bronze design molds that offer timeless designs that suit any space. We also continuously work to add new design options to offer tiles that suit the most modern of homes.
Creating The Perfect Cement Tile Design
So how do cement tiles offer a huge range of design options without sacrificing durability? One of the things that makes cement tile so special is that each tile is created by hand pouring the pigment into the design molds using a ladle so the tiles are never painted! This technique gives each tile a 1/8" thick layer of colored design on top of the tile. Whatever the design or color, this thick layer of pigmented tile is one of the reasons why cement tile floors look good for many years. This traditional technique also means that we can create custom palettes to match your existing home décor using our color match technology.
Manufacturing Tough Tiles
Once the color layer is poured into the design mold a new cement mixture is added on top of the color. The quality of this mixture is essential in creating a strong base for the tile. One key thing to look out for when purchasing cement tiles is to ensure that the manufacturer uses only the highest quality materials. In addition, each tile should be compressed to 2,000 PSI using a hydraulic press. This huge amount of pressure sets the cement and fuses the layers together to create a strong and long-lasting cement tile.
Although this process sounds straightforward, there are mistakes that can happen along the way, and they won't always be visible when your tiles are installed. It's fair to say that like many other handmade products, not all cement tiles are created equal. If you want your cement tile installation to look beautiful for years to come it's important to choose a manufacturer who follows strict quality control techniques. Granada tile wants you to enjoy our tiles for many decades, which is why we impose the following vital quality control measures:
All tiles are 5/8" thick, making them easy to install and incredibly strong
Each tile has a color layer 1/8" thick to keep them looking good for many years
All of our colors are made with high-quality pigments and are mixed precisely so all of your tiles match (though there is a characteristic organic variation in tone)
Our craftspeople are highly trained and take pride in their job to produce crisp patterns
Accurately measured cement to sand ratio is used to create a strong base for the tiles
All tiles are compacted to 2,000 PSI using an accurate press
Cement tile suppliers should be happy to provide you with an engineering report to prove the quality of their product
Limitless Shape Possibilities
Another advantage of the cement tile manufacturing process is the ability to produce a wide variety of shapes and sizes. Granada Tile produces a huge selection of options from organic shapes to geometric tiles. Some of the most popular options include the Minis range inspired by the zellige tiles from Morocco. These small tiles pack a design punch whether you choose the zigzag, natural, rounded, or any other shaped tile! The Echo collection, which is our fully customizable range with many design options, offers a selection of square and border tiles to create your custom design. Our popular Andalucia range boasts a unique selection of soft-edged tile shapes such as the tapered, classic, and wavy. And if you're looking for a more rustic look for your tile, the warm terracotta tones and unique shapes—dulcimer, hexagonal, square and picket—of the Rustico Range are a great choice. Granada Tile can also produce custom shapes to meet your installation needs.
An Eco-Friendly Option With Organic Beauty
In addition to being beautiful and durable, cement tiles from Granada Tile are an eco-friendly tile option perfect for people who want to limit their impact on the environment. Cement tiles are not only made with eco-friendly materials, the production process itself is also incredibly eco-friendly. Unlike ceramic tile, cement tiles do not require any form of firing process in order to harden. The organic beauty of a handmade tile is a great choice to add a unique design feature in any room. Our tiles can be used in home bathrooms, kitchens, and any other room in your home. They can even be used on both floors and walls! A cement tile installation is also a great choice for restaurants, stores, offices, and spas.
The experienced and talented team at Granada Tile is here to help you find the perfect tile choice for your design needs. If you'd like to talk about stock options or discuss custom designs contact our team today!