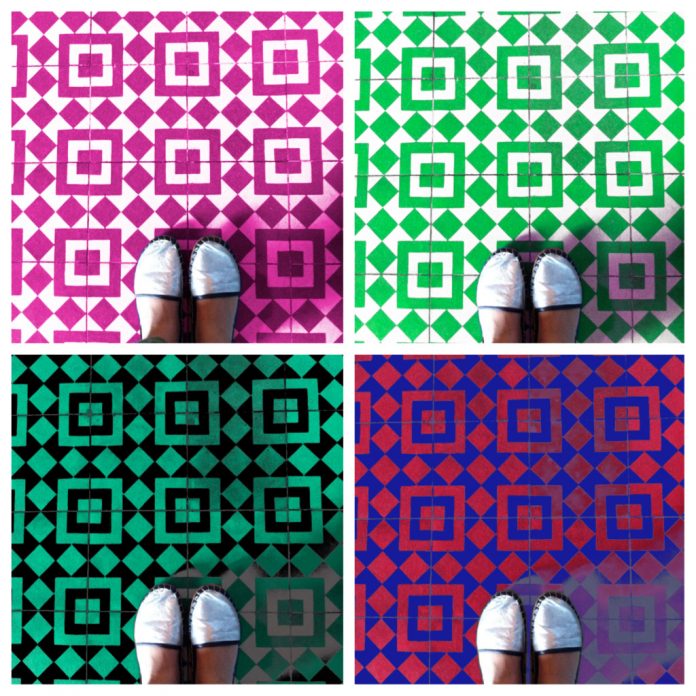 Do you know interior designer Justina Blakeney?  Well, if you love color and pattern you should! Her self-titled Junaglow style — a lively, exuberant mix of plants and texture and pattern and color and fun is exotic and modern…just like Granada Tile!  And we'll get to see more of her beautiful style in her new book, The New Bohemians, which debuts at the end of the month. In two posts that she wrote for her blog, she played with the colors of our Fez cement tile and our Khufu cement tile, reimagining these concrete tile designs in wonderful, wild color combinations! Above, you can see the results when she played with Fez concrete tiles, using a floorcore photograph she'd snapped at the Silver Lake branch of the Los Angeles coffee shop Intelligensia.  And here are the results from when she pulled out her paintbox with our Khufu concrete tile, using a photo she'd snapped at Beachwood Cafe in Hollywood and Photoshop.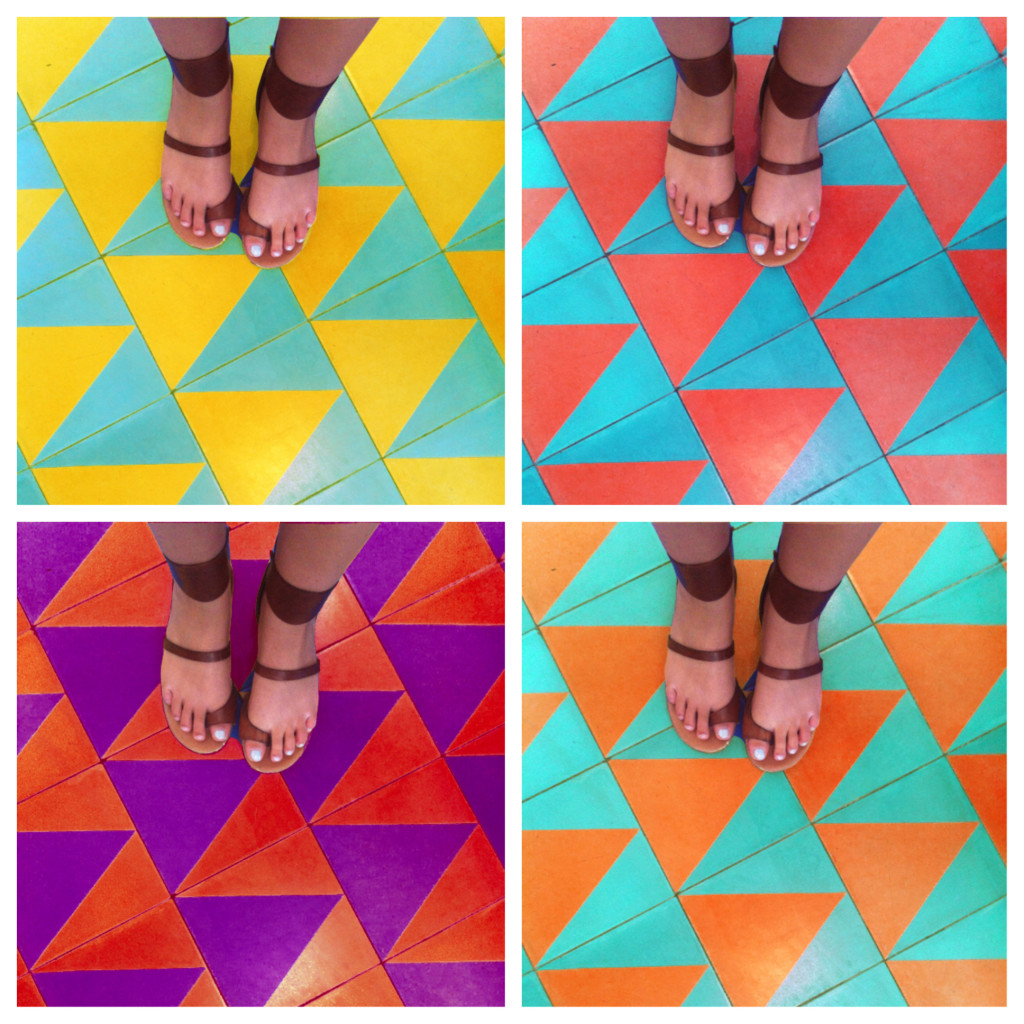 Check out her original posts on our Fez cement tile and our Khufu cement here to learn more about her love for encaustic tile and how it suits her creative style. But cement tiles with intriguing color combinations like the ones above aren't limited to interior designers, the confines of your imagination or those who own Photoshop.  Take a cue from Justina and her imagination and set your own color spirit free.  Check out the wide range of colors and patterns in our Echo Collection of cement tiles.  Play with our interactive cement tile catalog, delight in the possibilities of our concrete tile designs using our cement tile layout tool, see what others are creating with their cement tile with our Share designs and discover which designs and combinations of concrete tiles set free your own Jungalow spirit. Of course we have a wide range of cement tiles to suit any project, commercial or residential, indoors or outdoors, that you have in mind.  In addition to the intricate designs of our Echo Collection concrete tile, consider the Nordic-tinged designs of our latest collection, the Erin Adams Group of concrete tiles, delight over our Minis concrete tile collection, bliss out over the Milano collection of terrazzo cement tiles, the Antique collection of old world-style encaustic tiles, the soothing gentle curves of the Mauresque collection of concrete tiles and the warmth of the Rustico collection of concrete tiles.  Whether you're searching for floor tile, wall tile, cement tile for your kitchen backsplash, shower tile or patio tile, Granada Tile is the source for the cement tile of your dreams.
The qualities that make our cement tiles perfect for a hardworking coffee shop like Intelligensia in Los Angeles Silver Lake neighborhood or for a restaurant space like The Beachwood Cafe in Hollywood — in addition to their beautiful designs and vivid colors, our concrete tiles are long lasting, easy care and low maintenance — are the same qualities that make it perfect for your home, whether used as floor tile or wall tile.  Call us today at 213-482-8070 to discuss which of our encaustic tile designs — and in which colors — would be perfect for your home or restaurant project.