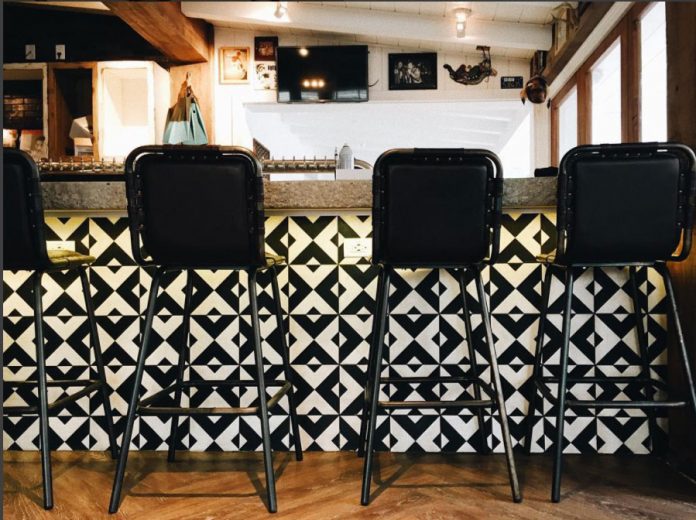 This fall, homeowners and interior designers are getting cozy with more color and charm, and less all-white spaces and ultra modern décor. As the weather cools down, this season's top design trends are warming up and adding personality.
Now is the perfect time to update your home for fall and turn your space into a cozy, comfy luxurious retreat. Get inspired by the top fall home trends forecasted by these industry experts.
Geometric Patterns in Classic Color Schemes
From pillows to the backsplash, patterns in large geometric shapes can freshen up just about any room with an instant update. Jennifer Fisher of J. Fisher Interiors, says "I see.. large-scale geometric patterns in simple colors, like black and white, especially for rugs."
White and blue, also a classic duo, is another combination we're seeing more and more in patterns, in addition to earth tones and creamy neutrals. "All things indigo, dusky blue, and washed greens paired with grey. Whites paired with blonde and honey wood is also on the rise," says Susan Curtis, Lead Designer at Phenix Flooring, about the trendiest hues for fall.
Brass Accents and Matte Finishes
Shiny copper is out and classic brass is in. "The shift to warmer, gold accents for hardware, comes from the rising popularity of the rose gold trend," says Fisher. Feel free to add in brass accents and hardware in individual rooms, or the whole house. Matte replaces shiny finishes this season for subtler style, and matte black light fixtures and faucets are especially on trend.
Layering and Mixing Patterns and Colors on Backsplashes and Floors
This fall season, interior design is paying homage to the coziness of autumnal layers with more layers of color and pattern. Curtis says that this fall, expect to see "layers and layers of textures, patterns, and color. Patterns reign at the moment from textural reliefs to bold geometrics… and consumers are more open to a varied use of patterns, mixing and layering them to complete a look."
The same more is more concept goes for color. "Subway tile is getting a little more colorful than the clean, crisp whites we've seen in previous designs. Now, people are experimenting with more color," says Fisher. In addition to on-trend geometrics, traditional-style cement tiles are growing in popularity for making walls, backsplashes, and floors more intricate and complex.
Bold, Dark Hued Cabinets, Walls, and Fabrics
Along with prioritizing comfort, design trends are turning to the dark side with deeper, richer tones. Maura Braun of Maura Braun Interior Design explains this a bit more. "Deep jewel tones such as chinoiserie red, deep turquoise or deep plum are currently rising in popularity. Their richness and depth of color provide a calmness to the home because they are easy for the eyes to focus on and absorb."
Black is also back, but not just for accents. "The deep hue helps make a focal point in a large room," says Bee Heinemann, an interior decorating expert from Vant Wall Panels. Black is especially popular for kitchen cabinetry, dining rooms, and offices right now.
Geometric Wall Art
According to Heinemann, artwork is getting painted with pattern. "Geometric designs will heavily influence the art we use to decorate our homes. Complex colors and patterns will add variety and a lot of color to any room." Create a one-of-a-kind work of art, like a mural, or floor to ceiling pattern "wallpaper" using cement wall tiles.
A Preference for Low Maintenance, Practical Materials
Practicality is important for homeowners today, who prefer to spend less time maintaining their home and more time doing the things they love. But not at the cost of beauty. "We are moving to a more casual, easy to maintain aesthetic. Clients are becoming more and more concerned with function and vendors are responding to this trend by providing durable materials that are also beautiful," says Rainey Robinson, a Houston Interior Designer.
Cement tile delivers on both beauty and function and is a stylish and practical option for floors, walls, and bathrooms.
Fisher of J. Fisher Interiors is also a fan of the cement tile trend. "I personally love this material. It's durable, oftentimes inexpensive, and… there are also sleek and plain options and options with fun bohemian patterns, for options for everyone."
Are you ready to breathe these colorful and comforting fall trends into your home? Get in touch with the design experts at Granada Tile, and learn how gorgeous cement tiles can give your home fresh, timeless appeal.