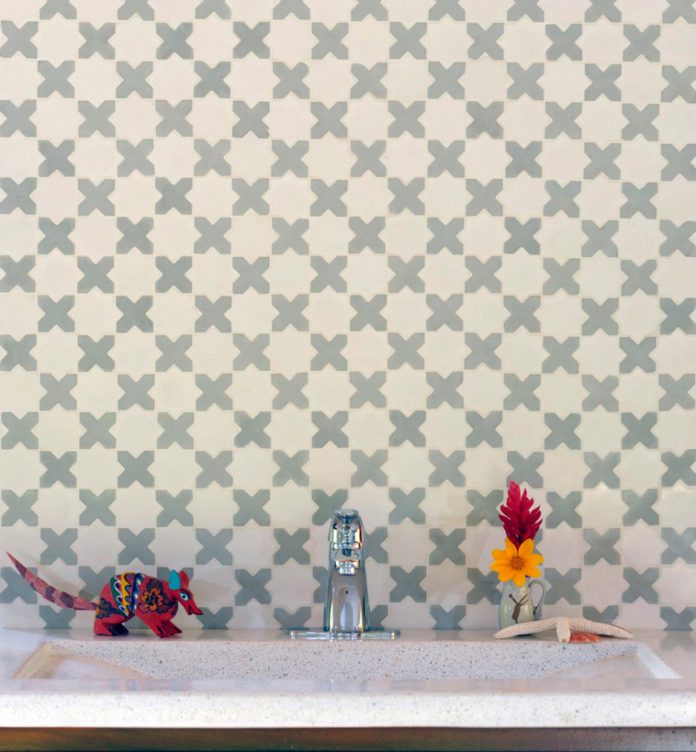 Choosing the right size tile goes much farther beyond what will fit in a space. There may be standard sizes for certain applications and tile sizes that are commonly used in different places. But there is actually a wide array of size options you can use for the various spaces in your home. Different tile sizes impact the overall appearance of a space and can either enhance the look and feel you were going for, or diminish your intention.
In this post we explore the different aspects of tile size, how they influence the appearance of a space, and how to choose the right size.
Choosing Tile Relative to the Space
The simplest way to choose the right size tile is to choose a tile relative to the size of your space. A large area like an open floor kitchen and dining room, or a large living room will be able to handle large tiles. A medium space like a bathroom will work well with medium-sized tiles and small, mosaic tiles will be appropriate for a small area.
Start by measuring your space to be tiled by the length and width of the floor or wall. The square footage will help you create a template out of paper that will allow you to experiment with different tile shapes and sizes to create the layout you like best. When doing your measurements, consider cabinets and countertops you need to work around, as well as any corners or kitchen islands on the floor. Keep in mind that when tiling a floor, large tiles won't allow you as much flexibility and room for working with the natural flow and structure of the floor. With large tiles, you need to be extra careful to install them as evenly and as level as possible.
Tile Sizes for Different Appearances
Different tile sizes produce a different aesthetic, and influence the way you feel in a room. Using one or two different tile sizes and shapes will create a sleek, streamlined look. Three or more different tiles will add to the complexity of a space and make it feel more compact.
Large square and rectangular tiles
Large tiles, at least 12-18 inches in width or length, can make a room appear larger. When you have a medium to large space you want to tile, larger tiles will expand the space and make it feel more open.
The longer dimensional lines of large rectangular or square tiles can lengthen a room and the fewer grout lines also make a space feel more open and clean. Large tiles are proportionate to a large room, and they can make a small room feel bigger. However, tiles larger than 18 to 24 inches may overwhelm a small space, like a bathroom or mudroom.
Subway tiles, plank tiles, and small mosaic tiles
Depending on the size, shape, and pattern, small tiles can add depth to a space, or add busy-ness and contract a space, making it feel more compact.
Linear tiles and subway tiles can also add depth to a room and expand its appearance, especially in smaller spaces. Linear tiles are also flexible when it comes to layout. Horizontal placement is classic while herringbone is more trendy and elegant. Plank tiles will make a galley kitchen or hallway appear wider when placed horizontally.
Tiny tiles, like honeycombs and miniature squares, are ideal for small spaces like bathrooms as opposed to large tiles which are more complicated to install and can result in awkward cuts resulting in tiles of all sizes. Large tiles used in a small space won't flow as well or look as consistent as small tiles, which will be able to fit around compact features like sinks seamlessly. Even though small tiles come with more grout lines, neutral colored tiles with a matching grout color can blend the lines.
You can also use small tiles to create a border around larger tiles to cozy up a space, add interest, and create the illusion of a rug.
Tile Size and Grout Lines
Larger tiles have fewer grout lines creating a cleaner look, while smaller tiles have more grout lines, adding to the complexity and visual texture of the tiles. If a contemporary aesthetic is important to you, then going with larger tiles will deliver that look. And if you don't want something modern and trendy, medium subway tiles will create a less sleek look that is a perfect balance between classic style and fresh appeal, and small mosaic tiles will deliver a busier, more intricate appearance. Furthermore, the grout color will affect the space. Choose a grout color in the same or similar shade as your tiles to create a seamless appearance.
Kitchen, living room, and dining room floors do best with larger tiles to open and expand the space. Small to medium tiles look great on kitchen backsplashes, for wall art, and for adding borders and edges. With more grout lines, small tiles are a great choice for showers because they add more traction and slip-resistance.
Cement Tiles
Choosing the right tile size is much more involved than the measurements of your space. In addition to choosing these crucial elements, deciding on the right type of tile is also essential for your project. Cement tiles are one of the most durable products on the market, perfect for floors, walls, bathrooms, and kitchens. They also come in a virtually never-ending variety of colors and patterns and can be custom designed to suit your one-of-a-kind style.
The design experts at Granada Tile can help you choose the perfect tile to suit your project and deliver the style and appearance you're going for. Get in touch with us today if you have any questions, and browse through our tile collections to get an idea of your favorite tile style, shape, and color or pattern.