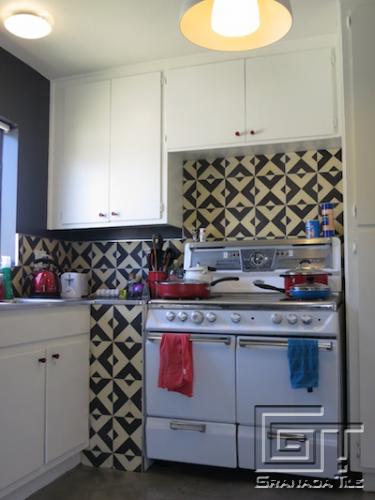 As you've probably noticed, 2014 is shaping up to be a big year here at Granada Tile. We've already had some amazing coverage of our sensational cement tile in magazines in the last month, and we've been delighted by tile pictures our clients have been sending us of their own concrete tile installations. Is it something in the air? It sure could be. If you happened to check out Apartment Therapy recently, then you might have seen their list of top bathroom trends. Since you're reading the Cement Tile Blog, you can probably guess why we were so excited: The site's editors included cement tile floors as one of the top five trends for the year, noting they take "otherwise simple rooms, and make them feel handmade and special"—and they included a link to Emily Henderson's fabulous Country Living House of the Year, which features Granada Tile's Fez cement tile design. Of course, while cement tiles are a wonderful choice for bathroom floor tiles, that doesn't mean they don't have oodles of other applications. As we've recently seen, seemingly the only limit to creating a marvelous cement tile installation is your own creativity. Cement tile works in a kitchen—in any space where you might need a little dash of color and pattern.
Outside, cement tiles can make quite an impact too, when you use them in expected ways. We're big fans of tables topped with cement tiles. Just take a simple metal frame and top with cement tiles and voila! A custom table. Not to mention, you can create a knockout fire pit.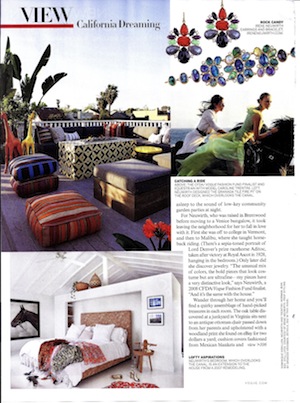 We also noticed a great kitchen tile backsplash featuring cement tile in the February issue of House Beautiful. The project isn't online yet, but try and hunt down a copy for yourself. It's a great concrete tile installation and could easily translate using some of Granada Tile's own cement tile designs. Backsplashes are just one more spot where some concrete tile can completely transform a space. Keep your eyes on this space! We've got plenty of news coming in the next few months. It's going to be a great year!