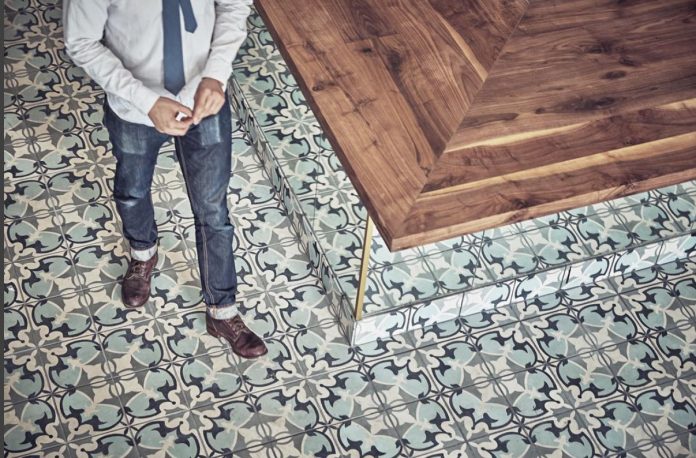 We admit it: we have this thing with floors.  We're always looking down, checking out tile floors, tile patterns and tile designs, finding inspiration just underneath our feet.  We were recently in Highland Park, an up and coming neighborhood.  Which is when we spied this beautiful cement floor tiles at Civil Coffee, a new coffee shop on Figueroa.  The pastel green concrete floor tiles combined with the wooden countertops is at once old-fashioned and fresh.
While you may know Granada Tile cement tile for our many beautiful tile patterns, especially the ones in our Echo Collection, like our Fez concrete tile, seen in Intelligensia Coffee Shop in Silver Lake, another Los Angeles coffee shop, did you know that in addition to the concrete tiles we already make, we're happy to work with you to make a custom pattern?  We've done this many times before and these tile designs then end up in our permanent collection.  We can work from a photo, like we did when we created our Tunis concrete tile, or from a sketch, or we can flesh out an a pattern from an idea.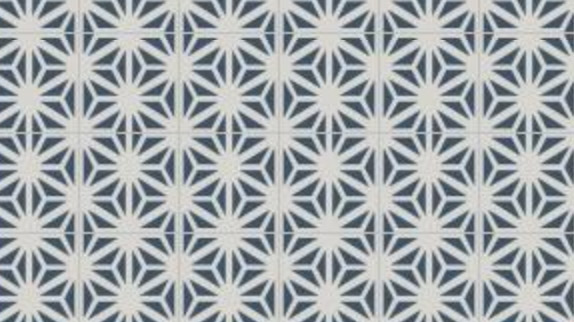 The first question we have when we look at a design to translate it into a cement tile mold is: how do we break it up?  In making concrete tiles, you're creating pieces that need to fit together, like a puzzle (in the photo below, check out where the grout lines are in Civil Coffee's floor tile design to understand how the pattern is broken up).  If we're looking at a tile design, whether a concrete tile design or a porcelain tile design, it's usually easier — those tile patterns are created to have a natural repetition. But, as in the case of the Tunis cement tiles, we were looking at a photo of actual stars in the sky. In the mold we came up with, you get almost the whole star, but not quite, and it carries over into the next piece.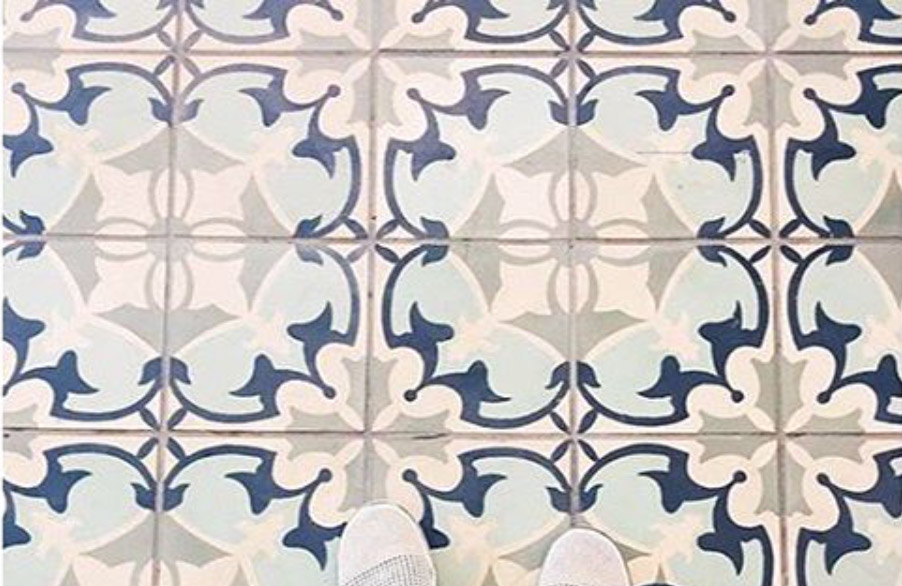 If you don't want to go the custom route, many of our most popular concrete tile designs, like our Tunis cement tile, Fez encaustic tile in blue and white and in black and white, our Cluny concrete tile and our Serengeti cement tile are in stock and ready to ship out to you immediately! The qualities that make Granada Tile's cement tiles the choice of award-winning coffee shops and hot restaurants around the country — along with their beautiful designs and vivid colors, our concrete tile is long lasting, easy care and low maintenance — are the same ones make it perfect for your home tile project, whether used as patio tile, porch tile, kitchen floor tile, kitchen backsplash tile, bathroom tile, shower tile or laundry room tile.  Start by visiting our cement tile shop to peruse our large selection of in-stock handmade master-crafted cement tiles and call us today at 213-788-4238 to discuss which of our encaustic tile designs would be perfect for your home or restaurant project.