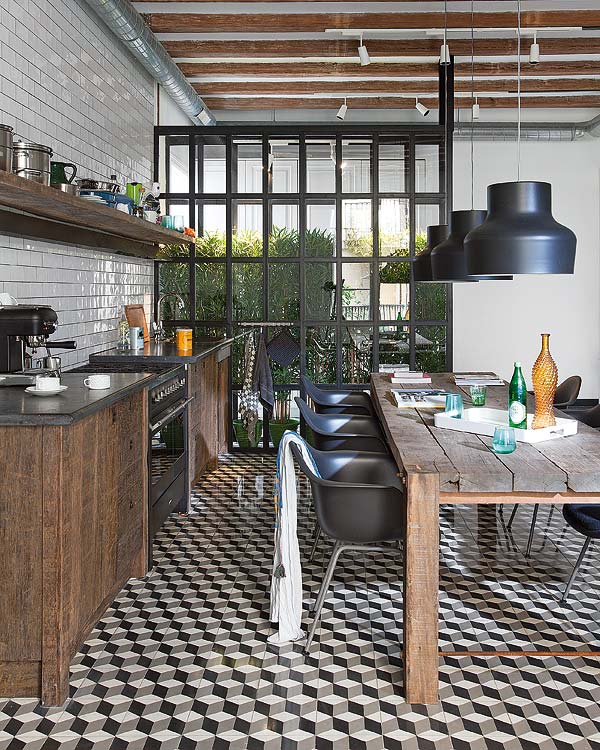 The March 2016 issue of Better Homes & Gardens spotlit the geometric pattern trend which is suddenly everywhere.  Granada Tile carries many cement tile patterns which slip easily into this style including our Yuma, Khufu, Vigo, Serengeti and Vegas patterns.  But, we're not content to rest on our laurels.  We're always adding new designs to our collection our constant search to bring you the best choice of concrete tile for your projects.  One pattern that we're very excited to introduce is our version of the classic tumbling blocks design.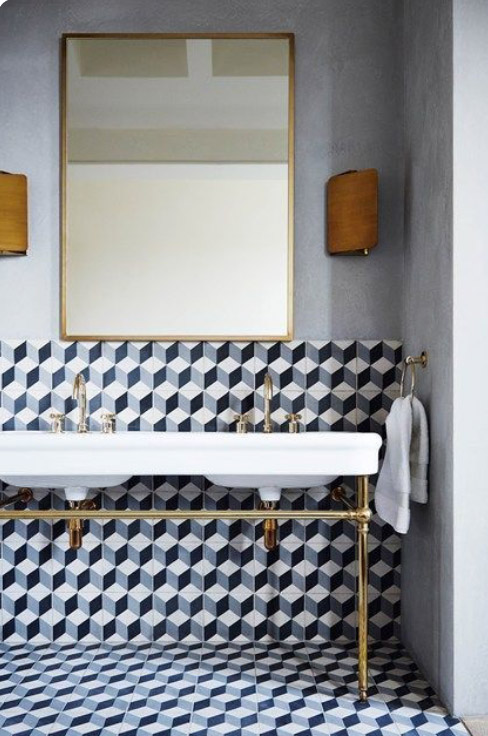 Seen above in a bathroom, used as wall tile and floor tile, and below, used as a kitchen tile floor, these "M.C. Escher" tile patterns are a classic pattern that meld old-fashioned good looks and up-to-the-minute contemporary style in a way that we think is bold and modern.  We are currently stocking two versions: Toronto and Rotterdam, a smaller size.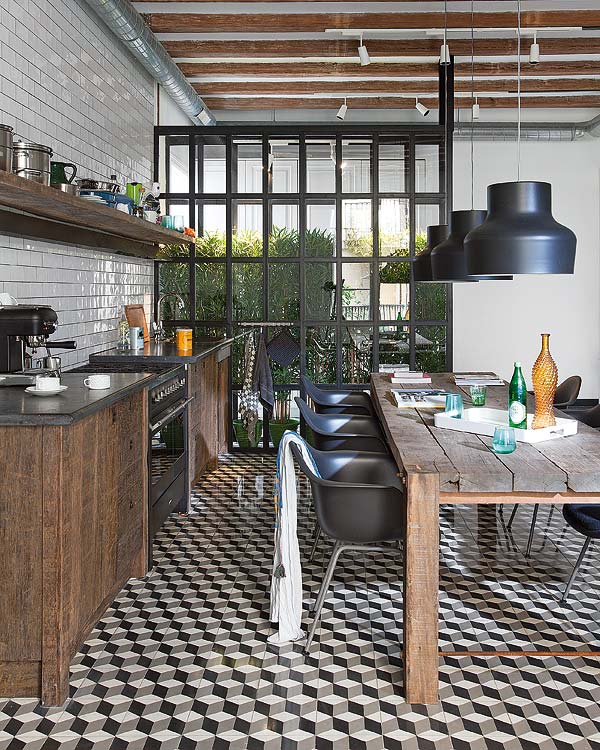 Many of our most popular concrete tile designs, like our Badajoz cement tile, our Fez encaustic tile in blue and white and in black and white, our Cluny concrete tile and our Serengeti cement tile are in stock and ready to ship out to you immediately! The qualities that make Granada Tile's cement tiles the choice of award-winning coffee shops and hot restaurants around the country — along with their beautiful designs and vivid colors, our concrete tile is long lasting, easy care and low maintenance — are the same ones that make it perfect for your home tile project, whether used as patio tile, porch tile, kitchen floor tile, kitchen backsplash tile, bathroom tile, shower tile or laundry room tile.  Start by visiting our cement tile shop to peruse our large selection of in-stock handmade master-crafted cement tiles and call us today at 213-788-4238 to discuss which of our encaustic tile designs would be perfect for your home or restaurant project.