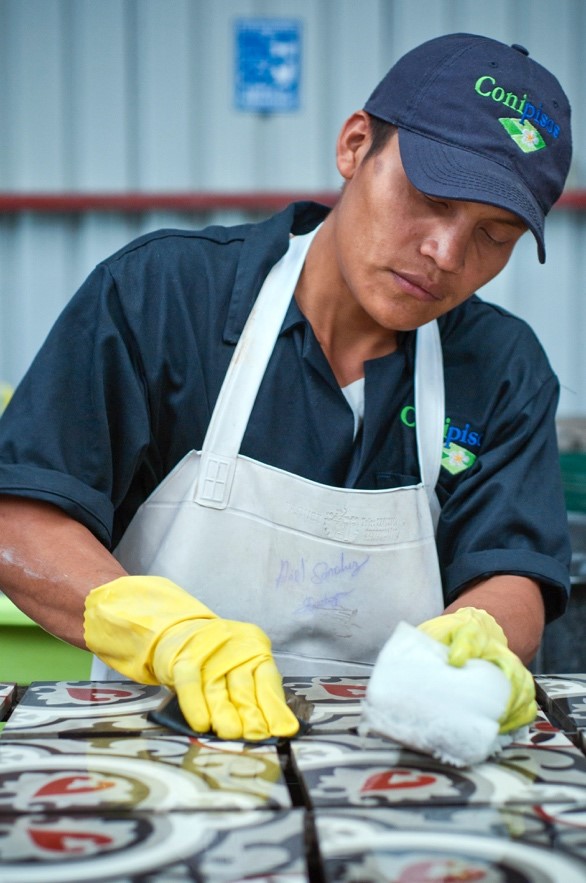 Cement or concrete tiles are a great addition to any indoor or outdoor design scheme. They are hand-poured — with their unique, colorful, and detailed patterns poured in as well — to resist fading over time. They are low maintenance, but they do require some upkeep, as with any kind of tile.
There are specific methods you'll want to use to keep your tiles clean and to preserve their life. Learn how to clean and maintain concrete tiles step by step to ensure that they give you and your visitors joy for many years in your foyer, kitchen, bathroom, or even outdoor area.
Minimum Grouting Distance
Before you can properly clean your tiles, you need to make sure they are installed correctly. That means leaving space for grout. Because many tile designs are built to run together, it can be tempting to put them flush. This isn't a good idea, as grout helps to secure them and keep the tiles properly in place, as well as helping to create a unified look. All you need is a 1/16-inch gap between tiles for grout for a continuous look.
Grouting with light colored grout
Unfortunately, dark colored grouts use carbon black which can easily stain lighter areas of the tiles during grouting.  If you stick with light colored grout, you can avoid the heartache of seeing your gorgeous tiles look dirty and stained.
Polishing and Sealing Your Tiles
One of the most important steps to take in keeping your cement tiles looking great is to polish and seal them. After installation, use fine wet sandpaper (600 grit is recommended) to very lightly sand the wet surface. This prepares the tiles to accept the sealant.
Next, use a high-quality penetrating sealer, and when it's dry, buff the whole thing with a soft, white buffing pad. The reason you want to be sure your tiles are properly sealed is that the tiles are porous, which means they are capable of absorbing dirt and stains. A penetrating seal seeps into the pores and fills them so that stains, spills, and dirt can simply be wiped clean.
Cleaning and Managing Cement Tiles
When cleaning tiles, avoid very acidic or basic substances including bleach and ammonia. These substances can wear through sealers and open the tiles to future dirt and stains. When cleaning tiles, simply use a balanced (pH-neutral) blend of soap and water to wipe the dirt clean.
You may encounter some stains over the years, including biological stains from fungus, mildew, mold, and algae; stains from tobacco, coffee, tea, or even blood; oxidizing stains from rust; ink stains; and even body-oil and food stains. Again, look for pH-neutral cleaners that are designed for sealed tiles to get the harsher stains out.
For more, check out our instructions for cement tile maintenance. If you're interested in tackling a project with cement tiles, Granada Tile is here to help. Check out our list of frequently asked questions about cement tile, then see our list of currently in-stock tiles. Feel free to get in touch with us with any questions you have, or to place an order for hand-poured concrete tiles today!