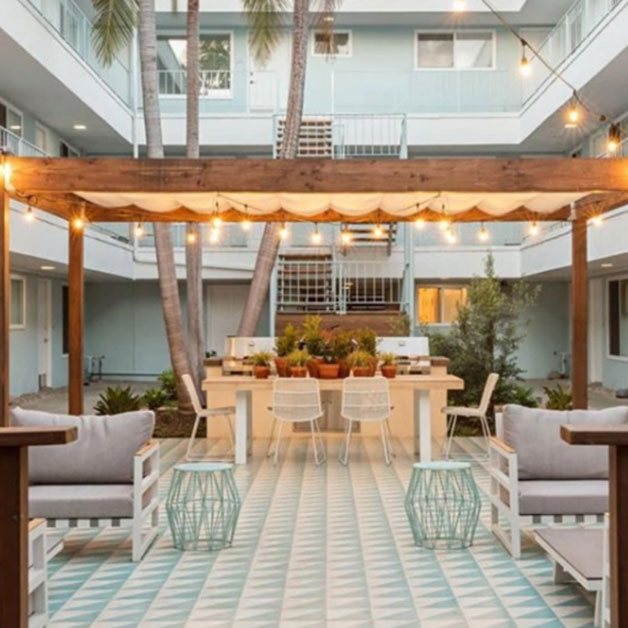 Cement tiles are an outstanding option for your outdoor renovation, design, or new construction project. They are solid, long-lasting, low-maintenance, and they look beautiful. Because the colors and patterns are poured and pressed in rather than being painted or dyed, these tiles resist fading and will last a very long time. (Because of their ingredients, blue and green pigments do fade in direct sunlight.) They are great for decorative use or even for moderate foot traffic. If you're planning a project outside, check out these high-quality cement tiles for outdoor use to get some inspiration for the approaches you can take to add some panache.

Kotka — Blue Starburst on White
This Kotka tile design along the low walls in an outdoor seating area at Madre! Oaxacan Restaurant with wood-like flooring helps to add a bright splash of life to the earth tones. The starburst gives a vibrant and active feel, which serves to lighten up the overall impact of the room without being overpowering. In the end, the effect is a warm, welcoming, and upbeat area that beckons relaxation and enjoyment.

Custom Schnell Design
This high-quality cement tile design is used as the primary flooring in a West Tampa Promenade and offers a vibrant, exciting, and playful impression. This encourages a feeling of constant motion and flow. The overall appearance is upbeat and continuous with trails and loops each leading into the next, so the flow never ends. It's a custom tile design by Jovi Schnell and really shows off the potential of creating truly custom designs.

Fez — A Classic Ocean Look
Fez is one of Granada's most famous and popular patterns, and this design by Arsalun Tafazoli in the outdoor space at Fairweather Bar in San Diego offers an ultramodern but still classic look that carries one into a tropical paradise. You may not be on a tropical island when you walk in, but you'll certainly feel like you are thanks to the tiles. Featuring bright blue on a white field that draw you into the feeling of being on a cruise or lying on a raft in the ocean.

Luxor — Exotic Mediterranean Feel
This Luxor tile in soft pastel aqua and white gives a truly Mediterranean vibe to this luxury-home's outdoor space. The impression is not only welcoming but also calming and serene, and one feels that they could sit back, kick their feet up, and truly relax as long as they like. It's another fine example of how cement tile makes for outstanding flooring material and can be used to establish a wide variety of impressions and effects.
High-Quality Cement Tiles from Granada
It's time to get your space ready for spring! If you're interested in learning more about how high-quality cement tiles are created by hand, this video outlines the process. You'll see everything you need to know to establish just how beautiful, customizable, and sturdy these tiles can be. Then, check out our line of in-stock tiles and get in touch with us to place an order or design your own tile pattern today!