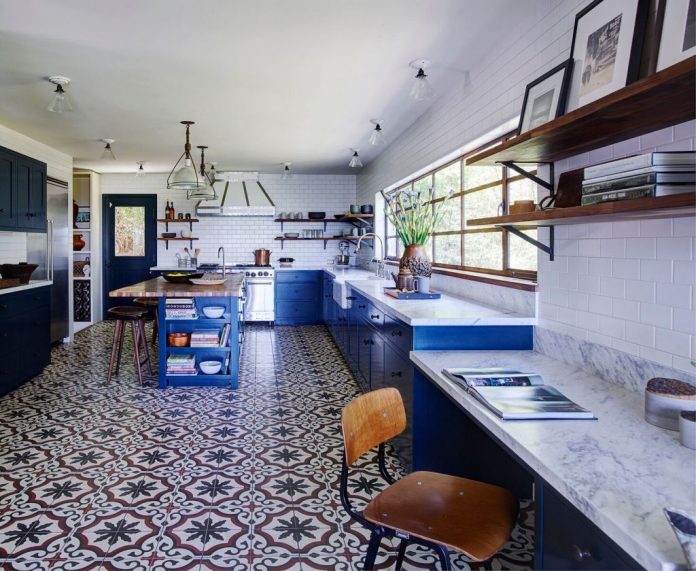 Installing cement tile flooring is a common request for many homeowners, interior designers and restaurant owners. Our Granada cement tiles are a perfect way to heighten the visual appeal of any room in which they are installed.
Installing cement tile flooring can take some time to go from start to finishing. There are a lot of decisions that need to be made before you even begin the actual installation of cement tiles. One of the first things to do is to decide on the shape, design and colors of the tiles you want installed. Depending on how particular you are about the design elements of your floor, this is often the hardest part about the entire process! With so many options when it comes to the tile's shape, the design you want on the tile and the size of the tile itself, there is virtually no limit to the unique combinations you can choose from.
Granada Tile has a wide range of tile sizes, designs and colors you can choose from when ordering tiles. You can use our tile designing application to test-run some design and color combinations for your home, restaurant or establishment. This application will allow you to see what a tile's design and color will look like when set next to other tiles of the same design. You'll get a better representation of what your choices will look like after everything's said and done with the preview window.
The production conditions, materials and quality of tiles will vary from factory to factory, which is why it's very important to do your research and study which factories and manufacturers will deliver you the results you want in the price range that you can afford. At Granada Tile we work hard to ensure only the highest quality possible for your cement tiles.
As you search for the best cement tiles for your home or business, look out for these characteristics that are sometimes common at some cement tile factories:
Varying thicknesses of tiles, which make the finished result of the tile impossible to lay "flat."
Inconsistent clarity of tiles, which comes from sloppy pigment pouring processes during production.
Variations of the same color, another form of sloppy production in the form of pigment color measurements that are inaccurate.
Crumbly tile backs, a sign of a weak title as a result of hydraulic pressure that is too inconsistent or has too much sand in the mixture.
Tile edges that seem to "chip" easily: poor quality control at the factory and/or a weak mixture.
Cement-to-sand ratio, will affect the strength and durability of the finished product.
Pigment quality will impact the rate at which colors fade, especially in direct sunlight.
The easiest way to assess the quality of a factory or their production processes or the quality of the material they use is to request their engineering test reports. These tests are performed based on uniform standards by an outside engineering firm. This is a great way to get outside feedback about a tile factory and to make sure that your individual or business requirements and standards are being met.
Once you know your tile production is in good hands and are beginning to receive the tiles from your order, you can start to work on the actual installation of your tiles.
Regardless of whether you have a cement slab or wood subfloor to work with, always start with "dry fitting" the tiles in your desired arrangement. This will allow you to visually see how the layout of the tiles will appear when the project is finished. There may be minor inconsistencies between batches of tiles and choosing to dry fit the tiles will allow you to rearrange the tiles to create a more natural and even look. To order cement tiles for your floor, giver us a call at 213-788-4238 today!