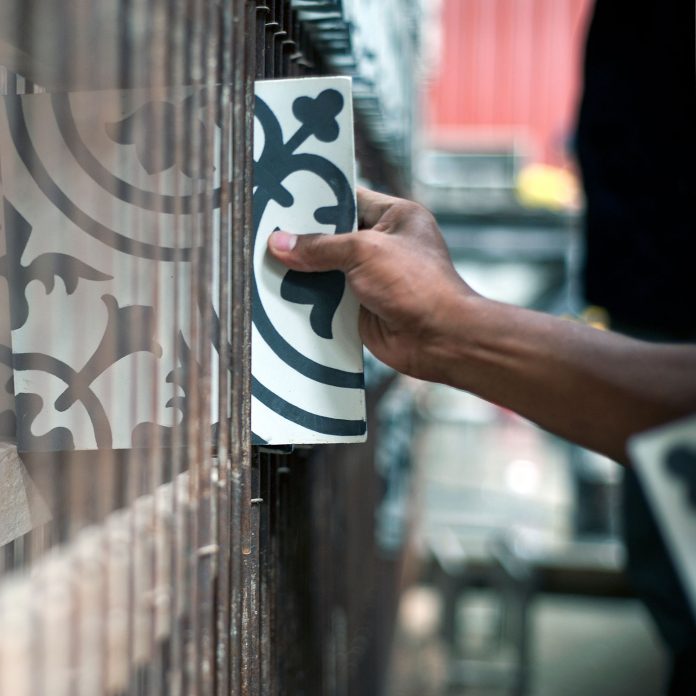 Cement tiles are the latest must-haves in home and commercial décor and are influencing a design shift that embraces color and pattern versus solid neutrals (think plain subway tile). While still trending from 2016, cement tiles are traditional building materials that have been popular for centuries. Their long history of unmatched style and durability makes them one of the most sought after design elements of all time.
The surge of cement tile popularity has saturated the market with products, but not all cement tiles are created equal. That's why we've put together this handy buying guide that walks you through how to find, design and purchase the best possible cement tile. Keep reading!
Know the Difference Between Tile Types & Suppliers
First of all, not all cement tiles are made the same and of the same quality. If you purchase a high-quality handmade tile from a high-end manufacturer, then you can enjoy a beautiful tile with a vibrant design that will last for many years to come. Low-quality tiles will provide lackluster color, uneven edging, and more wear and tear.
It is also important to understand the difference between ceramic and cement tiles, and that they are completely different products. Cement tiles are made with a mixture of cement, sand, pigment, and marble powder and are compressed with 2,000 pounds of pressure to seal in the design. Ceramic tiles are painted with a powdered glaze or clay and are fired in a kiln. Cement and ceramic tiles look very similar, but cement tiles are much more durable. When purchasing tile, be sure to confirm that it is cement tile you are buying.
Differentiate a Good Tile from a Bad One
The quality of cement tile varies from company to company, and the best, most beautiful cement tiles typically are handmade and come from small-scale factories.
When you are looking for top quality cement tiles, look for these qualities:
A consistent thickness of the tile, with a measurement of about 5/8 inches
A clear definition of the design, if the tiles are patterned
Consistently deep and rich colors on all of the tiles (allow for a small amount of variation due to the handmade nature of the tile)
Clean, crisp edges between each tile to keep the grout in place
A solid feel and weight of the tile
A top color layer of about 1/8 inch thick
Watch out for these visible characteristics of low-quality cement tiles:
Varying thickness of the tiles, resulting in an uneven installment
A blurry design
Significant color variation with what is supposed to be the same color
Chipping around the edges
Unstable backing on the tile with crumbling
A top color layer less than 1/8 inch thick
If you're not sure about the quality of your cement tiles, ask the tile manufacturer for an engineering test report performed by an independent testing company.
It is important to note that artisanal, handmade tiles come with their own subtle variations that distinguish them from mass-produced products.
Decide Where You Want the Tile
The next step is deciding where you want the cement tiles. Cement tiles are quite chip-resistant and fade-resistant (except blues and greens in direct sunlight), making them an excellent choice for kitchens, bathrooms, stairs, entryways, laundry rooms, living rooms, bar areas, and outdoor spaces. Common cement tile installations include kitchen and bathroom backsplashes, flooring, bathroom countertops, shower flooring and walls, decorative wall features, fireplaces, and outdoor patios. The options are virtually endless!
Select a Tile Design or Create Your Own
Cement tiles are completely customizable and can accept just about any style or pattern of your choosing. We can tweak an existing design found on our website, copy a design from an image or photograph, and create a custom design based on your ideas.
When you work with Granada Tile, we help you with the following factors:
Colors: You can choose as many colors as you want for your design, and our standard price includes up to 5 colors. Additional colors cost $.50 each. We can also create custom colors.
Design: Our cement tile collections feature many styles and artistic designs, including floral, geometric, modern, contemporary, single colored, and intricate designs. Custom designs are always welcome, from hand drawn patterns to family crests.
Sizes: We offer all of the standard square and rectangle cement tiles and sizes, with a select variety of unique shapes and sizes. Custom tile shapes and sizes come with an additional cost for the mold production.
When you're ready to purchase your perfect cement tile design, you can either order an in-stockor custom design. You will work with our sales team to pick out the colors, receive a sample, and determine how many tiles you need, before placing your order.
We are confident you will absolutely love whichever cement tile design you choose, and that you will enjoy it in your home or business for many years to come. To get in touch with one of our team members, you can call us at (213) 788-4238, or send us an email at sales@granadatile.com.